Provocative World Aids Day discussion
Concordia professor Viviane Namaste will take part in a Café Science on HIV/AIDS on November 30
To mark World AIDS Day, which is internationally observed every December 1, the McGill University Health Centre (MUHC) is hosting a provocative discussion and debate with renowned experts in AIDS research, ethics and sexual health: Café Science HIV/AIDS 2010-2020: Perspectives for the Next Decade.
The event, hosted in the relaxed atmosphere of the Café de l'Usine C on November 30, will be an opportunity to learn more about groundbreaking research, new ethical dilemmas related to HIV/AIDS and innovative viewpoints on prevention and education.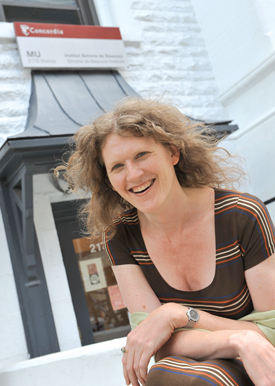 Speakers will include Viviane Namaste, Concordia University Research Chair in HIV/AIDS and Sexual Health and a professor at the Simone de Beauvoir Institute, who works with marginalized populations affected by HIV/AIDS. She will outline the challenges in education and prevention faced by frontline workers. One of her current research projects is investigating the HIV prevention needs of people who have sexual relations with both men and women.
As MUHC scientists, Nicole Bernard and Jean-Pierre Routy are at the forefront of the drive to develop an AIDS vaccine. Bernard's research opens the way for new ideas to fight HIV infection. She is studying how to boost the innate immune system and how to fight the virus as soon as it enters the body.

Through his clinical research, Routy is working towards a customized immunotherapy using the virus from individual patients – an approach unique in the world.
The ethical questions related to HIV/AIDS are extremely complex and are often found at the intersection of a wide range of disciplines.
Norbert Gilmore, an MUHC senior physician and a member of the McGill Centre for Medicine, Ethics and Law, will review the ethical, legal and policy issues related to HIV infection and AIDS, drug use and public health.
José Sousa, chair of the HIV Trials Network Community Advisory Committee at the Canadian Institutes of Health Research, will moderate the discussion. For several years he has been an outspoken advocate and activist in Montreal.

• When: Tuesday, November 30, at 6 p.m.
• Where: Café de l'Usine C, 1901 de la Visitation (Metro Beaudry).
• What: Café Science HIV/AIDS 2010-2020: Perspectives for the next decade. Free admission, bilingual discussion. Refreshments provided.
• Contact: Julie Robert at julie.robert@muhc.mcgill.ca


Related links:
• Simone de Beauvoir Institute
• MUHC
• Great distinction for Viviane Namaste
• Feminist perspective on sex work
---