Images of the past?
PhD candidate uses scholarship from Bibliothèque et Archives nationales du Québec to rewrite history of photography in Canadian magazines
November 22, 2010
|
Source: Concordia Journal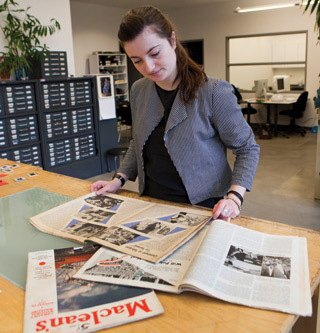 The future of the Canadian magazine business has been a hot discussion in recent years. But it's not a conversation Zoë Tousignant is particularly interested in.

For this PhD student in Concordia's Department of Art History, her future lies in its past.

Tousignant's research looks at what she calls 'photographic modernism' in Canadian magazines between 1925 and 1945 – a time period she says is underexamined in Canadian photographic history.

The term 'modernist photography', on the other hand, is more commonly used in art history to refer to valuable 'high art' photos generally considered to be representative of popular culture from 1920 to 1940, she explains. (Think Dorothea Lange's 1936 Migrant Mother, the famous portrait of a weathered and worried depression-era mother with her two children.)

Tousignant is taking a different approach. She's using the term 'photographic modernism' to refer to the thousands of everyday pictures (considered 'visual culture') that appeared in Canadian magazines such as Maclean's, Chatelaine and Le Samedi, among other publications.

This visual culture, considered less valuable artistically, was just as important in shaping Canada's popular culture during that time, she argues.

"What I'm doing is trying to rid the category from the high art/low art dichotomy," she says. "There are great links between the two, but when art historians talk about modernist photography, they only consider high art."

These images gave Canadians a picture of Canadian life during a time when the flourishing magazine business was becoming increasingly crucial to the nation's identity, she says.

"Here was this medium distributed to hundreds of thousands of homes. People were being confronted with modern life through these photos in the magazines," says Tousignant. "My work is about considering readership and the reception of the photography in a Canadian context."

It's research that has earned her quite the list of accolades. Most recently, in October, she received a $12 500 Doctoral Research Award from the Bibliothèque et Archives nationales du Québec (BAnQ).

The one-year bursary is given to two or three deserving PhD students annually to conduct their research on an aspect or component of the collections of the BAnQ. In Tousignant's case, the enormous store of old magazines housed at the Grande Bibliothèque on De Maisonneuve Blvd. East.

"She was the ideal candidate for the BAnQ fellowship," says Art History Professor Martha Langford, Tousignant's PhD advisor.

"Her research will give us a bigger picture of how photography affected Canada then. She's too modest to describe herself as such, but I think she is breaking new ground."

In 2007, Tousignant received the threeyear Canada Graduate Scholarship from the Social Sciences and Humanities Research Council of Canada (SSHRC).

Since 2003, she's earned eight grants and scholarships in total. Not to mention a swath of professional experience from research assistant to archivist to curator.

She's also organized or participated in seven conferences and lectures, most recently having lectured on the subject to Art History Chair Loren Lerner's class ARTH 298F: The Human Face.

"[The study] is really about revising history in a way. I'm saying the stories that have been told so far are not complete," says Tousignant. "I want to add this dimension to the history of photography."
Related links:
• Concordia Department of Art History
• Bibliothèque et Archives nationales du Québec
---