Lessons from space
Concordia professor Raye Kass studies out of this world human relations
Raye Kass still believes space is the final frontier.
Her extensive work with astronauts leads the Concordia professor to hope World Space Week, held from October 4 to 11, will help politicians reconsider further cuts to space exploration programs.
World Space Week, which unfolds in 55 countries, is an educational initiative to promote the values and benefits of space research through a variety of activities in schools and public spaces.
---
Kass reflects on the challenges facing a group experiencing confinement similar to what astronauts endure -- the Chilean miners trapped for two months underground in the San Jose copper and gold mine:
Download podcast (<--Right click and "Save Link As").
---
Kass, who teaches in the Department of Applied Human Sciences, says space missions have not only led to increased interest in the study of science and engineering, she adds they're crucial in helping to deepen our understanding of the dynamics of group behavior.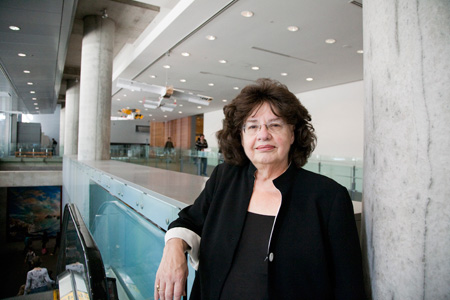 "If we look at the benefits," Kass says, "and by benefits, I mean more than the experiments; the benefits of bringing nations together, there are so many things that are pulling nations apart and space travel brings nations together in a unique, idiosyncratic way, but in an exciting way. The need to problem-solve together, the need to communicate and dialogue together, I think it's well worth it."
The author of four books, Kass has made a specialty of studying leadership and small-group behavior through her research and field work. That work led her to be chosen as principal investigator on several space missions working with astronauts including Julie Payette, Robert Thirsk and Dave Williams.

The most notable mission she worked on was arguably the 1999-2000 SFINCCS mission, where an international team of astronauts was isolated for as long as 240 days in a cramped simulator at the Institute for Biomedical Problems in Moscow (IBMP). The mission made headlines around the world when the only woman on board, Canadian Judith Lapierre spoke of being sexually harassed and witnessing a fistfight during a New Year's celebration.
Kass' assessment of why tensions ran so high is blunt: "All in all, they were not prepared for the interpersonal relations that become so paramount in situations like this."
Her observations after debriefings with each of the astronauts led to changes in the way several countries approached the training of crew members on subsequent missions. Kass feels where interpersonal relations were regarded as "soft skills" in the early space missions, they came to be recognized as fundamental skills in which teams were later given more training.
"They're very well equipped in terms of procedures, using of equipment, running these very expensive experiments, but that area of sensitivity, human relations training and team building is less of a focus but as different issues began to arise," she says. "There was little attempt at encouraging them to engage them in problem-solving, partly because for those on ground control, it was unclear what was to be done."
Kass' last involvement with NASA missions dates back to 2006 when she was running experiments and testing training modules for crew who might be sent to the International Space Station. Then the Bush government "interrupted funding for the project", as Kass pointedly puts it. She is dismayed the U.S. – one of the early leaders in space exploration – has put these projects on the back burner during the economic downturn.

Still, Kass remains a believer in what space missions can accomplish. "I think space is an incredibly gigantic interdependent, international project with a common goal: bringing people, cultures, institutions nations together to do an impossible thing and in that sense, it is fabulous. And in that sense, spending ten billion is nothing!"


Related links:
• Concordia Department of Applied Human Sciences
• World Space Week
---