Amy Swiffen: Stirring up law and order
New sociology professor tackles exercise of power in society
September 27, 2010
|
Source: Concordia Journal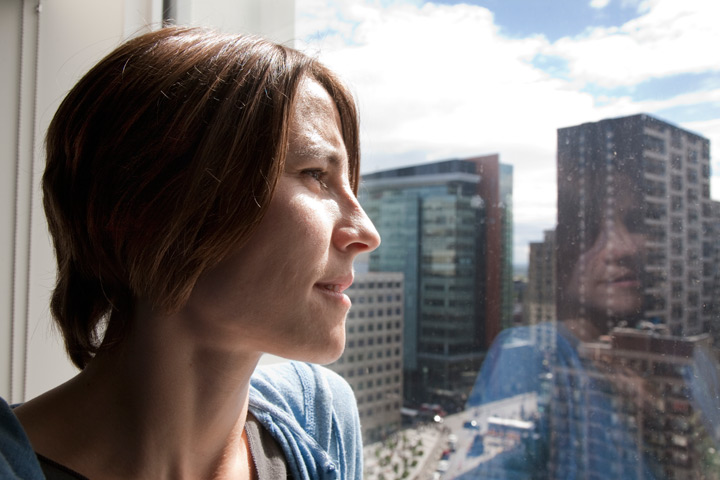 Though her desk was bare and her computer was sitting in a cardboard box by the door, Amy Swiffen already felt very much at home in the Department of Sociology and Anthropology.

"Concordia is an interesting mix of smart, productive people, but the atmosphere is easy going," says Swiffen, who was recently hired as an assistant professor. "The department is serious about its expectations for faculty but also very open to new ideas and projects."

She comes to Concordia by way of the University of Alberta, where she completed her PhD in 2009. Her dissertation, Law, Ethics and the Biopolitical will be published in the next year by Routledge-Cavendish Press.

Since graduating, she has been lecturing at the U of A on socialization, deviance and conformity and social theory, among other topics. Her specialities also include law, social and political theory, psychoanalysis, biopolitics and ethics. She follows a similar track at Concordia, where she is to teach subjects relating to the interdisciplinary minors in Law and Society and Human Rights, as well as social deviance and the sociology of law.

Understanding how power operates in society is a key concern for Swiffen. "Not only is everything at stake when you're talking about law – life and death – it's also in the process of evolving," she says. "The political landscape is changing in ways that are not yet understood."

Though the semester has only just begun, Swiffen and Joshua Nichols, a post-doctoral fellow at the University of Victoria, are hard at work organizing a workshop involving several well-known academics to be held on campus in October 2011.

Their project involves contributors from across the disciplines to revisit the idea of the 'end of history.' After the fall of the Soviet Union some declared that society had reached its most advanced form with liberal democracy and free market capitalism. They plan to reassess this concept in light of recent events like the war on terror and the economic crisis.

"As a social scientist, it's hard not to get excited about these issues," she says.

In the meantime, Swiffen is also developing a project about the history of triage in health law in Canada and the United States and will also have an article published by the American Bar Association in December.

---