It's a blast: Off to space U
Education PhD candidate finds experience uplifting
September 13, 2010
|
Source: Concordia Journal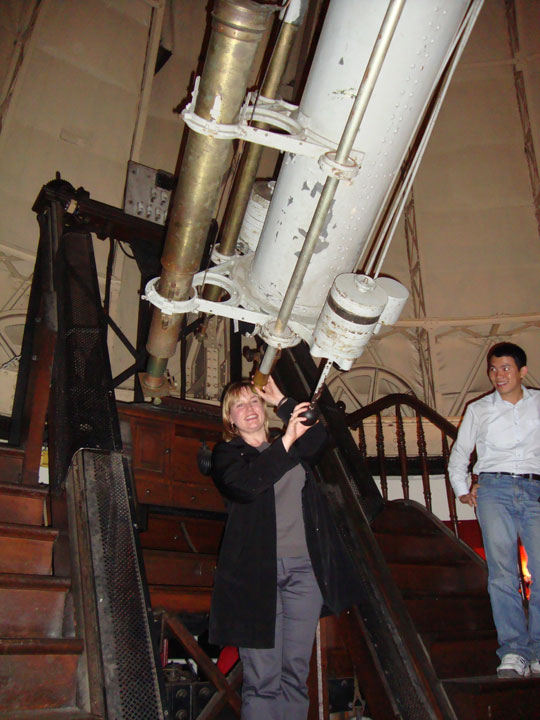 Alexandra Kindrat says she isn't sure whether she wants to go into space someday. The 28-year-old teacher and Concordia doctoral student says she's happy just to learn about things like gravity and pass them on to her math students at St. Thomas High School in Pointe-Claire.
But Kindrat has some of the classic attributes of astronauts: She's been a pilot since she was 17 years old and is working on her commercial license. She has degrees in physiology and in neurology and neurosurgery, and a BEd in science and technology. And now she's working on her PhD in education, in the area of child studies, researching ways to improve the teaching of mathematics.
The case for her eventual liftoff builds if you add her interest in all things space-related, her visit to the Canadian Space Agency, and her latest adventure – taking part in the 2010 Space Studies Program (SSP) at the International Space University (ISU).
The SSP is an intensive summer program that provides students with a rich and broad perspective on the world's space endeavours. It takes place in a different country each year (the language of instruction is English), and the 2010 edition was held at the ISU's central campus in Strasbourg, France.
This year, there were 120 participants from 29 countries, with academic backgrounds from engineering to the life sciences, and from business and management to policy and law. Kindrat was among 21 Canadians and 31 women in the class.
Kindrat heard about the SPP through Concordia's PhD program. Students were chosen based on academic and personal achievements, leadership, and personal essays.
The SSP's curriculum puts a high value on the international, intercultural and interdisciplinary nature of space exploration, and the inherent challenges presented.
Reached in Strasbourg during her final week, Kindrat said the language barrier was a big one: "It can be quite difficult, especially when you're adding in scientific terminology."
But such challenges also bring benefits.
"You have to really think about how to explain things in a very basic way," she said. "This will definitely help me in the classroom."
Students choose one of seven academic departments when entering the program, in line with their own discipline or another they'd like to explore. "It's full of engineers here. There are journalists, medical doctors. All have different ways to do things." Though her background is in the life sciences, Kindrat chose to be part of the Space Policy and Law department; she's on the national executive of the Liberal Party of Canada.
Kindrat's department of 12 people considered whether space tourists are astronauts in the context of international law, studied treaties on space and appropriation, and went on a field trip to learn about satellite applications and related privacy issues. "It's really interesting," she declared.
For her final team project on the carbon cycle, her group of 40 students from all departments examined issues surrounding climate change and CO2 emissions. Part of Kindrat's work was on policy issues and decisions, and educational materials to foster public awareness. "We're producing a newscast all about carbon," she said, excited at the prospect, "so we also get to be directors, shoot video..."
Her favourite part of the experience – besides eating astronaut food, visiting an observatory, hearing distinguished lecturers and visiting the German Aerospace Center (DLR) in Stuttgart – was the opportunity to work with Canadian astronaut Robert Thirsk and world-renowned French scientist Gilles Clément on a project comparing the perception of 3D images while in space and their perception on Earth.
Kindrat said it was a joy collaborating on work she loved with extraordinary people from different disciplines and cultures.
"The experience is honestly 100% life-changing," she said. "They tell you this when you arrive, and you don't believe it."
Whether she realizes it or not, Kindrat appears to have taken her first steps into space already. She's walking on air.
She is particularly grateful to the Canadian Foundation for ISU, which made it possible for her and nine other Canadian participants to obtain full scholarships to the SSP this year through SHRCC funding.
Kindrat isn't the first Concordian to attend the SSP: Read about Duncan Cree's experience.
---