Green energy systems are the future
Concordia prof is advancing the idea of renewable energy systems for remote communities far from the grid
September 13, 2010
|
Source: Concordia Journal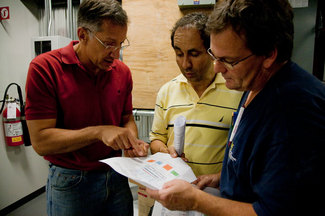 The World Energy Congress (WEC) recently had more than 5,000 industry leaders and visitors in Montreal discussing the future of energy.
For Luiz Lopes, one of three Electrical and Computer Engineering professors in the Power Electronics and Energy Research Group, this is a matter important enough to address every day.
The PEER group is advancing the idea of renewable energy systems for remote communities far from the grid. Lopes's expertise is in energy management and operation strategies; how to best coordinate the operation of multi-science power systems. For example, when roof-top solar panels and diesel generator systems are a kilometre or so apart – similar to the electric/fuel system of an hybrid vehicle.
He's working closely with Sheldon Williamson (see Journal, March 6, 2008) and Hydro Quebec Senior Chair Pragasen Pillay (see Journal, Jan. 29, 2009), along with technician Joseph Woods, 20 graduate students and two visiting researchers.
Williamson brings mastery of electric vehicles and using batteries for energy storage, and Pillay is a whiz with energy-generating machines such as wind turbines and biomass digesters. Between the two, they have three papers being presented at WEC.
Together, their collaboration is making a tangible difference in remote communities. The team has collaborated with Natural Resources Canada to integrate wind, solar or biomass energy producing components into the currently-used diesel generator-based systems.
"The costs for connecting those communities to the regular grid would be too high with respect to the amount of power they would consume," says Lopes, stating that hybrid power systems can be a reliable, cleaner and cost-effective solution to conventional diesel-only systems.
The ultimate goal for Lopes and PEER is to produce autonomous energy systems that can power communities. Lopes explains one of these systems would be able to produce supply an average load of 100 kilowatts, enough for a typical remote community of 30 to 40 homes and businesses.
"Reducing the cost of electricity is great, but for me, what's more interesting is that people can see how to better use energy and reduce their impact on the environment."
Lopes, who's been at Concordia since 2002, is supervising seven graduate students, as well as overseeing a few undergraduate year-long applied projects. "They always come in with original ideas," he says. "Even from bad ideas, we'll often come up with very promising alternatives."
Lopes will return to his homeland of Brazil, Sept. 21 to 24, for the Brazilian Solar Energy Congress where he's been invited to present a tutorial.
---