Solar Buildings Research Network celebrates five years
Brothers José and Luis Candenedo helping to integrate solar power into energy-hungry buildings
August 30, 2010
|
Source: Concordia Journal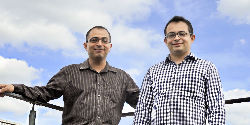 The five-year anniversary of the Concordia- based NSERC Solar Building Research Network has given Luis Candanedo and his older brother José ample cause to celebrate. The brothers' involvement with solar research dates back to the early days of the network, established in 2005. They both began pursuing PhDs on the subject with SRBN director and Faculty of Engineering and Computer Science Professor, Andreas Athienitis.
Having already completed a master's at Concordia on moisture-related building issues, Luis decided that he wanted to broaden his research. He explains, "I knew studying solar energy could eventually give me the opportunity to work anywhere in the world because there is sun everywhere!"
It wasn't long before José, who had already finished a master's at McGill University prior to rejoining the workforce at a hydroelectric company back in the Candanedos' native Panama, chose to join him.
Now well advanced in their doctoral research within Concordia's Department of Building, Civil and Environmental Engineering, the Candanedo brothers are studying how best to integrate solar energy into today's energy-hungry buildings. For Luis, this means researching how building-integrated open loop airbased photovoltaic/thermal systems can be incorporated as the exterior layer of a building. Luis also examines how these systems recover thermal energy, which can then be used for space heating, domestic water heating and possibly even for cooling.
José, taking a different approach to the use of solar energy, has focused on control methodologies for solar-optimized homes. He studies how active and passive solar energy building technologies and design techniques can substantially reduce energy consumption. His research has the potential to be applied in both net-zero energy residential buildings such as those created through CMHC's EQuilibrium housing project, as well as in commercial buildings that integrate solar power into their design, like Concordia's own MB Building.
Already garnering praise for his research, José was named recipient of the second best paper award at the High Performance Buildings Conference at Purdue University in July, for an essay entitled "Simplified Linear Models for Predictive Control of Advanced Solar Homes with Passive and Active Thermal Storage." The paper describes the application of simple physical models to anticipate the response of a house to expected weather patterns, and thus enable a more effective use of passive solar gains.
"These buildings are very well insulated with big south-facing windows," José explains. "If you are not careful, you could overheat your home with passive solar energy and accidentally convert it into a greenhouse. My paper looked at how to keep indoor temperature fluctuations within a comfortable range while benefiting from the gathered solar energy." José's paper also investigated the use of smart predictive controls to plan the operation of a hot water tank heated with a building-integrated renewable energy system.
Last week, Luis's progress as a PhD candidate also marked a milestone: the successful defense of his thesis. And while Luis geared up for the culmination of his doctoral studies, the NSERC Solar Buildings Research Network that framed the research of the Candanedo brothers opened its doors for a special workshop to mark its five-year anniversary. Researchers, industrial partners and potential new collaborators came together to discuss new research and development initiatives. Lively panel discussions related to major research areas gave the rapt audience— including José and Luis—the opportunity to envision applications of the SBRN's work and to discuss the development of new research projects. With José planning to finish his thesis by early 2011, the next phase of work and research for the Candanedo brothers is just as bright as that of solar buildings in Canada.
---