ICOP: 'An amazing experience'
JMSB students travel to Colombia to develop business plan for local non-profit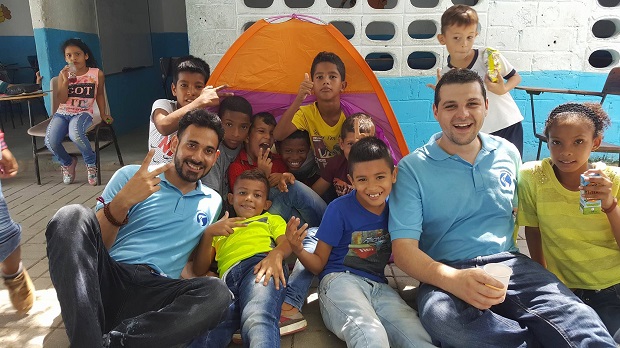 "When you're at the grocery store and you can't buy food because you don't speak the language, you've got no choice but to learn quickly," says Amit Sawhney, an MBA student at the John Molson School of Business (JMSB).
Last summer, he and his classmate, Danovan Filion spent 67 days in Barranquilla, Colombia on an internship developing a business plan for a local non-profit organization called CEDESOCIAL (Centre for Social Development Foundation).
"It was an amazing experience," says Filion, who also notes that they did eventually become conversant in Spanish. "By the end of our time there, we were attending and participating in meetings in Spanish and we can express ourselves decently. That's in a two month period, starting from zero!"
The international internship was an initiative of Concordia's International Community Outreach Program (ICOP). The student-run program provides JMSB graduate students with the opportunity to put their business skills to work in the developing world through work in microfinance, market analysis, and consulting.
Magalie Han, the president of ICOP says interns are selected on the basis of how good a fit they are for the organization they will be serving. "Obviously, they have to have a deep interest in international development and be team-oriented, but we really look at how well their skills and experience match up with the NGO's needs. Our interns also have to have strong communication skills and the flexibility to adapt."
ICOP's relationship with CEDESOCIAL goes back to 2015, and since that time, several Concordia students have gone to Barranquilla.
"We built on what students did before," says Sawhney. "Previous groups helped build the organization's website, and we picked up from there to develop a social media strategy. And we could see the strategy was getting them more attention."
Filion said he found the internship rewarding on a number of fronts. "This experience changed me both professionally and personally. If any future students are considering getting involved with ICOP, I would tell them not to hesitate. It really is life-changing."
Carmen Mendivil, the director of the Center for Knowledge and Sociocultural Research at the Cedesocial Foundation described the two interns as "gifts to the organization" and noted that even though CEDESOCIAL has been around for almost 20 years, Amit and Danovan's recommendations caused the management team to "completely rethink of their strategy." Mendivil added that even though the interns' stay lasted only two months, their recommended strategies will serve the organization for years to come.
Learn more about International Community Outreach Program (ICOP).
---