First-place overall at the Jeux du commerce!
JMSB wins largest academic competition in Eastern Canada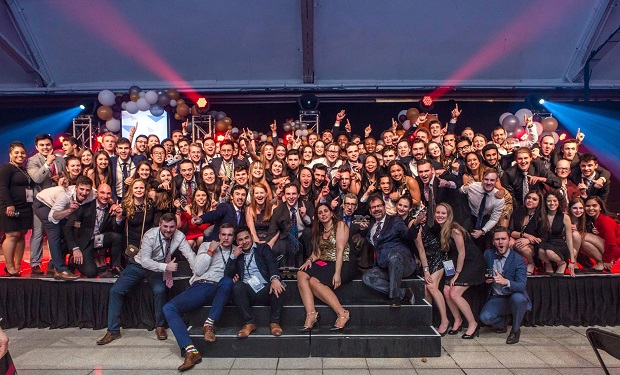 A delegation of 90 undergraduate students from the John Molson School of Business has won gold at the 2018 Jeux du commerce (JDC)—the largest academic competition in Eastern Canada.
The annual event brought 1,300 business students to Concordia, this year's host university, to battle it out in academic, athletic and social competitions.
"This outstanding result demonstrates how well our faculty members have prepared our students by introducing them to relevant business theories, concepts and practices, and also the degree to which we value hands-on learning at JMSB," says Anne-Marie Croteau, JMSB's dean. "We truly believe that learning must take place both inside and outside of the classroom and clearly, our students believe that too.
"This year's theme, which encouraged participants to be audacious, was also a perfect fit for JMSB, where our mission is 'to provide an engaging learning and research environment that inspires us to go beyond the commonplace for the development of business and society.'"
The academic portion of the JDC is a case competition that includes business cases focused on accounting, project operation management, finance, taxes, human resources, marketing, management information system, international business, strategy, entrepreneurship and sustainability.
For each case, competing teams have three hours to solve a real-life business problem and prepare a 20-minute presentation in the hopes of persuading a panel of industry professionals, managers and academics that their team has come up with the best solution.
JMSB teams reached the podium in 16 of these categories. This was the sixth time in the 30-year history of the JDC that the Concordia delegation won gold, and the second time in three years.
---