In memoriam – Mario Falsetto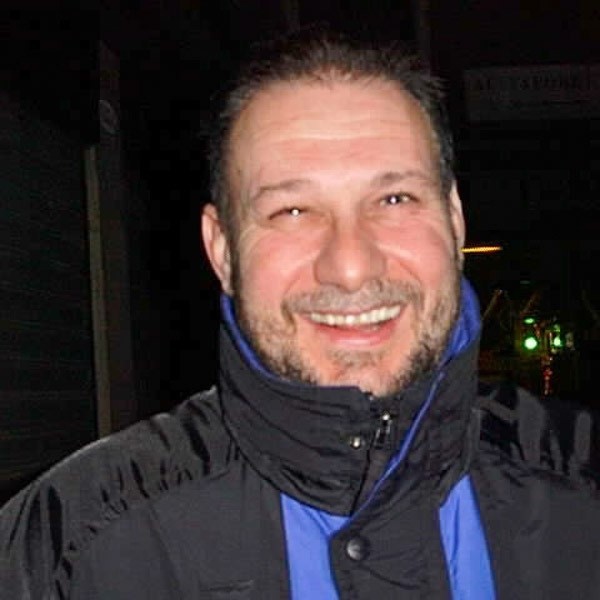 Faculty, staff and alumni at the Mel Hoppenheim School of Cinema, the Faculty of Fine Arts and across Concordia are mourning the passing of Professor Emeritus Mario Falsetto, on July 21, 2020.
Mario was a beloved professor whose career at Concordia spanned 34 years – from 1978 until his retirement in 2012. During this time, he helped to build one of the most highly regarded Cinema Departments in North America and in doing so, he inspired many faculty and students.
"Mario was part of that first generation of faculty that formed the department that we know today as the Mel Hoppenheim School of Cinema," says Jean-Claude Bustros, Chair of the School.
"It is no exaggeration to say that he has deeply impacted the lives of many students with the style and enthusiasm he exhibited in the classroom, especially when it came to presenting experimental and avant-garde cinema. More than once, he helped shape the careers of many of us who took his classes over the years. I am sure I speak for many when I say he will be remembered fondly."
A Professor in Film Studies, Mario taught dozens of film courses, specializing in avant-garde cinema, the films of Stanley Kubrick, American Cinema of the 1960s and 1970s, and many contemporary independent narrative filmmakers. He held various administrative positions, including Chair of the Cinema Department, Graduate Program Director in Film Studies and Associate Dean of the Faculty of Fine Arts. He received his PhD from New York University. During his academic career, he published six books, including two on Stanley Kubrick, and two collections of original career interviews with contemporary film directors, including Sam Mendes, Gus Van Sant, Neil Jordan, Anthony Minghella, Neil Labute, Julie Taymor, and many others. His book, Stanley Kubrick: A Narrative and Stylistic Analysis is considered a seminal text in film director studies.
News of his death has brought many tributes from colleagues and former students.
Naj Mahan, a former graduate student, says Falsetto opened the doors to the Mel Hoppenheim School of Cinema and to experimental cinema for her.
"Mario's heart was BIG. He was generous with his time, with his films, and with his books. I will miss the energy and joy that he brought to every conversation. I will miss him forever, with fondest memories."
Former student Mark Penny says that Falsetto exerted "a guiding light amongst the world's darkness. For his students, he opened avenues of beauty that were there, but needed a guiding hand to blossom. We all knew of his love for Stanley Kubrick's work, and I for one will never watch a Kubrick film without thinking of Mario."
"Since Mario took early retirement, we have been missing his more traditional approach to film analysis, focusing on the films themselves as complex visual-aural texts: films as films, as it were," says Professor Peter Rist.
"Mario was very sociable and an excellent cook. I remember when Concordia owned a house in Lacolle, Quebec, which could be used for weekend retreats. On one occasion, when a group of instructors and students visited for a "film studies" weekend, complete with 16mm prints and a portable projector, Mario cooked spaghetti and meatballs for all of us. It was a memorable meal. His arancini were also delicious. Ciao Mario. He died much too young."
Part-time Professor Dave Douglas, writes that, "Mario's passion for cinema was there on the screens of his classes, in his voice during his lectures, and in his writing. We shared an interest in avant-garde cinema, a terrain that draws people with strong opinions and eclectic tastes. Mario was a very generous and gentle man. I am glad he had a number of years of retirement to pursue his specific interests and enjoy life after his 34 years at Concordia."
Former student and colleague, Part-time Professor Donato Totaro, says that Mario was one of his favourite teachers.
"What I took from him in my own teaching is to never be afraid of letting your passion about a film or filmmaker show. Even at the risk of sometimes letting your feelings be known when a student didn't understand why a certain difficult film was worthy of studying. And to always remember why you went into teaching in the first place. To love cinema and to try and relay some of the joys of cinema. I have fond memories of his classes, which had an unpredictable and at times improv feel, that gave them a special edge. He has been missed at Concordia since he left."
"I doubt I would have an academic career without knowing Mario," says Professor Richard Kerr, whose connection to Mario goes back to the early 1980s. "He is a key figure in my professional life."
Kerr recalls how Mario was instrumental in bringing him to Concordia, and the big welcome he received.
"Upon arriving in Montreal, Mario and Carole opened their house to my family for a month while we got settled. Very generous and collegial. Years later, our house in NDG burned to the ground. Again, Mario and Carole stepped up to help us out. Generous, and a big heart."
"Inside the School, Mario was a mentor, especially the years I was Chair. His advice was always grounded and with wisdom. Mario was a master of the classroom, a legendary lecturer. He was a teacher's teacher."
Mario is survived by his partner. Professor Carole Zucker, who was also a longtime faculty member of the School, his brother, as well as many nieces, nephews and friends.

Learn more about how Concordia offers support in times of need.
---