What artists and designers can teach us about adapting to life and work online
Concordia Fine Arts students talk about how their art and design practices help them navigate physical and virtual spaces during a pandemic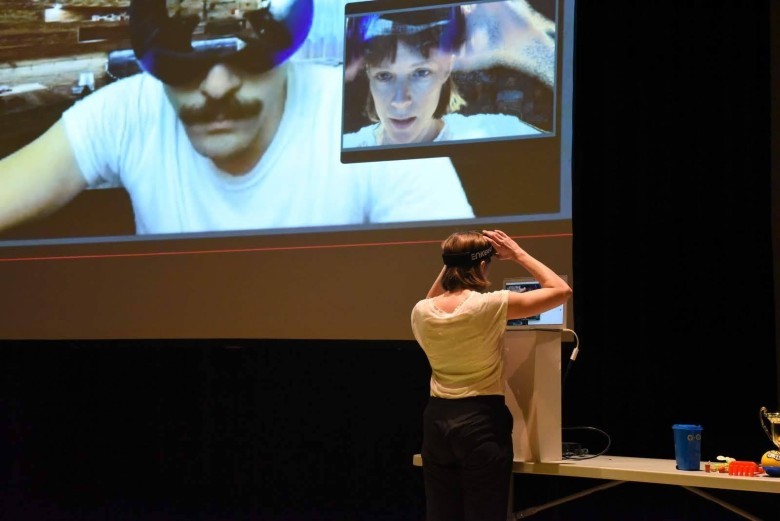 Emilie Morin and Ryan Clayton: Skype Duet performed at Regards Hybrides, Photo Credit: Omer Yukseker
In the last three months, our reality has shifted significantly.
Many of us find ourselves at home in front of screens all day long. Whether we appear as talking heads in video meetings, lose ourselves in endless conversation threads, or spend hours as avatars on Animal Crossing, our reliance on digital media platforms to express ourselves and connect with others has never been greater.
Fine arts students at Concordia with an online art practice spend countless hours reflecting on their relationships with technology, the nature of digital communication, and how to interact with people through the internet.
To learn how an art and design practice can teach us all something about how to work, create and live better online in the age of COVID-19, some students have shared their thoughts with us.
Emilie Morin and Ryan Clayton
MFA students Ryan Clayton and Emilie Morin have a performance practice that relies on consumer telecommunication technology.
They deploy many technologies to deliver their live and recorded performances: phone calls, text messages, and VR conversations that use motion capture software to manipulate immersive and digitally created worlds.
Despite the hours they've spent online Morin and Clayton have noticed how their use of these technologies has evolved since the pandemic began.
"You would think having a practice based almost entirely around performing online would make transitioning from using this software to needing to use it, easy," they say.
The transition has been complicated by the sudden lack of choice – we all have to communicate online now.
"When the shift from playing to necessity occurred, it became hard to find the same joy in using these tools."
Their advice to students and artists is to think about ways to misuse these tools, to rediscover the element of play.
"The tools we are using now are more than capable of producing amazing work. Video conferencing applications only have so much bandwidth. What happens when you move fast or slow? It can be helpful to think of them as weird, semi-real places, but places regardless. Maybe the internet is not the best place for you and your practice, and that is okay, but playing around can be fun, so why not try?"
For example, the duo is exploring alternative methods of physical communication across these platforms, experimenting with new hand gestures to say goodbye.
"Waving does not 'read' well on video conferencing software. We are partial to opening and closing our fingers over our palms or waving both hands close to the camera."
Anne-Marie Mulumba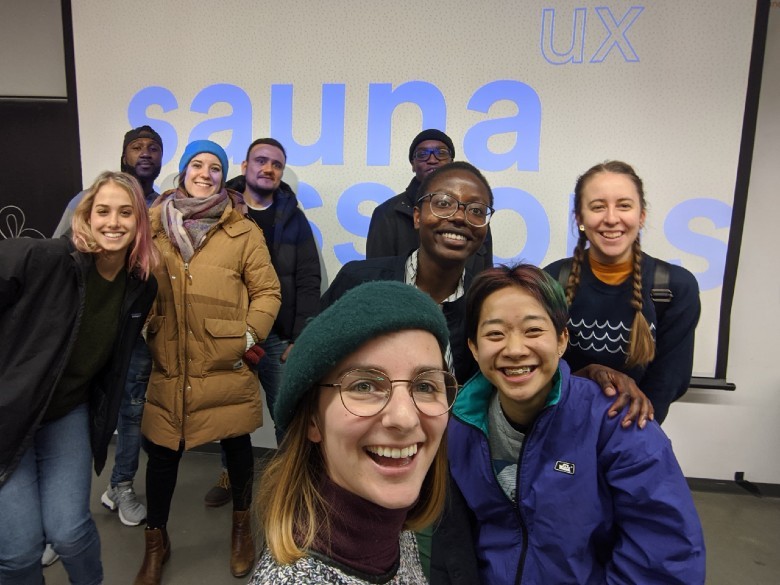 UX Sauna Session 01, December 04 2019, in Montreal.
Undergraduate design student Anne-Marie Mulumba hosts the UX Sauna Sessions, a cozy web user experience community in Montreal, and she builds inclusive and accessible services for the Canadian Digital Service (CDS).
"The Sauna Sessions bring me so much joy and energy," says Mulumba.
But where does the sauna come in?
"I wanted to anchor the community around a concept that speaks to communal gathering, healing, and warmth. The name of the project came to me after a trip to Norway and a chat with a friend who spent time in Finland. He talked about public baths and saunas as places where people from all walks of life, young and old, come together. That is what I wanted this community to embody."
Every session emphasizes connection.
"I make space for broader, deeper conversations, she says. "Creating and keeping a sense of community is even more important now, to emphasize that we are not alone, and that we can keep going, even if it means at a slower pace."
They recently hosted a session on mental and emotional health, which Mulumba figured everyone would benefit from now. During that session, two UX researchers shared their experiences with therapy and breathing techniques.
Mulumba believes that people first have to give themselves space to rest to stay motivated and inspired. She reads, paints and listens to music.
"There are so many healthy, creative possibilities, and my role as a designer, researcher and host of UX Sauna Sessions is to a shine light on some of them."
Mara Eagle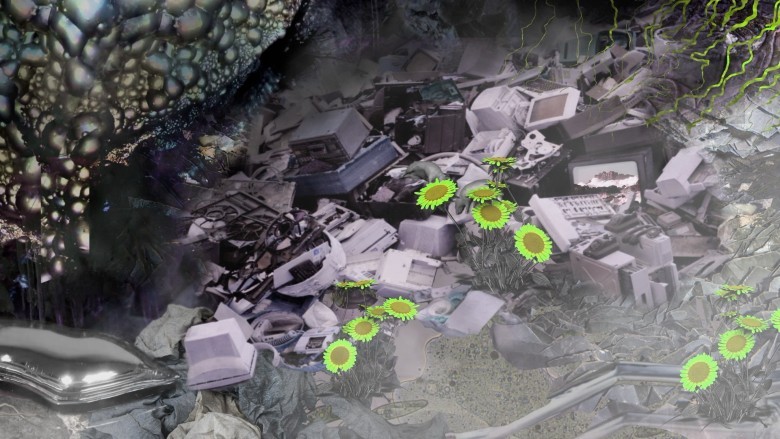 Mara Eagle, still image from That the Earth is the Middle of the World, 2-channel HD video & sound, 10 minute seamless loop, 2019-20.
"The internet is a serious gift in these times!" says MFA student Mara Eagle.
Pulling from pop-culture, the internet and technology industries, Eagle works in a wide range of media, exploring the ways in which Western philosophy and science have formulated a concept of nature amenable to industrialization and exploitation.
She sees the internet as a metaphorical immune system belonging to a larger collective body.
"I like to think about the spread of information that happens online, across social media and news outlets, as a kind of immuno-response occurring on a global level that's not dissimilar to the ways in which an individual body responds to a virus."
Currently inspired by the work of philosopher Tobias Rees and artist Anika Yi, her own artistic practice has been shaped by the pandemic.
"I am really invested in conceptualizing the virus not as an 'outsider' or as some 'foreign invader' but rather as a relative with intricate connections to the human species."
Eagle sees the internet is an important tool for political resistance and solidarity, a space where collective responses could battle the viral growth of toxic messages online.
One of Eagle's main concerns is to act in solidarity with people of Asian ethnic background.
"It's extremely important to refuse being silent about the attacks which have occurred and in calling out the violence that is taking place."
Her work will be included in an exhibition at the Musée d'art contemporain de Montréal this summer.
Pooyan Alizadeh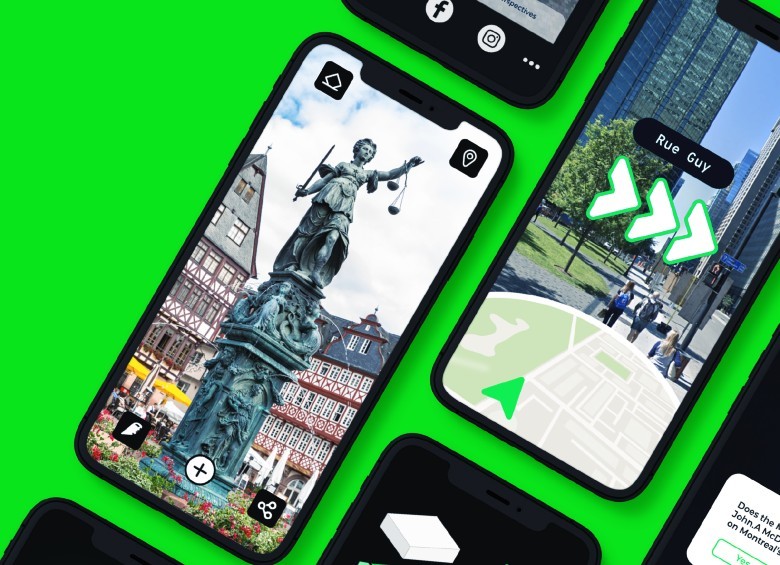 Perspectives application designed by Pooyan Alizadeh.
"Maybe art always happens in isolation," says Pooyan Alizadeh, an interdisciplinary artist in the Master of Design program whose creative interests lie within the fields of Interactive Design (Web/UI), Video Production, and Generative Art.
As he ponders on the changes to daily routines, social life, and a sense of self in the age of COVID-19, Alizadeh believes that now is a good time for a digital presence.
"One of the advantages for artists and designers is that media consumption of any form is now at its highest."
To fill this demand for content, Alizadeh believes social media platforms will become essential for artists to create, share as well as "increase supporter lists and systematically increase user engagement."
"Imagine social media as being one of the only ways we can experience basic concepts like traveling, eating at a café, or hanging out with friends."
Alizadeh's graduate research investigates the opportunities for Augmented Reality to democratize public space. His most recent project, shown in the end-of-year graduate design show Interstice, featured an AR application where participants visited politically contentious public monuments virtually, challenging the way memorials exist in geographically and historically.
"The application is a platform to gather and exhibit the different perspectives of Montreal through augmented reality. The virus is alienating us from public space and so I imagine this as a mediator between users and the city."
Ahreum Lee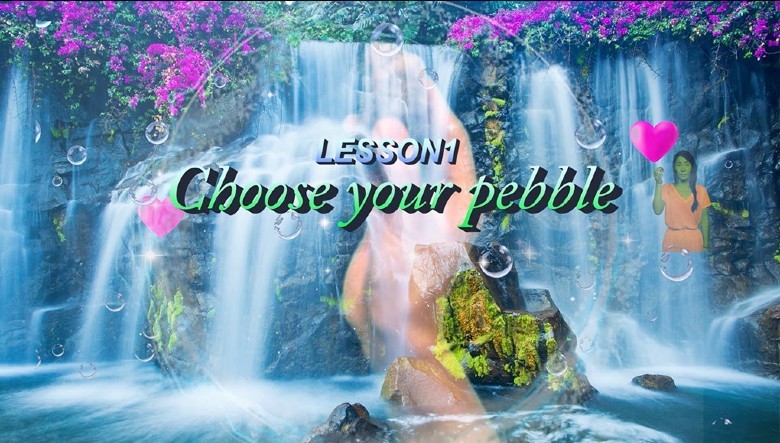 Hopping for Hope, still shot of Hopscotch game video / One channel video/ 00:08:48 / 2018
Born in South Korea, MFA student Ahreum Lee is a media artist whose work often talks about the gaps between virtuality, reality, actuality and physicality.
"In Memory Palace (2019) I address my relationship with my birth mother, who has communicated with me through phone calls and emails since I was eleven."
"My work Hopping For Hope (2020) looks at the immigrant experience in an era when digital technology allows more connection to one's home country than ever before."
"Both works look at the divide between my physical reality and the experience of my mind in virtual spaces."
With even more time spent online during the pandemic, Lee says she's learned how to be offline more.
"I have a more heightened awareness of my offline time."
That said, Lee imagines that digital media artists may see some opportunities in the current shift to online in the contemporary art world.
"It presents challenges because you need to be able to adapt work to suit this new context," Lee says, "but since many galleries and institutions are adapting and finding ways to exhibit work online, an artist has the opportunity to reach people in their homes, which might not always be the case."
Lee was a finalist for the Emerging Digital Artist Award held by EQ Bank and Trinity Square Video in 2019 and recently appeared in the Leonard and Bina Ellen Gallery's Ignition 16 show.
Anna Minzhulina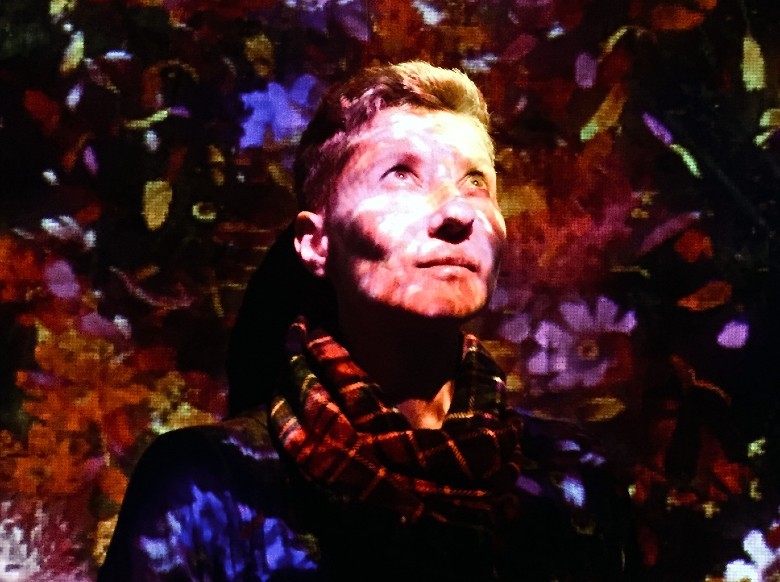 Anna Minzhulina, Tokyo, 2019. Photographed by Firdous Nizar.
Well-known for her imaginative work in design, photography, and illustration, Anna Minzhulina spent 10 years as the award-winning Art Director of Maisonneuve magazine. Now she is a Master of Design student whose research focuses on the creative power of sketching and drawing by hand.
Minzhulina says that power has appeared in windows all across the city.
"In the age of COVID-19, we are more afraid than ever of an object's physicality. And yet, Montreal's windows are graced with the hand-drawn notes of universal support."
Most of her work process is done offline and her design philosophy correlates to contemporary designer and curator Ellen Lupton's advice, "think more, design less."
"My creative process starts long before I sit down in front of a computer. I continuously learn from everything around me—books, theatre, opera, music, comics, manga, magazines, film, cartoons, taxidermy—I accumulate the information, compile the knowledge, and then refer to it later as if to a 'creative mind's database.'"
At Maisonneuve magazine, Minzhulina discovered the value of hand drawing and sketching as a design method. She believes that this practice produces an incredible variety of ideas and encourages collaboration.
"From the collective point of view, the sketch method's open-ended quality encourages contribution. Doodles are non-imposing, non-threatening and usually associated with child-like and playful engagement. People naturally respond to that."
"Experimentation in the hand-drawn sketch can improve the leap to the digital medium. After all, one is the biproduct of another."
Visit the Department of Studio Arts
---