notice
Remembering 'The People's Tevye': Chaim Topol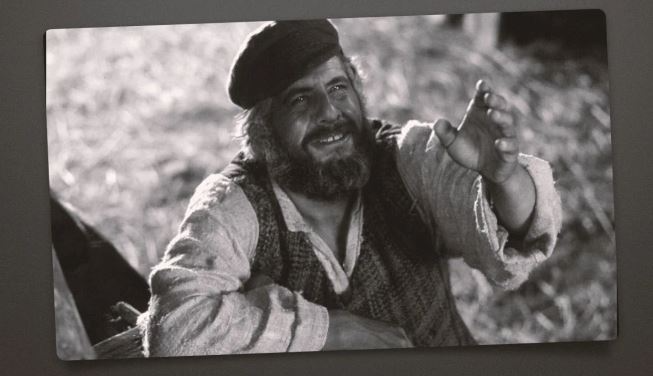 Chaim Topol in one of his daily conversations with G-d as Tevye in the 1971 film production of Fiddler on the Roof. Source: The Hollywood Reporter
Even those not a fan of musical theatre will start humming to "If I Were a Rich Man" from Fiddler on the Roof (1971). For most viewers, Chaim Topol was the iconic Tevye.
On March 9, 2023, the world lost the talented actor who had elevated Israel onto the international film and television stage. Though known for his impressive repertoire, Topol will be forever immortalized for his portrayal of Tevye in the movie production of Fiddler. Featuring themes such as the lure of modernity, the specter of intolerance, and yes - long-held tradition - the story has a timeless character and universal relatability.

"Israel's Most Famous Export Since the Jaffa Orange"
Is how some have described Chaim Topol. Such an assertion would be concretized in 2015 with the granting of Israel's Prize for Lifetime Achievement for his work in film and culture; the country's most prestigious honor.
Topol would get his start in acting as an entertainer in the Israeli army in the 1950s, joining a traveling theatrical troupe where he would meet his future wife, Galia Finkelstein.[1]

"Far From the Home I Love"
He would land his first major film breakthrough in 1964 with Sallah Shabati, portraying the hardships of Mizrachi(Middle Eastern) Jewish immigrants upon arriving in Israel.
While his character's original name was the very Yemenite 'Saadia', Topol suggested switching to the more common 'Sallah', a name familiar to Yemenites, Iraqis and Morrocans alike. Sallah Shabati would be the first Israeli film to receive an Academy Award nomination, and one which would earn Topol his first Golden Globe.
His English-language film debut was in 1966 alongside Kirk Douglas in Cast a Giant Shadow, playing a Bedouin leader during the 1948 Arab-Israeli War. Other film credits include Galileo (1975), Flash Gordon (1980) and appearances on acclaimed ABC television mini-series War and Remembrance and The Winds of War.

"Wonder of Wonder, Miracle of Miracles"
In 1964, Fiddler on the Roof was launched on Broadway, based on Yiddish author Sholem Aleichem's Tevye the Dairyman depicting a poor Jewish family "trying to maintain…cultural traditions despite the turmoil gripping their Russian shtetl."
While The Jerusalem Post called it "a landmark piece of Jewish culture, [that] has shaped the way Jews are perceived by others, and how we understand ourselves," it has had international resonance due to its relatable themes of family dynamics, heritage and persecution.

"Tradition!"
On Broadway, American actor Zero Mostel was considered to be the indisputable Tevye, starring in the longest running show at the time (1964-72). It has since been revived and performed in 16 languages and in 32 countries.
Tevye's regular reference to religion in times of doubt ("as the Good Book says…"), fierce grip on tradition, and hilarious if complex relationship with G-d (to his wife's greeting, "And here is my breadwinner!" he looks heavenward and sighs, "I'll talk to you later"), resonated with many.

"To Life,To Life! L'Chaim"
When the musical was adapted for film in 1971, director Norman Jewison (who is in fact not Jewish), opted for Topol over Mostel's Yiddish theatre approach as he "wanted a Tevye who would make the story hit hard for the widest variety of audiences."
And for over a billion people internationally, he will always be 'the one'.
"Topol imbued his performance with all the compassion, intensity and rough humor it requires," observed The Hollywood Reporter. "If his singing voice is imperfect, this only seems appropriate to the characterization."
Nor was this his first time portraying Tevye, as he was featured in a Hebrew-language Tel Aviv stage production in 1967, and then in London and on Broadway (in which he performed the songs phonetically given his (then) 50-word English vocabulary). Topol's name would become synonymous with the character, playing the part on stage more than 3,500 times over the next four decades (he was called 'Topol' as the directors could not pronounce 'Chaim').
He would win a Golden Globe for his performance and be nominated for a best actor Academy Award and a Tony, becoming one of Israel's most decorated performers. Topol's farewell tour was a sold-out run in 2009 at Chicago's former Ford Center for the Performing Arts.

"Chaveleh"
"Everywhere I performed, I was able to sense that the audience identified with [the] characters," observed Topol. The scene where the Russian Cossacks wreaked havoc at Tevye's daughter's wedding hit home for many. He mused, "I guess every nation has its own personal Haman."[2]
The movie also coincided in time and theme with movements of social change such as feminism (Tzeitl opposing an arranged marriage), civil and human rights (Hodel wishing to join Perchik's fight for justice) and openness to diversity(Chava eloping with a gentile).

"They Gave Each Other a Pledge"
In 1988, actor Paul Newman (of Exodus fame), challenged Topol to set up an Israeli equivalent to his Hole in the Wall Gang center for children with special needs.
And so developed the Jordan River Village (K'far Nahar Hayarden) organization near Tiberias. A camp for 900 religious and secular Jewish and Arab children with long-term challenges, the centre provides both critical family support and inter-cultural collaboration.

Part of the Mossad - "Sounds crazy, no?"
Following Topol's passing, his family confirmed rumors of his ties with Israel's foremost intelligence agency, the Mossad.[3]
Due to his international status, he was able to travel to countries that would have otherwise been inaccessible to Israel, such as China, Russia and Arab nations. In fact, parodies based on Fiddler songs such as "Suspicion!" and "If I Were a Secret Agent Man" were written as a nod to his involvement.

"Sunrise, Sunset"
As noted by Israel's ceremonial president, Isaac Herzog, Topol was "one of the most outstanding Israeli actors [who] filled the movie screens with his presence." Prime Minister Benjamin Netanyahu concurred, "His wide smile, warm voice, and unique sense of humor made him a folk hero who won the hearts of the people."
Chaim Topol's role as the simple yet profound, comedic yet passionate Tevye the Dairyman, will be forever engraved in our collective memories.
[1] He would be so popular that then Chief of Staff Moshe Dayan made a personal request he stay on beyond his compulsory service time.
[2] The villain in the ancient story of Purim who tried to lead the annihilation of the Jews in Persia.
[3] He worked with agent Zvi Lakin who was on the team that successfully captured Nazi leader Adolf Eichmann in Argentina in 1960. One time he came home to find Lakin in his house. When he asked how he got in without a key, the agent dryly responded, "You call that a lock?"
---