2 Concordia journalism students receive 2023 Joan Donaldson CBC News Scholarships
The prize provides Talia Kliot and Bogdan Lytvynenko each with a four-month paid summer internship with the national broadcaster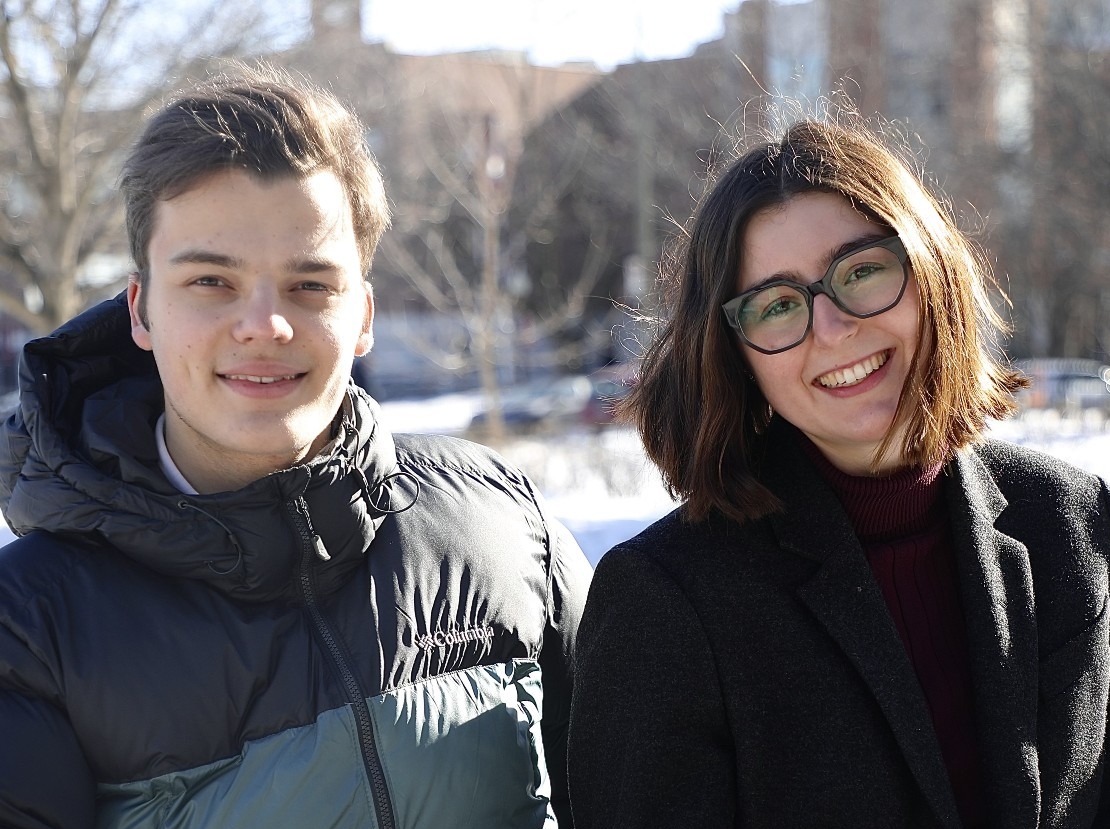 Lytvynenko (left) and Kliot. Photo credit: Robin Della Corte
Two Concordia journalism students have been awarded the 2023 Joan Donaldson CBC News Scholarship.
Talia Kliot and Bogdan Lytvynenko are among 13 students who will complete a four-month paid internship at CBC News and Centres in Toronto.
"The department is so proud of Talia and Bogdan," says Andrea Hunter, chair of the Department of Journalism.
"They are both excellent journalists and I'm sure they will do great things at the CBC."
A love for human-interest stories
Kliot will graduate from the Journalism (BA) program with a minor in creative writing. She interned at Reader's Digest Canada and is a two-time recipient of the Frank B. Walker Award for excellence in writing.
"I'm so honoured to be selected and I'm really excited to start my placements at the CBC," says Kliot.
Kliot says she likes writing stories that "make people smile", which have included covering the history of Montreal's cheese bagel and a baby squirrel's rehabilitation.
Kliot has also been part of the department's Institute for Inclusive, Investigative and Innovative Journalism (I3J) collaboration project with Kahnawake Survival School (KSS) that aims to encourage Indigenous youth to consider a career in journalism.
"She's an excellent writer with fantastic critical thinking skills," says journalist-in-residence Kristy Snell, who spearheads the project and the I3J.
"I'm so excited to see what she does at CBC."
Reporting misinformation in Russia-Ukraine war
Lytvynenko will graduate from the Journalism (BA) program with a minor in economics. A recipient of the Frank B. Walker award and the Montreal Gazette Mike King Scholarship, he is a multilingual, Ukrainian journalist who is interested in Canadian politics, world affairs and business.
"It's very motivating to receive this incredible opportunity right after my graduation," says Lytvynenko.
Along with his involvement with the I3J's collaboration project, Lytvynenko has been researching the impact of Russian disinformation about the war in Ukraine since last semester through his JOUR 451 independent study course with assistant professor Aphrodite Salas (MA 99), Graduate Diploma program director in the Department of Journalism.
Now, there are plans to continue the research in partnership with Montreal Institute for Genocide and Human Rights Studies (MIGS).
"Bogdan possesses exactly what is needed for a successful career in journalism," says Salas. "He approaches his craft with care, humility, and precision."
'An incredible vote of confidence'
Candidates for the Joan Donaldson CBC News Scholarship are nominated by their home institution and undergo a rigorous application process. The department committee was chaired by Magda Konieczna, associate professor and MA program director, who recommended both students.
"We are so proud two of our students are headed to the CBC this summer," says Konieczna.
"This is an incredible vote of confidence for the work our students and faculty do here at Concordia and makes me so hopeful about the next generation of journalists."
Find out more about the Department of Journalism.
---