Celebrating the French language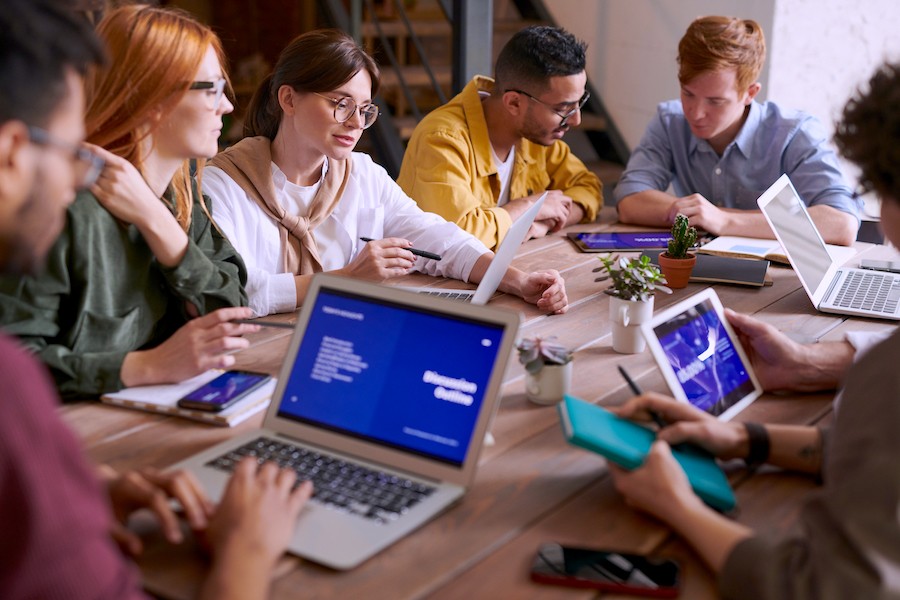 Since the end of 2019, almost 60 staff and faculty have learned and practiced French for free as part of Réussir en français.
Learning French is no easy task, but useful when you settle in Montreal, the largest French-speaking city in North America. Most participants in the Réussir en français conversation groups have something in common: they don't have to learn French. They do it because they want to immerse themselves in their new city, acquire a new skill, or simply through personal interest. For over two years, a one-hour virtual class has given Concordia faculty and staff the opportunity to meet each week to practice oral comprehension and conversation and to gain some theorical understanding of the French language.
Getting together
The idea of free conversation groups for Concordia's employees and faculty was born in 2019. After the pandemic hit, the offer continued online through Zoom. It was a perfect opportunity to continue to meet while developing a new skill. Knowing French when you settle in Quebec comes in handy. Many employees and faculty from the Webster library on the downtown campus had expressed interest in practicing their conversation in French to better serve the student community and to engage in more depth in the bustling city center. Slowly, word of the conversation group pilot project spread and attracted more and more participants from across different units.
"I wanted to join the groups to improve my French, learn more about Québécois culture and participate fully in society. I also wanted to get to know other faculty and staff members, especially when everyone is working remotely" says Alexandra Zeitz, professor in the Department of Political Science.
In the conversation groups, activities included written comprehension, grammar exercises, Québécois expressions, oral comprehension, email writing and more. Regardless of their level when they started the conversation group, participants greatly improved their knowledge of French. Lori Ayikama, coordinator for the SE4AI program in the Department of Computer Science and Software Engineering in the Gina Cody School of Engineering and Computer Science, joined the advanced conversation group in the fall of 2021.
"I really appreciated discussing various topics in French and in groups. The activity EntrePAIRES was a great way to practice writing professional emails."
Participants were also invited to practice with other French speakers and discover Québécois culture.
"Outside of class, I speak French as much as I can when I go into town. I call my friends who live in France and I watch Québécois TV series recommended by my facilitator, such as Discussion avec mes parents and District 31," says Megan Marcoux, coordinator for the program FUSION.
Celebrating the Francofête
Francofête 2022 took place virtually from March 14 to March 22. Lori Akiyama and Niem Huynh attended the poetry contest with Québécoise poet Hélène Dorion where seventeen contestants (mostly French speakers) presented a poem of their own. Dorion complimented Akiyama for the strength of the images in her poem "Les Tournesols."
Dorion said she was also drawn to the theme of family in Niem Huynh's poem, "Ma famille de trois au present."
"I have no words. I feel like I'm at the Oscars!" said Niem, laughing, when she won the audience favorite prize. Niem also participated in the Francophi-LIS reading contest, where she delivered a moving reading of "Aurore" from George Sand.
Since the fall of 2019, 60 staff and faculty from Concordia joined the conversation groups. This number includes staff from the Webster and Vanier libraries as well as staff and faculty from the John Molson School of Business, Gina Cody School of Engineering and Computer Science and the Faculty of Arts and Science.
The Réussir en français team wants to congratulate all the staff and faculty who participated in the French conversation groups in the past two years and applauds their efforts, perseverance and curiosity.
---