Workshops & seminars, Mental health, Health & wellness
Mental Health Workshop
Managing Upward: Optimizing Student-Supervisor Communication to Support Wellbeing
---
DATE & TIME
Friday, March 10, 2023
2 p.m. – 5 p.m.
Registration is closed
SPEAKER(S)
Stefanie Tremblay
WHEEL CHAIR ACCESSIBLE
Yes
---
The PERFORM Student Action Committee (PSAC) presents Managing Upward: Optimizing Student-Supervisor Communication to Support Wellbeing
(Networking event to follow)
Mental health issues are on the rise in the academic world, with rates of depression, anxiety and other mental health concerns up to six times higher in graduate students than in the general population. One of the key elements that can contribute toimproving well-being is having a positive relationship with your supervisor and mentors throughout your degree. Creating a positive student-supervisor relationship requires good communication but students may not feel comfortable or may lack the skills to initiate these important conversations.
"Managing Upward: Optimizing Student-Supervisor Communication to Support Wellbeing" is a two-hour, interactive workshop that will introduce you to tried and true strategies and techniques that will improve your ability to set expectations, establish and renegotiate healthy boundaries, and anticipate and address issues that may arise. Peer-to-peer discussions and small group practice sessions help you integrate these skills and make them immediately usable in the real world.
This workshop has been developed by Dragonfly Mental Health, a non-profit organization formed by academics from all over the world, that aims at cultivating excellent mental health among academics worldwide.
Join us after the Mental Health Talk for appetizers and a social.
Meet your PSAC committee and fellow undergraduate and graduate students
---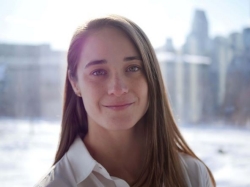 Stefanie Tremblay is currently a Ph.D. candidate at Concordia's Physics department, working with Dr. Claudine Gauthier. Her research interests are in leveraging multiple magnetic resonance imaging (MRI) contrasts to characterize brain health, especially the fiber tracts connecting brain regions. Stefanie's research, which is funded by CIHR, primarily focuses on developing novel multivariate approaches to analyze MRI images in order to obtain a more comprehensive view of the impact of various diseases on the brain's white matter.
Through her involvement in the PERFORM Student Action Committee (PSAC), she hopes to contribute in creating a greater sense of community and support, to ultimately promote better mental health amongst students and researchers.
---