Arts & culture, Conferences & lectures, Community events, Meetings
Engaged artists: How do art and activism intersect to advance social movements?
---
DATE & TIME
Thursday, May 18, 2023
7 p.m. – 9 p.m.
SPEAKER(S)
Véro Leduc, Emma Harake, Élise Ross-Nadié
ORGANIZATION
Office of Community Engagement
WHEEL CHAIR ACCESSIBLE
Yes
---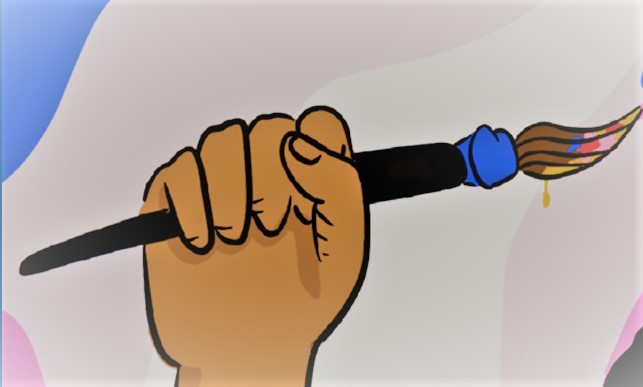 Our University of the Streets Café public conversations are much like any you'd have with friends or family around a dinner table, except with more people, more points of view, and slightly more structure. Conversations are hosted by a volunteer moderator who is there to welcome everyone and keep things on track. To get things started, there's a guest, or sometimes two, who get the ball rolling by sharing their ideas, experiences and questions. After that, it's all up to the participants.
This public discussion will explore what it means to be an engaged artist. What forms does their engagement take? What impact do these artists want to have on their communities? How do they encourage collaboration, debate and interaction? How do they work with communities to support their struggles?
Guests:
Véro Leduc: Multidisciplinary artist, committed researcher and the first deaf university professor in Quebec, Véro Leduc teaches in the cultural action program at UQAM.
Emma Harake: An artist and educator who collaborates on curatorial projects and events, Emma Harake's research focuses on artistic inquiry, memory work, oral history and community practices.

Moderator:
Élise Ross-Nadié is passionate about the links and intersections between digital cultures, intimacy, power and sexuality. She also has a keen interest in open source software, artificial intelligence and the decolonization of knowledge. Élise is an acrobatic communicator.
The conversation will take place in English and French. Admission is free. No reservation is required.
Location: The Centre for Oral History and Digital Storytelling (COHDS/CHORN)
J.W. McConnell Building, 1400 De Maisonneuve Blvd. W., 10th floor, room LB-1042
View the event in ASL: https://fb.watch/kjOHfiGb2e/.
Follow our events on our Facebook page.
---
Artistes engagés : comment l'art et le militantisme se croisent-ils pour faire avancer les mouvements sociaux ?
Cette discussion publique explorera ce que signifie être un-e artiste engagé-e. Quelles formes prend cet engagement ? Quels impacts ces artistes veulent-ils avoir sur leurs communautés ? Comment encouragent-iels la collaboration, le débat et l'interaction ? Comment travaillent-iels avec leurs communautés pour soutenir leurs luttes ?
Personnes invitées:
Artiste multidisciplinaire, chercheure engagée et première professeure d'université sourde au Québec, Véro Leduc enseigne au programme d'action culturelle de l'UQAM.
Artiste et éducatrice, Emma Harake collabore à des projets et événements curatoriaux. Ses recherches portent sur des enquêtes artistiques, sur le travail de mémoire, l'histoire orale et les pratiques communautaires.
Personne animatrice:
Élise Ross-Nadié est passionnée par les liens et les intersections entre les cultures numériques, l'intimité, le pouvoir et la sexualité. Elle a aussi un intérêt marqué pour les logiciels libres, l'intelligence artificielle et la décolonisation des connaissances. Élise est une communicatrice acrobate.
Centre d'histoire orale et de récits numérisés (CHORN), Université Concordia
1400 de Maisonneuve Ouest
Pavillon LB, 10ème étage, salle LB-104
Locaux accessibles et service de garde disponible
L'entrée est gratuite. Aucune réservation n'est requise.
La discussion sera en anglais et en français.
Les détails de l'événement en LSQ: : https://fb.watch/kjOyOftR-9/.
---