Conferences & lectures
The Image on the Page: A Study Day Around Illustrated Print Culture / L'image mise en page: journée d'étude autour de l'imprimé illustré
---
DATE & TIME
Friday, October 13, 2023
9 a.m. – 5:30 p.m.
SPEAKER(S)
Michelle Macleod, Karla McManus, Sabine Wecker, Allan Doyle, Lauren Graves, Ji-Yoon Han, María Andrea Giovine Yáñez, Josh Schwartz, Daniel Peacock, Mary Panzer, Antares Wells, Rod Bantjes, Zsuzsanna Szegedy-Maszák, Johanne Sloan, Emily Doucet, Natalie Greenberg, Jamie Jelinski
ORGANIZATION
Concordia Library
WHEEL CHAIR ACCESSIBLE
Yes
---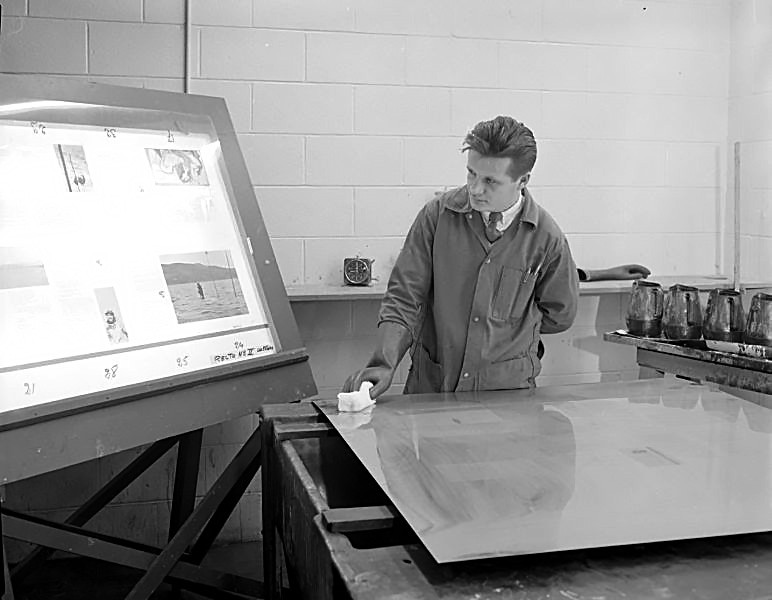 Gabor Szilasi, Photos chez l'imprimeur, 1966. Fonds Ministére de la Culture et des Communications, Office du film du Québec, BAnQ Vieux-Montréal, Montréal. Licensed under CC BY-NC-ND 4.0.
This study day will gather academic researchers from various horizons around the subject of the printed image since the 1880s. With particular attention to material bibliography and production techniques, we seek to better understand how illustrations contribute to the formation of meaning and discourses within different contexts from illustrated newspapers to birding magazines, from advertisements to postcards.
View the detailed program.
---