Workshops & seminars
Imani Jacqueline Brown: Unraveling Industry - Mapping Oil and Gas Infrastructure to Demand Reparations
---
DATE & TIME
Friday, June 2, 2023
10 a.m. – 12 p.m.
Registration is closed
SPEAKER(S)
Imani Jacqueline Brown
ORGANIZATION
Social Justice Centre
---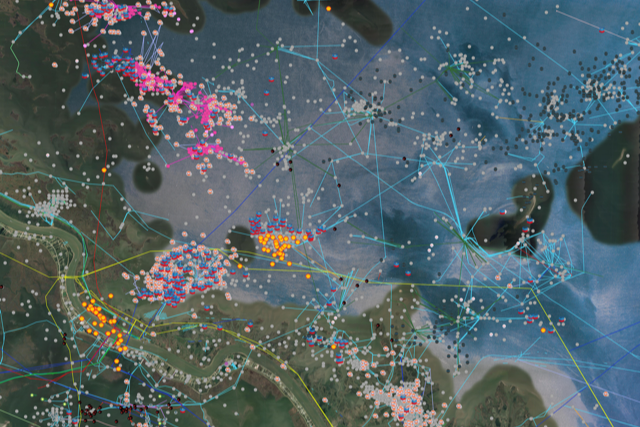 Unraveling Industry is a platform to map oil and gas infrastructure in Louisiana by company, supporting local and global demands for corporate accountability and "ecological reparations". It maps and archives the corporate-colonial guidelines along the continuum of extractivism, which spans from colonialism and slavery to fossil fuel production, coastal erosion and climate change. The platform uses a methodology that Brown calls "cartographic unraveling" to disentangle and analyze cartographic lines and points representing antebellum property lines, as well as permits for oil and gas pipelines, canals, and wells––terrestrial inscriptions that make geographies, unmake communities, and break Earth's geologies. Brown notes that, since 1926, oil and gas companies have dredged 10,000 linear miles of canals to drill and access over 90,000 wells throughout the Louisiana's coastal wetlands. These wells connect to a region known to industry as the "Petrochemical Corridor," formerlly called "Plantation Country," and nicknamed "Cancer Alley" by its residents. There, the nation's most polluting petrochemical plants and refineries occupy the footprints of former plantations alongside majority-Black communities descended from people historically enslaved on those same grounds. Ultimately, maps, data, histories, mythologies, and geographies are archived in an interactive platform that reveals the corporate authors of extractivism and points toward a horizon of justice.
About
Imani Jacqueline Brown is an artist, activist, and architectural researcher from New Orleans, USA, based in London. Her work investigates extractive environmental and economic systems to expose the layers of violence and resistance that comprise the foundations of settler-colonial society and imagine paths to ecological reparations. Brown is currently a PhD candidate at Queen Mary, University of London, a research fellow with Forensic Architecture, and an associate lecturer in MA Architecture at the Royal College of Art. She received her MA with distinction from the Centre for Research Architecture at Goldsmiths, University of London in 2019.
This event takes place online on June 2, 2023, from 10 a.m. - 12 p.m.
---