Workshops & seminars
Wearable Memory Pt. 2
---
DATE & TIME
Monday, May 8, 2023
3 p.m. – 5 p.m.
Other dates
WHEEL CHAIR ACCESSIBLE
Yes
---
This workshop is now full.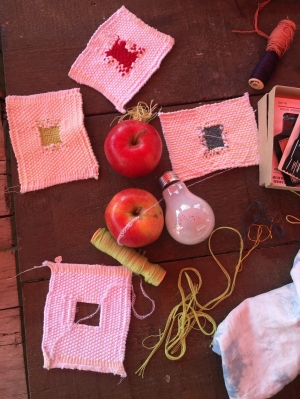 Photo: Selina Latour and Meagan Bissett
Facilitated by Concordia MFA students Selina Latour and Meagan Bissett, this workshop is a continuation of Wearable Memory Part 1. Participants from the previous workshop will identify and perform a mending intervention on their wearable, guided by the narrative and memory work of the first workshop. This may involve repairing for further use, altering for a different use, or 'mending' one's relationship with the wearable through changing, adding or removing elements.
Throughout, we will continue to facilitate discussion around memory, narrative, the body, and the role that wearables play in our lives, as portable homes and non-human entities with which we share an intimate relationship. Crucially, the workshop will also build material literacy and practical mending skills towards sustainability and care, prompting participants to carry the skills and ethos of mending into their own communities. We will also offer mending advice and/or materials to interested visitors who drop-in to the publicly accessible space.
About the artists
Bissett and Latour began collaborating during their undergraduate degrees at NSCAD University (BFA, 2016). Followed by an artist residency in northern Iceland (NES, 2017), they developed a practice that involves local plants and sustainable materials. Since then they have lived in Montreal, where they have pursued graduate degrees (Bissett: MA Art Education '23, Latour: MFA Fibres and Material Practices, '23), and continue to maintain a studio practice in textiles, performance, and image-based media. Having now collaborated for over 10 years, they have recently pivoted towards educative, socially-engaged and community-oriented artworks and workshops. Inviting participants of all ages and skill levels to participate, their vision is to facilitate interactions that encourage skill-sharing and storytelling within craft traditions. Learning alongside knitting circles, weaving collectives, educators, and acquaintances, their work emphasizes the importance of localized crafts and cultural traditions that focus on slowness, connectivity, sustainability, and creativity.
---
This event is part of:
---