Student profile
Gamine Gagnon
Sculpture and Ceramics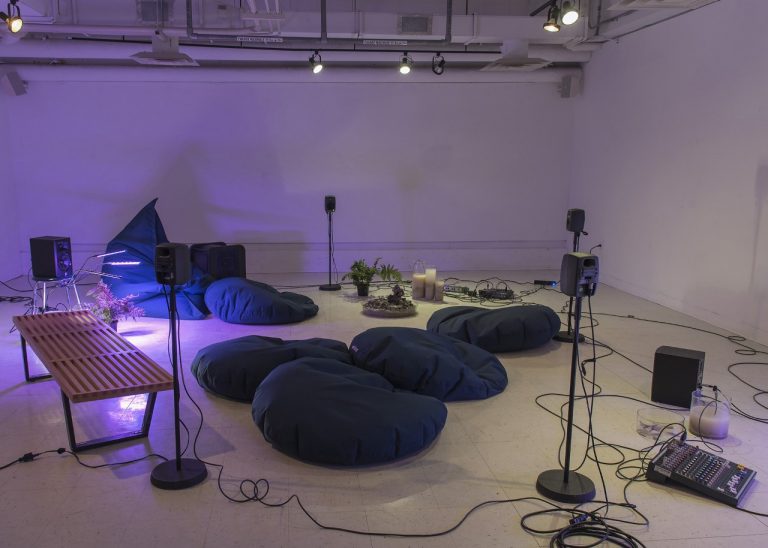 Ma pratique artistique interdisciplinaire investigue le rôle du processus de création dans nos manières de percevoir et d'habiter nos espaces. Mes préoccupations autour de la dynamique entre l'art performatif et la vie ordinaire m'amènent à créer des installations participatives à travers lesquelles je questionne les conditions favorables à l'habitabilité. En ce sens, j'explore le potentiel poétique et transformateur de notre présence attentive en contexte Anthropocène.
Je suis née et je travaille au cœur de la forêt laurentienne, ainsi que sur les terres de Tiohtià:ke/Montréal. J'ai d'abord étudié les sciences humaines, ensuite la création en arts visuels et médiatiques, puis son enseignement et je poursuis présentement mes études en sculpture et céramiques. Mes réalisations ont été présentées à l'intérieur de divers contextes souvent non dédiés à l'art. Notamment, depuis plus d'une décennie, une part importante de ma démarche se matérialise dans le chantier d'auto-construction que ma famille et moi menons. Cette co-création s'enracine dans un écosystème forestier et un mode de vie axé sur les principes de soutenabilité. J'enseigne également les arts visuels au Cégep de Saint-Jérôme. La question de la transmission du geste créatif transdisciplinaire fait partie intégrale des spécificités de ma recherche-création. Enfin, un de mes projets artistiques en cours met en relation l'art, la pédagogie, le territoire et l'espace social. Il est rendu possible grâce au soutien de généreuses collaborations et du CALQ.
-
My interdisciplinary artistic practice investigates the role of the creative process in how we perceive and inhabit our spaces. My interest in the dynamic between the performative and the ordinary everyday leads me to create participative art installations through which I inquire on the conditions for habitability and the poetic and transformative potential of our attentive presence in the Anthropocene context.
I was born and work in the heart of the Laurentian Forest, as well as the Tiohtià:ke/Montreal territory. I initially delved into social sciences and later chose creation in visual and media arts, then its teaching and I am currently pursuing my studies in sculpture and ceramics. My work has often been presented in various contexts that are not centered on art. For over a decade, an important part of my approach has been materialized in a self-construction project with my family. This co-creation is land-based and rooted in an ecosystem of sustainability. I also teach visual arts at Saint-Jerome College. The question of transmission transdisciplinary creative gesture is an integral specificity of my research-creation. Finally, one of my current artistic projects articulates art, pedagogy, territory and social space. I gratefully acknowledge support from collaborators and CALQ.