Conferences & lectures
Putting the future of our journalism in context
Reader's Digest Annual Lecture Series in Journalism
---
DATE & TIME
Wednesday, March 29, 2023
5:30 p.m. – 7:30 p.m.
Registration is closed
SPEAKER(S)
Yasir Khan, Aphrodite Salas
---
Wednesday, March 29, 2023

Join Yasir Khan, editor-in-chief at the Thomson Reuters Foundation, at the highly-anticipated 2023 Reader's Digest Annual Lecture Series in Journalism.
Khan will discuss the challenges and opportunities facing today's news organizations and how to reach increasingly-fragmented audiences with stories that positively impact the world.
As leader of Context, the foundation's digital news platform, Khan heads an award-winning team of 45 journalists and hundreds of freelancers reporting on the ground from more than 70 countries on the latest human-rights and freedoms issues.
The conversation is presented in collaboration with the Department of Journalism and moderated by graduate diploma program director Aphrodite Salas, MA 99.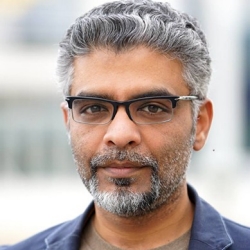 Photo by Sorin Furcoi
Khan leads a global team of correspondents, producers and editors covering the impacts of climate, socio-economic inequality and technology on societies around the world.
An award-winning journalist, editor, podcaster and documentary filmmaker with 25 years of TV, radio and digital media experience, Khan's international career has taken him through major international media organizations, including Al Jazeera, Euronews, CNN, CBC and National Geographic.
Khan has taught journalism and documentary filmmaking at the American University in Cairo, Northwestern University and the Jordan Media Institute, and frequently speaks at universities and forums such as the International Journalism Festival, Deutshe Welle's Global Media Forum and Web Summit.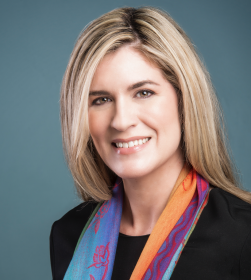 Salas is a visual journalist who has worked across Canada and around the world. Before her appointment at Concordia, she was a video journalist, assignment editor and line-up editor at CTV Montreal for nearly a decade.
She has also hosted a current affairs radio program on 940 Montreal, and was the senior anchor for Global Quebec. As a national correspondent for CityTV, Salas spent three years reporting on Parliament Hill. She was additionally a national correspondent for CTV News in Montreal, and the network's transportation reporter in Toronto.
Salas began her visual journalism career at the Reuters East Africa bureau in Nairobi, Kenya. She produced a number of short documentaries in several West African countries, including Cameroon, Ivory Coast and Burkina Faso. Salas has also worked in India, England and the United States and sailed around the Pacific Ocean as part of the Government of Japan initiative.
---