This scholarship is awarded annually by the Actuarial Foundation to college seniors who have successfully completed at least one actuarial examination, rank in the top quartile of their class, and are nominated by a professor at their school. Each year, several stduents receive the $2,000 scholarships, established by the estate of Juhn Culver Wooddy, a distinguished actuary who set aside funds to provide scholarships to actuarial students.
For the last three years in a row, Concordia students were recipients of this prestigious scholarship:
2012
Jean Sebastien Cote (B.Sc. Specialization, Actu/Fina, Co-op)
2011
Matthieu Hubert (B.Sc. Specialization, Actu. Math)
2010
Jonathan Morin (B.Sc. Specialization, Actu/Fina, Co-op)
Established in 2013 through the generosity of Economical Insurance, in support of excellence in Actuarial Mathematics education. The Economical Insurance Scholarships are distinguished as the highest-value awards among undergraduate in-course scholarships for students pursuing a Bachelor/Baccalaureate degree in Actuarial Mathematics at Concordia University.
Starting with the 2013-14 academic year, two $5,000 Economical Insurance Scholarships will be awarded annually for the following 5 years.
Founded in 1871, Economical Insurance is a leading property and casualty insurance company in Canada, offering a wide range of personal, commercial, farm and surety products.
2013 Winners
Hugo Latendresse (B.Sc. Honours, Actu. Math Co-op)
Michelle Rutman (B.Sc. Specialization, Actu. Math Co-op)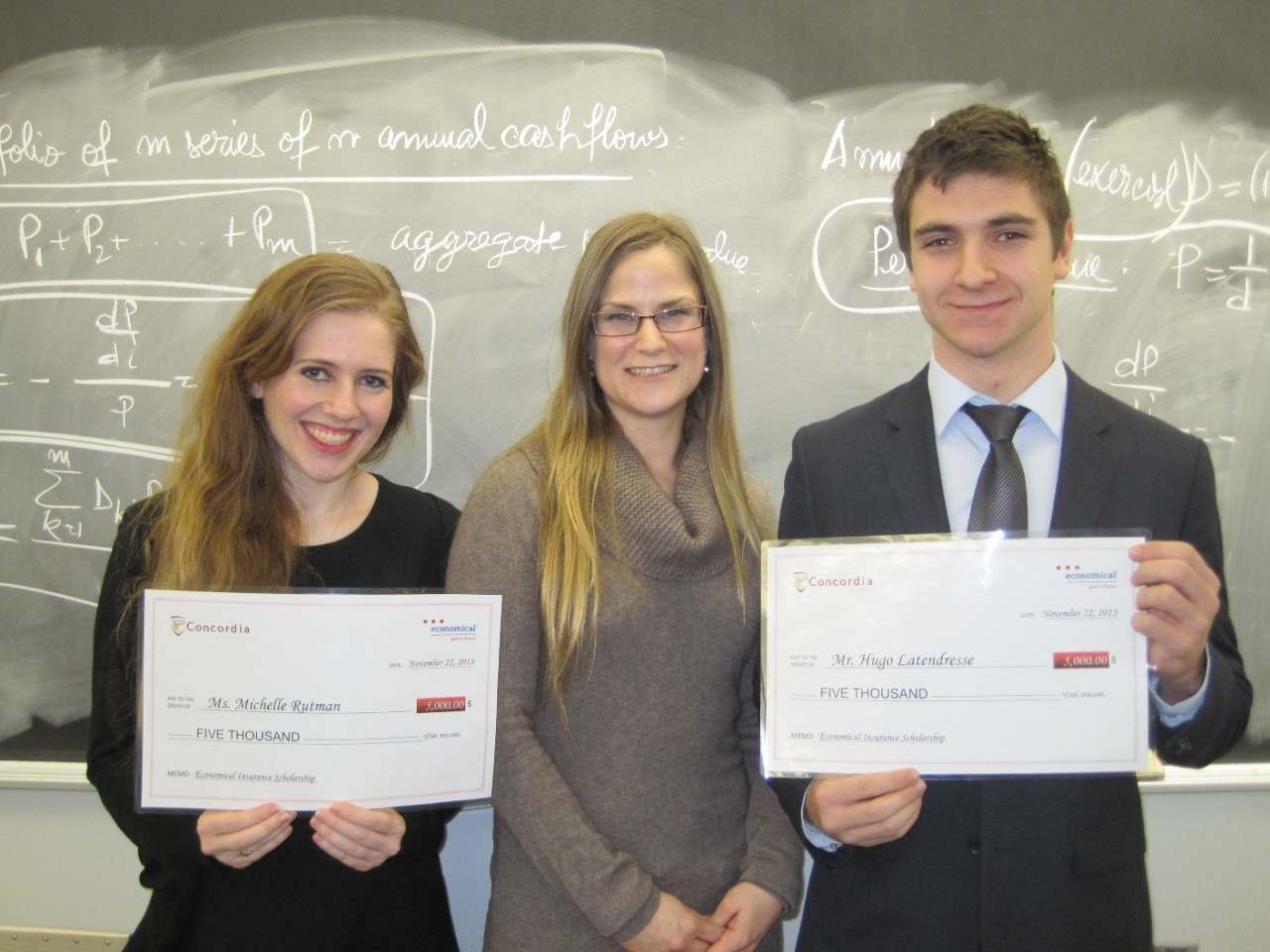 From left to right: Michelle Rutman, Véronique Ouellet (Economical Insurance), and Hugo Latendresse.
The Arts and Science Scholars list is completed every after the last annual GPA has been calculated. Students who are identified as Arts and Science Scholars are invited by the Dean of the Faculty of Arts and Science to an evening awards event during the following Fall term. For a student to be eligible as an Arts and Science Scholar, they must meet the following criteria:
Be registered in an Arts and Science degree.
Complete a minimum of 12 credits in both the Fall and Winter terms within the academic year.
Have a GPA in the top 1% of their department (there is no minimum and the top GPAs will vary from year to year)
Arts & Science Scholars from our Department are as follows:
October 2012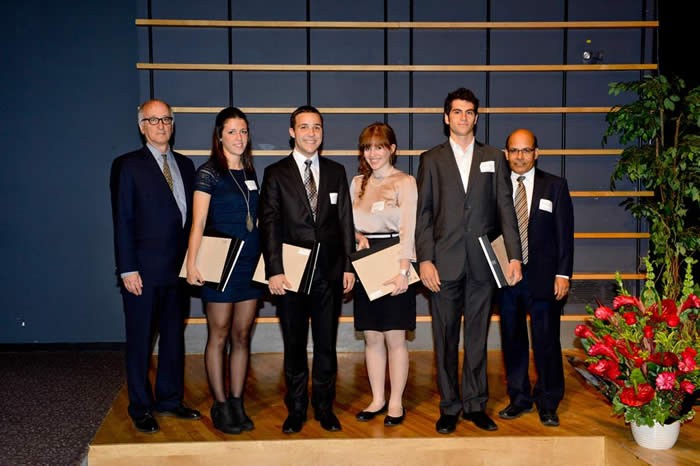 From left to right: Dr. Brian Lewis (Arts & Science Dean), Kimberly Dextras-Romagnino, Matthieu Hubert, Michelle Rutman, Nicolas Payeur, Dr. Yogendra P. Chaubey (Math & Stats Department Chair). Other award winners not present: Yanbo Tang, Geneviève Therrien. Photo by PBL Photography
October 2010
David Mamane, Andrew Brulotte, Qiu Ying Xu, Matthieu Hubert, Francois Lamirande
October 2009
Emily Ditchburn-Trout, Olga Iacovlenco, François Lamirande, Davy Ly, Carol Neil
Established in 2010 through the benevolence of Morneau Shepell, the largest Canadian-based HR services company, this scholarship is intended to recognize and reward excellence in Actuarial Mathematics students who are entering their second year of studies.
2013 winner
Jason Azzoparde (B.Sc. Specialization, Actu/Math Co-op)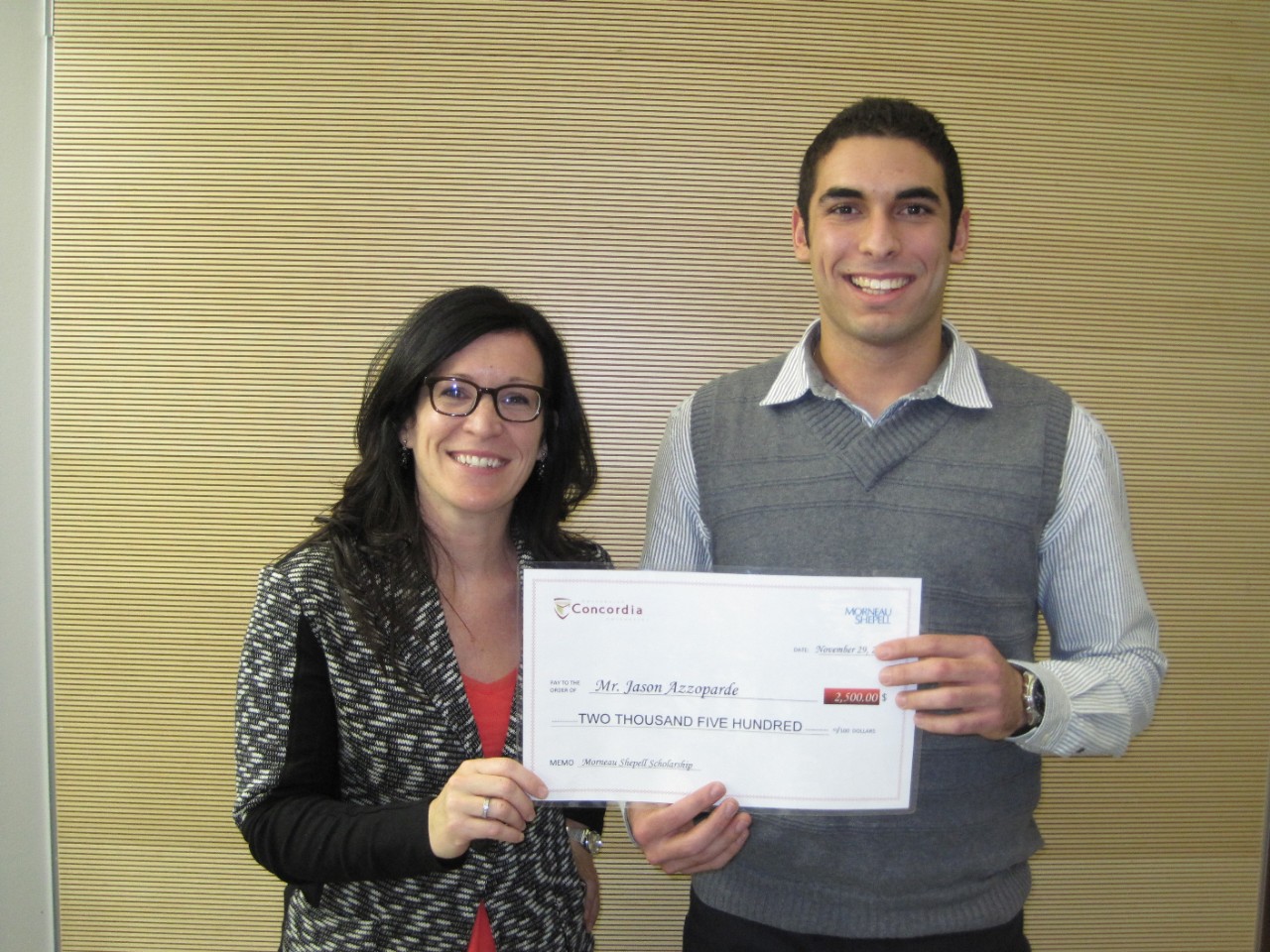 From left to right: Lisa Bolduc (Morneau Shepell) and Jason Azzoparde.
2012 winner
Vincent Carrier-Côté (B.Sc. Specialization, Actu/Fina Co-op)
2011 winner
Steven Ma (B.Sc. Specialization, Actu/Fina Co-op)
These scholarships are funded thanks to the generosity of Towers Watson and awarded by the Department to eligible and most deserving 1st and 2nd year actuarial students.
April 2013
Yanbo Tang, Alessandra Fraquelli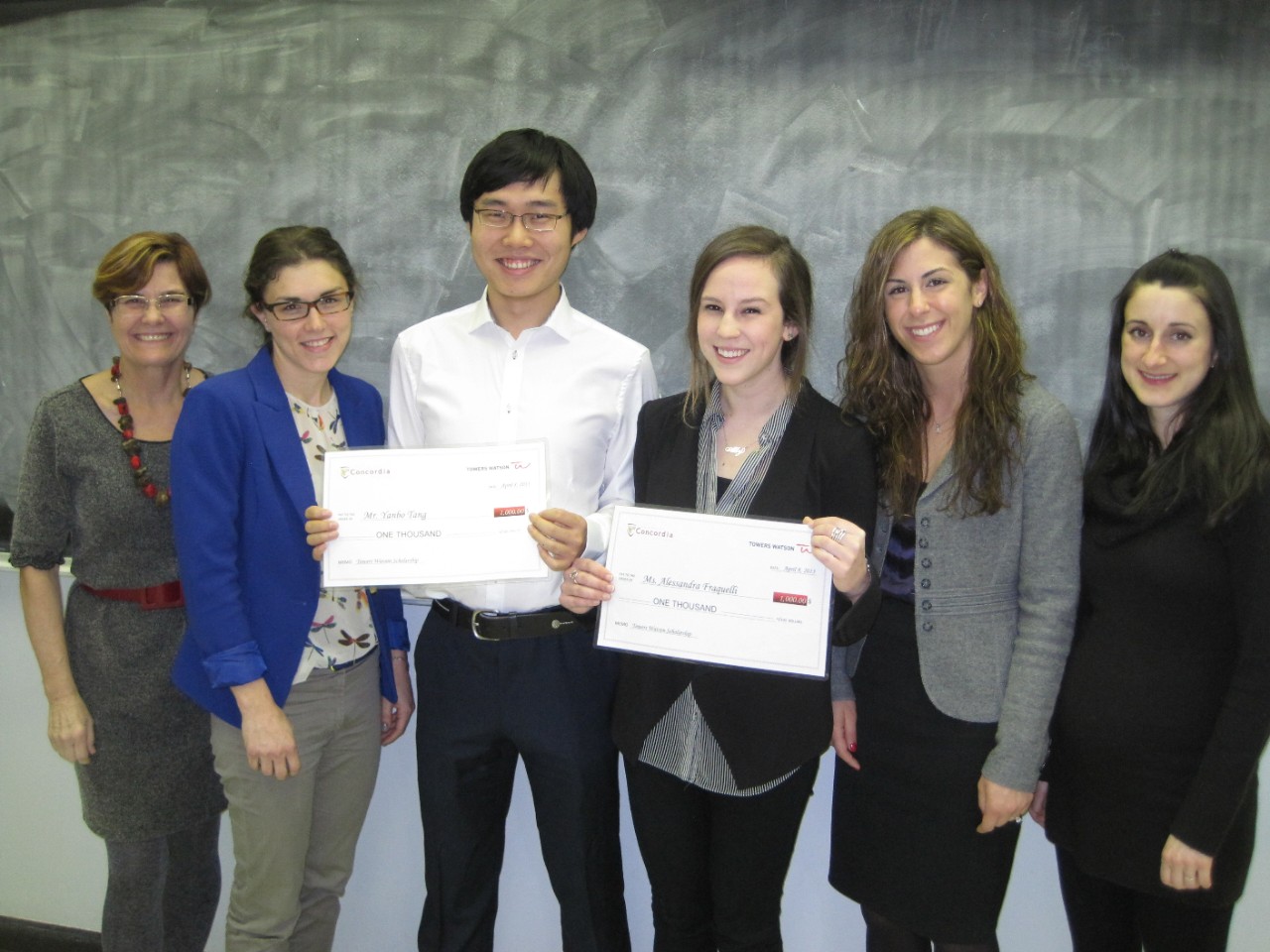 From left to right: Dr. Ewa Duma (Actuarial Program Director), Geneviève Gauvin (Towers Watson), Yanbo Tang, Alessandra Fraquelli, Tina Nicolopoulos (Towers Watson) and Dr. Melina Mailhot.
2011
Olivier Brown, Matthieu Hubert
2010
Andrew Brulotte, David Mamane
2009
Yadvinder Matharu, Vivian Lee

- Actuarial Foundation (John Culver Wooddy) scholarships;
- Economical Insurance scholarships;
- Faculty of Arts & Science scholars;
- Morneau Shepell scholarships;
- Towers Watson scholarships.
The Offices of the Vice-President, Research and Graduate Studies (OVPRGS) and Provost and Vice-President, Academic Affairs, are pleased to announce the continuation of the Concordia Undergraduate Student Research Awards (CUSRA) program for a sixth year. The CUSRA program provides funding to students in the fine arts, social sciences, humanities, engineering and computer science, business disciplines, and natural and health sciences. The goal of the awards is to stimulate interest in research, participatory research, or research-creation work that will complement undergraduate coursework and enhance preparation for graduate studies or research-related careers.
Funded by the ISM and the Centre de recherches mathématiques (CRM), the Undergraduate Summer Scholarships give undergraduate students the opportunity to acquire research experience in a university or industrial environment while offering young researchers the chance to gain experience in research supervision.
Description: ISM Summer scholarships are offered to undergraduate students in mathematics and statistics who are registered in one of the ISM member universities. They allow selected candidates to carry out research under the supervision of a postdoctoral fellow, a doctoral student or an assistant professor affiliated with one of the ISM member universities.
Learn more about the ISM's Undergraduate Summer Scholarships.
The Natural Sciences and Engineering Research Council of Canada (NSERC) is a federal agency responsible for promoting and supporting research in the natural sciences and engineering, other than the health sciences.
The objective of the Undergraduate Student Research Award (USRA) program is to provide research work experience for students to complement their degree program and encourage them to consider graduate studies and/or a research career.
Each summer, the Department of Mathematics and Statistics offers opportunities to Undergraduate students who wish to gain experience in research in Mathematics, Statistics, Actuarial, Financial Mathematics or other applied field. In these summer research projects, our students gain invaluable experience and training that transcends the standard curriculum. These experiences shape their interest in a future career and is viewed positively when applying to graduate programs.
Interested students should approach individual professors with enquiries. These positions are, generally, funded by the awards listed, but some of the projects may be funded by individual professors. Below you will also find a list of professors who are interested in directing undergraduate research projects with some topics of interest to them. If you have your own interest as well, do not hesitate to discuss it with our faculty members.

- Concordia University undergraduate research awards (CUSRA);
- ISM undergraduate summer scholarships;
- NSERC undergraduate student research award (USRA).

Also visit Financial matters for information about awards and scholarships, loans and bursaries, work study program and small grants program for students at Concordia University.
Visit Financial matters for information about awards and scholarships, loans and bursaries, work study program and small grants program for students at Concordia University.
The Department of Mathematics & Statistics invites applications for the above bursary from students registered in a graduate or undergraduate program in the Department. The value of the award is approximately $ 2,000 in total. The number of awards and the amounts of the individual awards can vary from year to year.
Preference will be given to candidates who meet some or all of the following criteria:
Having a proven interest in the teaching of mathematics at the pre-university level.
Having returned to academic study after some interruption.
Having overcome some particular handicap or obstacle, e.g. in academic background, physical health, financial security.
Having been active as a volunteer in some social, political or professional organization.
To be eligible, the applicant must be registered for at least 12 credits in the given academic year.

Applications must include:
the applicant's name, address, social insurance number;
an up-to-date curriculum vitae;
a statement of purpose indicating in what ways the applicant considers him- or herself worthy of the award (maximum 500 words);
a list of courses the applicant is enrolled in during the current academic year;
a list of any financial support that the applicant is receiving during the current academic year (scholarship, bursary, teaching assistant, etc.)

Applications are to be submitted to the Departmental Graduate Assistant. The deadline for applications is January 25.
Brenda Carter (1937-1989)
Brenda Carter was born in Battersea, a borough of London, England, on June 24, 1937. At the age of eleven, she won a scholarship to Grey Coat School, Westminster, and from there went to Salisbury Training College where she studied to become an elementary school teacher. She taught first at a school in the Scilly Islands, then moved to successively more responsible positions in schools in the County of Surrey. In 1972 she was appointed head teacher of Duppas Junior School in the Borough of Croydon, a low-achieving school situated in socially mixed area. By the time she resigned from this position for reasons of health in 1984, the standards of work by the children at the school in academic subjects, sports, arts and music, had risen to above average levels.
In 1984 Brenda Carter married and moved to Canada. Unable to teach for physical reasons, she enrolled in a master's program in the history of education at McGill University. At the time of her death on April 12, 1989, she had just embarked on writing up a study of one-room schoolhouses in the province of Québec at the beginning of this century.
Without formal mathematical qualifications, Brenda had a strong intuitive grasp of mathematical processes and procedures, and while not a doctrinaire feminist, she very much wanted many more women to find the keen pleasure in mathematics that she had found in it. The Memorial Scholarship was established by her husband, David Wheeler, a Professor of Mathematics at Concordia University from 1975 to 1990, and funded by the generous donations of friends and colleagues.
David Wheeler (1925-2000)
David Wheeler was born in UK on February 16, 1925. Through a career extending over 50 years and spent in three different countries (UK, USA, Canada), David Wheeler has made many important contributions to mathematical education at large. He was a professor at the Department of Mathematics and Statistics in Concordia University, where he taught mathematics and mathematics education courses. He was the founder and long time editor of the journal, For the Learning of Mathematics, one of the renown international journals in mathematics education.
David Wheeler died in Vancouver on October 7th, 2000. One of his colleagues, Mogens Niss, paid a tribute to him in these words: "David Wheeler was a mathematics educator who never in a fraction of a moment forgot that, from his perspective, mathematics education ought to be provided to human beings, in order to serve their needs as human beings, and with due respect being paid to how human beings are different, and to how they live, feel and think. Hence empathy, open- and broadmindedness, an unpompous sense of reality, and not the least silent humour, should permeate the way we deal with mathematics education. All of these permeated David himself. We have indeed lost a giant in mathematics education, and some of us a dear friend as well."
The Nick Herscovics Scholarship is awarded to a graduate student pursuing full-time studies in the area of Mathematics Education in the Department of Mathematics and Statistics. The amount of the scholarship is $900 awarded based on academic excellence, and can be held by the same person for a maximum of two years. The selection of the recipient is made by the Mathematics Education research group and the Department's Graduate Program Director, in consultation with other departmental members.
Application forms for the scholarship are available from, and are to be submitted to, the departmental Graduate Program Assistant. The deadline for receipt of applications is September 17.