Concordia professor becomes a fellow of the Institute of Electrical and Electronics Engineers
Chadi Assi is the youngest academic at the university to hold this honour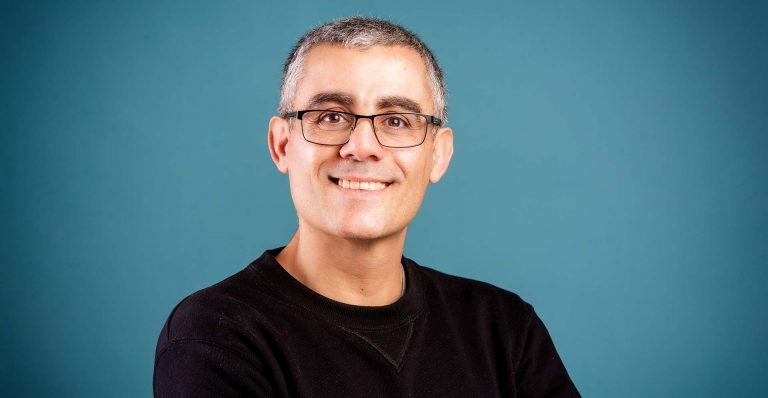 For electrical engineers, becoming a fellow of the Institute of Electrical and Electronics Engineers (IEEE) is a notable career accomplishment.
So, when 44-year-old Chadi Assi received word of his IEEE fellowship this fall, he was delighted.
Assi is a professor with the Concordia Institute for Information Systems Engineering (CIISE) and a Tier I Concordia University Research Chair in Broadband Wireless Networks at the Gina Cody School of Engineering and Computer Science. He became the youngest academic at Concordia to hold this honour and the only one in the CIISE.
"Being elevated to a fellow in the IEEE is what every electrical engineer aspires to," says Assi, who is part of the institute's communications society. Its members and fellows share a common interest in advancing all communications technologies, including terminals, computers, systems and operations; transmission media networks; new content/delivery methods; layout; protocol; and architecture.
To become a fellow with the IEEE is to be internationally recognized for outstanding contributions to the field and for having an impact on society.
"Chadi Assi has made significant contributions to enabling high-speed optical fibre to reach residential and business subscribers in fibre-to-the-home networks, thereby alleviating the last-mile bandwidth bottleneck," says George Rouskas, IEEE fellow, professor and director of graduate programs at North Carolina State University.
It's thanks in part to Assi that Netflix and YouTube stream so effortlessly at home. And why noisy dial-up modems are a thing of the past.
"More specifically, Chadi pioneered the concept of dynamic bandwidth allocation in ethernet passive optical networks to statistically multiplex traffic from users' premises so as to provide quality of service guarantees and traffic isolation," Rouskas adds.
Assi's bandwidth management methods are used by major carriers — think Bell and Dutch Telecom — to provide broadband residential access to customers of their networks.
Assi hits his stride
Originally from Lebanon, Assi pursued his graduate studies at City College of New York. There, his PhD dissertation on the protection and restoration in optical wavelength division multiplexing networks won him the much-coveted Mina Rees Dissertation Fellowship (2002-03) and a postdoc at the Nokia Research Center in Cambridge, Mass.
Ahmed E. Kamal, an IEEE fellow, professor and director of graduate education at Iowa State University of Science and Technology, has known Assi since he was a graduate student in New York City.
"The impact of his work can be felt through the large number of citations his publications receive," says Kamal.
Indeed, Assi's 2003 journal article "Dynamic bandwidth allocation for quality-of-service over Ethernet PONS" has been cited in 13 patents and hundreds of other articles.
"The cornerstone of my fellowship is recognition for the work I did on the management of bandwidth over optical and wireless networks over the 'last mile' into residential homes," says Assi.
"That's work I started at Nokia and continued here at Concordia with my PhD and master's students when I came to Montreal in the summer of 2003."
Securing the future
Since then, Assi's research interests have expanded dramatically from optical and wireless networks to network security, smart grids, micro grids, electric vehicles, drones, network virtualization, the Internet of Things (IoT), 5G and beyond.
"As part of the Security Research Centre at Concordia, my current work is on network security in our IoT era — an age of network-connected thermostats, baby monitors, light switches, door locks and more," says Assi.
"Once you connect these devices to the network, anyone who can hack into your network can control them. For example, someone can control the temperature in your house by accessing your smart thermostat, or can make your smart toilet flush non-stop through the night. We look for new vulnerabilities and analyze the type of malware that is intended for IoT devices to know more about how to detect and stop, for instance, denial-of-service attacks."
Assi's research has earned funding from the Natural Sciences and Engineering Research Council, the Fonds de Recherche du Québec – Nature et technologies, Hydro Quebec, Mitacs, Qatar Foundation and Concordia.

Learn more about the Gina Cody School of Engineering and Computer Science.
---