The CIADI Student Executive committee has been active as of Fall 2020 and is recognized as a sub-division within Concordia Institute of Aerospace Design and Innovation (CIADI). Its current goals are to participate in CIADI governance and decision making and create monthly events under the umbrella of the "Professional Development Series." The series aims to give participating students a competitive edge, prepare them for the industry, and add positive value to their academic portfolio while receiving a certificate to show their dedication to further learning.
As an executive, your responsibilities will be to brief those in the line-up to give a talk, pick up tasks during the bi-monthly meetings with the Director of Education, report your progress, attend the scientific committee, and provide feedback while taking creative initiative. The committee is a cross-faculty committee, including GCS, JMSB and Arts & Sciences, and we are looking for dynamic students with interest in Aerospace. Your understanding teammates will always support you, so even if you're worried about the workload, take the leap of faith and join us!
Send an email to ciadiexec@concordia.ca stating your interest and whether you'd like to join for the beginning of Summer or after Spring Break!

B. Eng. Co-op Aerospace Engineering Aerodynamics & Propulsion
CIADI special projects team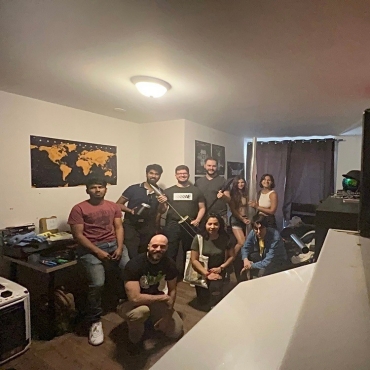 Anna Palma Florido Safety Lead, Kayla Vecera Recovery Lead, Marc Aprahamian Payload Co-Lead, Matthieu Krajicek-Allard Avionics Lead, Mohammed Shereif Structures Team, Fin Design, Olivia Sahai Structures Lead CIADI Special Projects, Pierce Reid - Team Lead, Patrick Tibbles Safety Team, Parth Dalwala Flight performance, Robert Krauss Flight Performance Lead, Yogananda Chiniah, Payload Co-Lead
Created in the early fall of 2021, CIADI Special Projects is a rocket design team that competes in challenges at home and abroad. It was started in order to prevent a loss of launch ability and skill that has persisted over the past few years as many of the few certified individuals have graduated from Concordia University. Our aim is to create and maintain a core of certified rocketeers with L1, L2 and L3 licenses that promotes a deeper understanding of rocket design theory and safety. Moreover, this summer will see half of the team get their L1 and L2 certifications with more in the fall. This is instrumental in the preservation of Concordia's dominance in the space challenge community.
In the past nine months, the team has undergone significant change, growth and development and has gone from drawing board to manufacturing of Concordia's fastest and most cost-effective rocket. While having only raised approximately $12,000 and receiving thousands more in material sponsorship, we are well on our way to completing the CR-22 and taking it to competition. There it will compete amongst the finest engineering schools in the country as we aim to be the first rocket launched by Concordia to exceed 30,000 feet in altitude. Moreover, the CR-22 will likely be the fastest rocket successfully launched by Concordia University with a theoretical top speed between Mach 1.8 and Mach 2.
Thank you to CIADI for your time and support on this project!