November 30: Join the global Giving Tuesday movement
Support your favourite Concordia causes on campus and beyond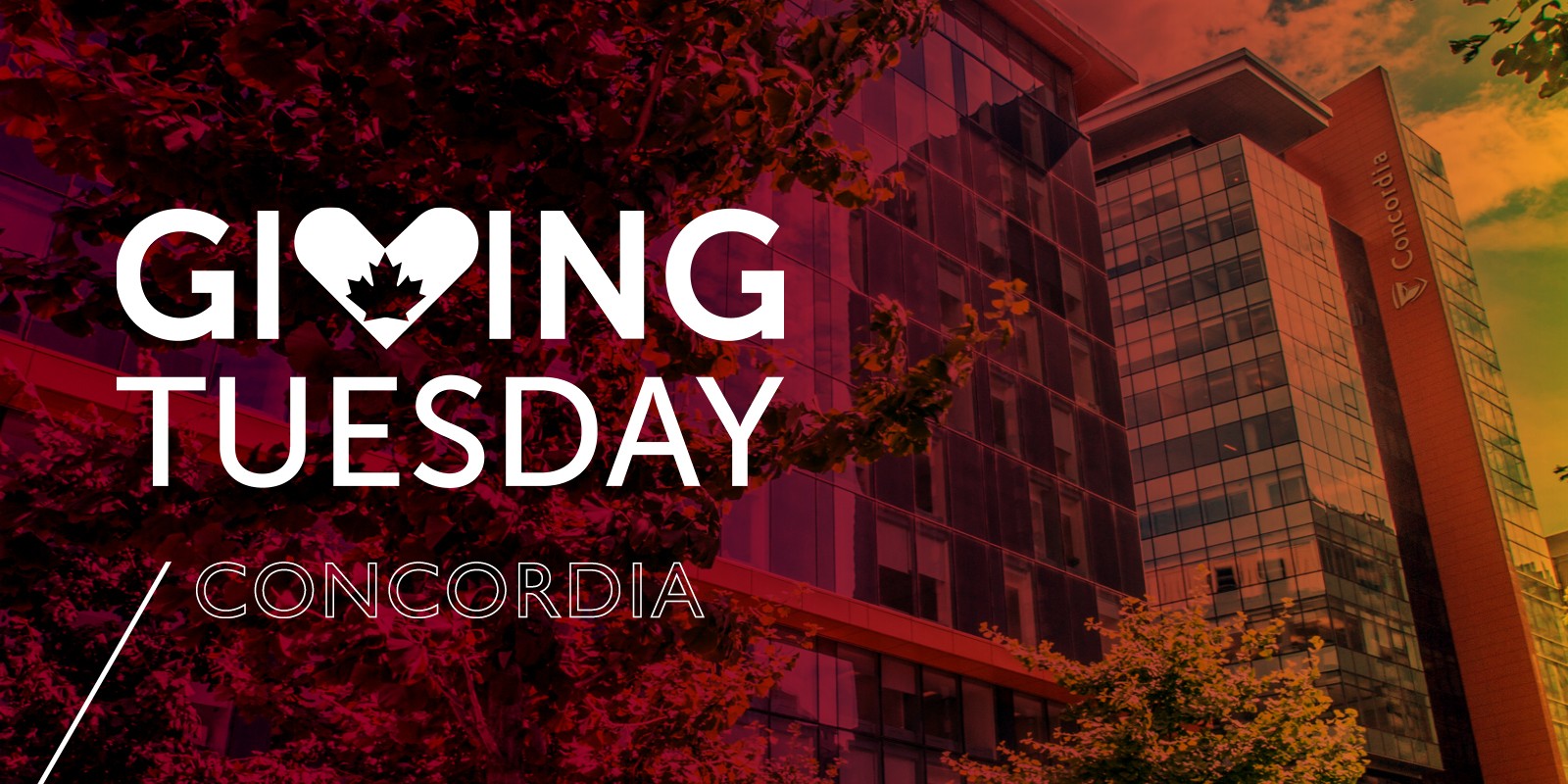 Think of it as a way to refocus on the joy of giving after Black Friday — the annual deal-hunting frenzy.
Giving Tuesday, a global generosity movement on November 30, encourages people to dedicate one day to philanthropy.
Nearly 800 people gave $260,000 to Concordia on Giving Tuesday in 2020. Donors supported more than 70 different causes such as the Concordia Stingers, the Black Perspectives Office and other university priorities.
With COVID-19 restrictions still affecting our global economy, the need for donor support remains pressing.
"Every gift on Giving Tuesday adds momentum to our Campaign for Concordia: Next-Gen. Now," says Paul Chesser, BA 94, GrDip 97, vice-president, Advancement. "The generosity of our donors demonstrates the extent to which we can elevate our students, research and university projects when we come together.
"From Stingers athletes and food insecurity initiatives to the Concordia Library, student bursaries and more, every gift helps our community thrive."
Learn about some of this year's featured Giving Tuesday funds.
Relieve student food insecurity
Dean of Students Andrew Woodall sees Giving Tuesday as an opportunity to think about students in need. As part of his mandate, Woodall helps promote the Student Emergency and Food Fund.
"COVID-19 exponentially increased the need and number of students using the fund, about fivefold," says Woodall. "International graduate students, who were doubly isolated, were hit the hardest. Concordia's Student Emergency and Food Fund is a vital program, and it will benefit greatly from the generous support of our community."
This year, an anonymous donor has offered to match all donations to the Student Emergency and Food Fund up to a total of $50,000.
Give to the Student Emergency and Food Fund.
Get the Stingers across the goal line
Support of Concordia's Stingers teams helps student athletes to excel both in their sport and in the classroom.
"Our Stingers student athletes are remarkable young people who work hard on their academics and also commit countless hours to represent our university across Canada and beyond," says D'Arcy Ryan, BA 98, MA 02, EMBA 09, Concordia's director of Recreation and Athletics.
"They are selfless and take pride in wearing the Maroon and Gold. Support for the Stingers through a Giving Tuesday donation is a great way to encourage our student athletes."
Last year, nearly 400 donors contributed $160,000.
"It was the first time we participated in the initiative and we were overwhelmed by the generosity," says Ryan. "It gave our coaches and athletes an extraordinary lift in these challenging times. Continued support helps our university offer student athletes the best experience and resources possible."
Challenge gifts will be announced for some Stingers teams from donors hoping to encourage support. More details will be available closer to Giving Tuesday. Follow the efforts online or give to Stingers athletes.
Consider FundOne crowdfunding projects
To learn about other projects seeking support, FundOne — Concordia's crowdfunding platform for students, researchers and community members — showcases projects initiated by the Concordia community and demonstrates the direct impact of donor support. FundOne priorities range from recycling initiatives and varsity baseball to encouraging rocket-building teams and women in leadership.
Gifts to all FundOne projects between now and November 30 will be counted in this year's Giving Tuesday Campaign.
How can you give?
There are various ways to give to the Campaign for Concordia, including via online payment, cheque, matching gift, gifts-in-kind or by donating shares, bonds and mutual funds.
Many companies also offer a matching gift plan as a form of corporate philanthropy. Find out if your company has a matching gift program.
---