$2-million gift for experiential learning at Concordia: Doggone Foundation supports fine-arts internships
Donation to the Campaign for Concordia Next-Gen. Now helps students gain experience while helping cultural organizations thrive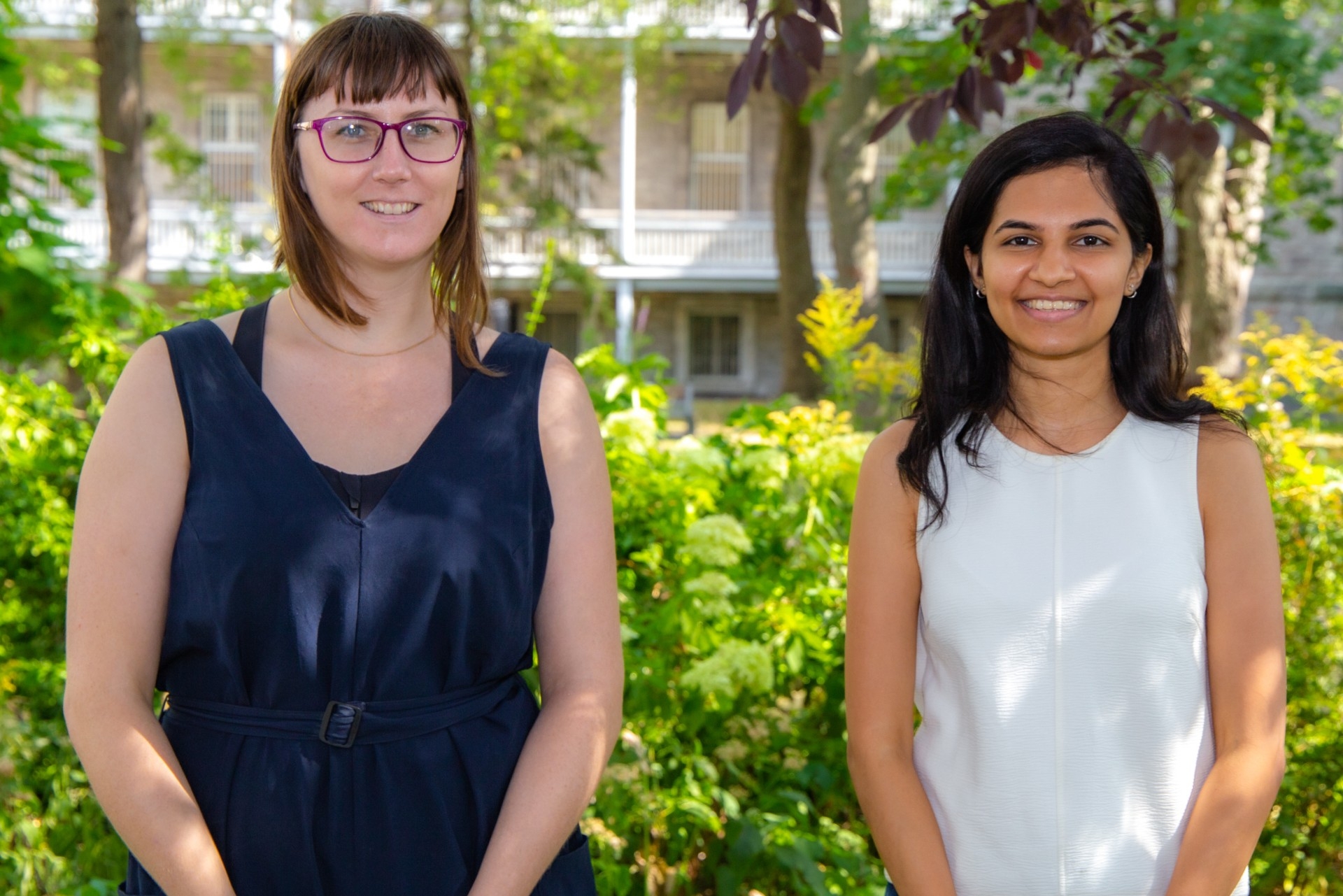 Elspeth McConnell Fine Arts Award recipients Christine White, current undergraduate student, and Aprajita Saxena, BFA 19, GrDip 20, current MA music therapy student.
Cultural and community organizations will soon hire the student interns they need to energize their activities, thanks to a major gift to Concordia University from the Doggone Foundation.
Established by the late Elspeth McConnell, the Montreal-based charity is investing in next-generation learning opportunities for Faculty of Fine Arts students as part of a $2-million gift to the Campaign for Concordia: Next-Gen. Now.
Combined with a previously announced 2018 gift to create the Elspeth McConnell Fine Arts Awards, the charity's support to the campaign now totals $2.5 million.
"Creating experiential learning opportunities for all our students is a priority for Concordia. The Doggone Foundation has been bold and generous in its support of Fine Arts student learning outside of the classroom," says Concordia President Graham Carr. "Doggone is a key partner for Concordia in providing paid internships for our students who, in turn, help a variety of arts and cultural organizations thrive. I must admit I'm a bit envious of those opportunities!"
Paul Marchand, executive director of the Doggone Foundation, says the charity is pleased to strengthen its Concordia partnership. "Our initial awards, established in honour of Elspeth McConnell, exceeded our expectations in terms of student and community engagement," he says. "Providing additional support for internships for promising young practitioners is a meaningful tribute to our benefactor. We are also pleased to be able to honour Bill McLennan's legacy with a new award."
Over nine years, the Doggone Foundation's gift will fund 40 annual Elspeth McConnell Fine Arts Awards valued at $5,000 each.
An additional $10,000 per year will fund the annual Bill McLennan Northwest Coast Travel Award, named after the late curator emeritus of the University of British Columbia's (UBC) Museum of Anthropology. The award will allow a full-time graduate student to venture to British Columbia to develop knowledge of Northwest Coast art-making and Indigenous cultures. The recipient will collaborate with researchers and staff at the Museum of Anthropology at UBC, where the Elspeth McConnell Gallery of Northwest Coast Masterworks opened in 2017, or other organizations.
"Internships and field work are so crucial to learning and research in fine arts," says Annie Gérin, dean of Concordia's Faculty of Fine Arts. "We appreciate the Doggone Foundation's enhanced commitment to empower our students with hands-on experiences at an array of organizations such as museums, cultural festivals and exhibition spaces."
Danielle Aimée Miles, BA 16, MA 19, says that her Elspeth McConnell award gave her the freedom to pursue an internship with the Montreal Museum of Fine Arts. "I made connections with curators and learned first-hand how the conceptualization, development and installation of an exhibition happens in a large museum," she says. "This created a whole new world of contacts for me and allowed me to grow as a professional."
Other recipients of the Elspeth McConnell Fine Arts Award have completed internships at non-profit organizations such as Centre Philou, Rock Camp Montreal, the Museum of Jewish Montreal and the Kanien'kehá:ka Onkwawén:na Raotitióhkwa Language and Cultural Center.
Paul Chesser, BA 94, GrDip 97, vice-president of University Advancement, says this donation to the Campaign for Concordia will help establish new collaborations for the benefit of Montreal, Quebec and Canada. "We thank the Doggone Foundation for recognizing Concordia's role in nurturing experiential learning for our fine-arts students as they seek rewarding careers in their respective disciplines."
---