7 library perks for Concordia grad students
Your tailor-made resources include dedicated study spaces, workshops and special research assistance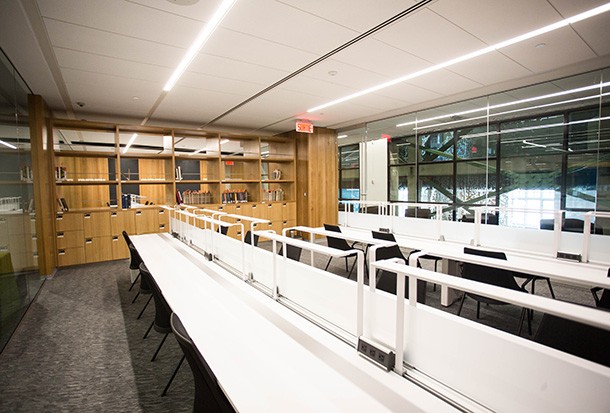 Your dissertation isn't going to write itself. Spoiler alert: you overcome your fears, find the right resources and get it done.
During the process, let the R. Howard Webster Library be your safe haven, providing services and spaces specifically designed to support your success as a graduate student.
Here are seven ways the library helps:
1. Dissertation writing rooms, lockers and a lounge!
"We constantly ask ourselves what we can do to help students complete their master's thesis or their dissertation," says Guylaine Beaudry, university librarian and vice-provost, Digital Strategy.
Beaudry spearheaded the library's three-year transformation project, which officially opened in March 2018. It provides 27 per cent more public space and twice the number of study seats.
A new dedicated space for graduate students opened in March 2016, as part of Phase 2 of the Webster Library Transformation. The fifth floor area includes three silent dissertation writer's rooms: Iceland (LB-561), Venezuela (LB-562) and Mali (LB-564).
Additionally, graduate students have exclusive access to Spain (LB-545), a fifth floor reading room, a lounge, lockers and shelves, and a dedicated multifunctional device (for printing, scanning, and photocopying) for their use.
"Space, of course, is the number-one concern, but some graduate students reported feeling isolated, so it was important for us to create a communal area like the lounge," says Beaudry.
2. Meet your department liaison librarian
Who can help you navigate the library's more than 400 databases, 120 archival fonds and 100,000 journals? Your department's liaison librarian. They've prepared subject guides — including the new Research Data Management guide — and can help you explore special collections with more efficiency. They can also help you with Colombo, the interlibrary loan service, and Zotero, a web-based tool to manage and organize the bibliographic references you find in library catalogues, databases and on the web.
Graduate students need the most up-to-date information, so they often need to use different, more specialized sources and databases than undergraduates. Liaison librarians will help graduate students focus their research, saving them time and energy. It's a good idea to schedule a consultation meeting.
3. Explore Spectrum
Do you know about Spectrum, Concordia's open-access research repository? It provides access to research created at the university, and preserves it for posterity.
By depositing in Spectrum, Concordia scholars provide free and immediate access to their work, thus increasing visibility of both their own research and the university's intellectual output. Open access increases the research profile and impact of scholars by bringing about greater levels of readership and citation of their publications.
4. Sign up for events and workshops
The Webster Library also hosts a full program of workshops for graduate students as part of Graduate and Professional Skills (GradProSkills), such as Engineering & Computer Science Graduate Research Essentials.
"I really benefited from taking workshops on Canadian statistics and microdata," says recent graduate Vinay Paramanand (MBA 17), who was a member of the Institute for Co-operative Education and a consultant at the Concordia Small Business Consulting Bureau (CSBCS).
"They helped me do market research, data analysis and demographic assessment. The library services complement our studies, especially when we get help from business librarians like Olivier Charbonneau and Rajiv Johal who both support the John Molson School of Business."
Business librarian Michael Groenendyk is also in the know when it comes to helping you with your research needs.
5. Browse the copyright guide for theses
It's not a regular copyright guide; it's specifically written to help with your thesis preparation. The Copyright Guide is a gem on the library's website. It discusses the use of copyrighted material in a thesis as well as copyright issues related to the electronic deposit of theses at Concordia.
Also, learn how to seek permission to include copyrighted works in your thesis and how to contact copyright holders.
6. Maximize your visibility and the impact of your research
Measuring the interdisciplinary and cross-disciplinary impact of your published research can be a valuable indication of the achievement of both an individual or unit and can play a role in a number of decision-making processes.
It helps you identify research trends, strategies to increase citations to your publications, as well as maximizing the impact and visibility of your published research.
7. Book the thesis defence room
You'll be pleased to know that you can easily book the thesis defence room at the Webster Library. It's never too early to reserve for your big day.
The room includes technology to support presentations and video conferences. It has seating for 48, including 22 around the table. Bright and airy, the room provides access to an adjacent kitchenette to store and prepare refreshments to celebrate your academic success. Book it today!
---