Centraide: The clock is ticking!
Concordia's 2023 campaign now officially ends November 23 and there are still lots of opportunities to give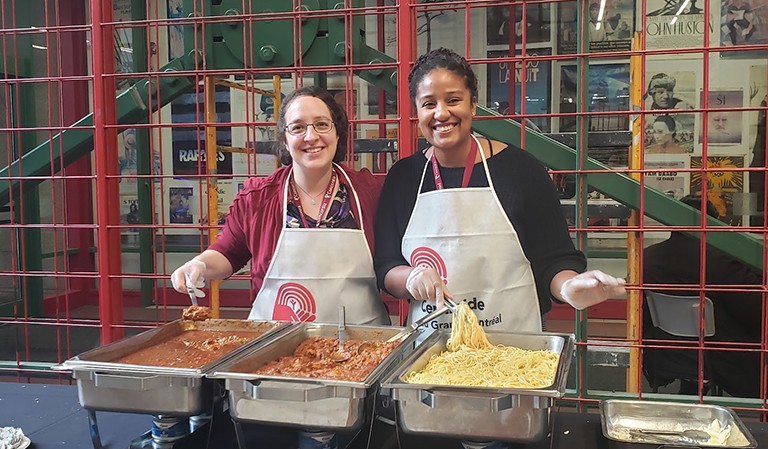 Volunteers, including Marian Pinsky and Princess Symonds, helped serve some 115 hungry Concordians and raise over $2,000 at the Sir George Williams Pasta Lunch on November 1.
The university community keeps finding ways to contribute to Concordia's Centraide 2023 Campaign. The university's campaign now officially closes November 23, so there is still time — and plenty of options — to help make a difference.
Bake sales, pasta lunches, Mount Royal nature walks, potlucks, raffle tickets, Bingo, a Pet Photo Contest, Comedy for a Cause — these and other creative ideas are helping to raise funds for Centraide of Greater Montreal.
Centraide's efforts support 375 agencies and projects and more than 800,000 Montrealers.
The need is certainly there. As Centraide reports, in Montreal:
315,000 people live in poverty
28% of renters spend more than 30% of their income on housing
300,000 people receive food assistance every month
Concordia's 2023 Centraide Campaign goal is $200,000. The total funds raised will be announced at the Centraide Closing Event at the SHIFT Centre for Social Transformation in LB 145 on November 29, 10:30 – 11:30 p.m.
Concordia President Graham Carr will be on hand, and the raffle winners and top three most adorable furry companions from the Pet Photo Contest will also be announced.
Ways to participate
Raffle tickets
Available at various locations throughout the campuses, or email centraide@concordia.ca for more information
1 for $5, 3 for $10, 7 for $20
Prizes include:

Apple iPad
Earphones
Bota Bota gift card
Liverpool House gift card
Winners will be announced at the Campaign Closing Event, November 29
$1 per vote, minimum five votes
Winners will be announced at the Campaign Closing Event, November 29
2:30 – 3:30 p.m.
AD 311
$10 for 3 cards
Announcement of total funds raised this year, raffle ticket winners and top three pets from the Pet Photo Contest
10:30 – 11:30 a.m.
SHIFT Centre for Social Transformation, LB 145
Headliner: John Roy, who's appeared on The Tonight Show, Conan and The Late Late Show
8 p.m.
The Comedy Nest, 2313 Ste. Catherine St. W. (Pepsi Forum), 3rd floor
$15, open to those 18 or older from the Concordia community along with their friends and family
Other events are being organized through departments and faculties. Visit the Concordia Centraide 2023 Campaign website for news and event updates.
Of course, it's still important to consider making a tax-deductible contribution or increasing your previous campaign donation.
Pledge your gift to Centraide today. Online giving is secure and easy. Look for the giving link in your email inbox from info@email.centraide-mtl.org every Thursday until November 23.
For more information or to volunteer, contact centraide@concordia.ca.
See the impact of giving through payroll deduction.
Learn more about Concordia's Centraide 2023 Campaign.
---