Concordia celebrates Black students' contributions to the 'collective past, present and future' of the university
The third annual graduation celebration took place on June 17, with more than 80 in attendance
For new Concordia graduate Tsion Mariam Sisaye, the university's Black Grad event is vital. "Black students, who have a history of dealing with anti-Blackness, marginalization and institutional racism, have the right and deserve to be celebrated for their accomplishments," she says.
Sisaye, who just completed her Bachelor of Arts in Women's Studies, is one of more than 80 Concordia students who attended this year's Black Student Graduation Celebration, held at the John Molson Building on June 17. The event was organized by the NouLa Centre for Black Students, the Black Perspectives Office and the Black Alumni Network.
In what has become a tradition, it took place on the closest Saturday to Juneteenth (June 19) — a day that marks the freedom of enslaved Black peoples in the United States at the end of the American Civil War and whose significance is recognized by the African diaspora around the world.
Graduating students from fall 2022 and spring 2023 gathered with their loved ones to honour and celebrate all that it took to get to this pivotal moment in their lives.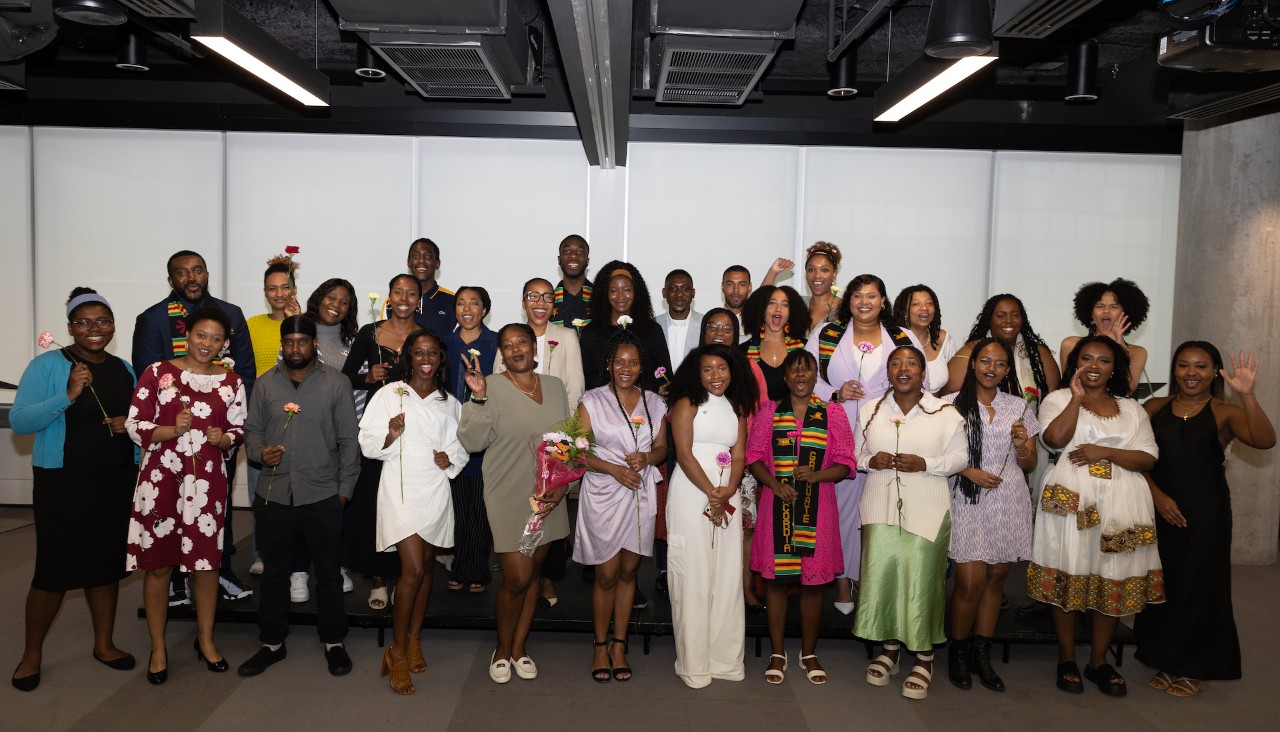 Just some of the more than 80 Concordia students who attended the celebration. | All photos by Joe Dresner.
'Examine. Question. Confront.'
"You are being recognized by us, publicly, for your personal accomplishments, for your contributions to Black knowledge and for your importance as ambassadors for a community that is an integral part of Concordia's collective past, present and future," Angélique Willkie said in her address to the graduates.
Willkie is special advisor to the provost on Black integration and knowledges and associate professor of contemporary dance. She also co-chaired Concordia's President's Task Force on Anti-Black Racism.
Willkie acknowledged some of the major positive shifts that have been taking place at the university to support Black student life, including the release of the 97-page task force report and the opening of NouLa.
These are significant strides, she added, but she encouraged the graduates to keep pushing.
"Examine. Question. Confront. Challenging your education and your educators and the context that has given rise to them is part of your empowerment," she said.
"It is part of what propels you, and us all, further. It is part of affirming your own path as changemaker."
Concordia President Graham Carr also addressed the crowd. He thanked Black alumni from the past and their belief in the Black students of the future.
Carr also acknowledged that Black graduates represent an extraordinary diversity from around the world. "That diversity, that richness of the Black experience at Concordia, is not something we should take for granted and we should celebrate it," he said.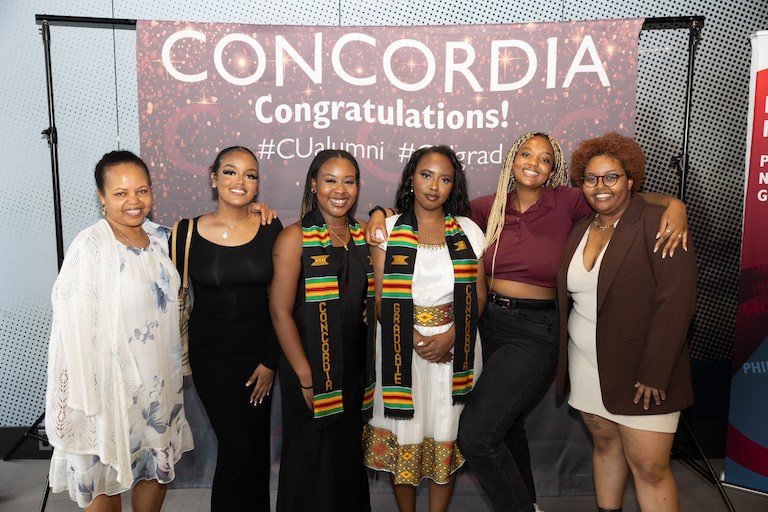 'A great way to celebrate Black excellence'
Vanessa Manroop is another graduating student who attended the celebration. With her BComm in human resources management now complete, Manroop says she hopes to carve out safe spaces for racialized people in the workplace.
She adds that an event like Black Grad is an excellent moment to begin this next step of her journey.
"It's so empowering to see other people that look like you, that have similar experiences as you — culturally, they know you," Manroop says.
"Going into the workplace with others at the same time, it's a great way to make sure you don't feel alone or that you have people to go to. And it's just a great way to celebrate Black excellence."
Manroop is one of six students that NouLa recognized with awards of excellence this year as part of the ceremony. She received hers in the category of Leadership in Community Engagement.
Teeanna Munro, manager of the NouLa centre, praised Manroop for "continuously demonstrating exceptional competency and passion for community building, volunteerism and mentorship."
Throughout her studies, Manroop dedicated herself to supporting her Black peers on and off campus — as a student ambassador for the Black Perspectives Office, a student facilitator at Homeroom Concordia and a volunteer with the Black Girls Gather book club in Montreal's West Island, among other endeavours.
NouLa also presented awards to Emmanuel Gaisie, for Leadership in Student Engagement; Camina Harrison-Chéry, for Leadership in Student Advocacy; Faith Paré, for Advocacy; Karine Balé, for Research and Innovation; and Merveille Djifo, for Community Engagement.
'So much Black joy and pride'
"It's important for students to feel like they are being cared for, held, celebrated and encouraged through these important times," adds Sisaye, who hopes to pursue a career in knowledge management now that she's done her degree.
For Munro, the highlight of the event was after the ceremony portion when everyone was mingling and celebrating. "We got to meet the students' families, close friends and children. There was just so much Black joy and pride."
---