Concordia PhD student is the youngest head athletic therapist in the CFL
Off the field, Tristan Castonguay is researching how thermal cameras could improve injury assessment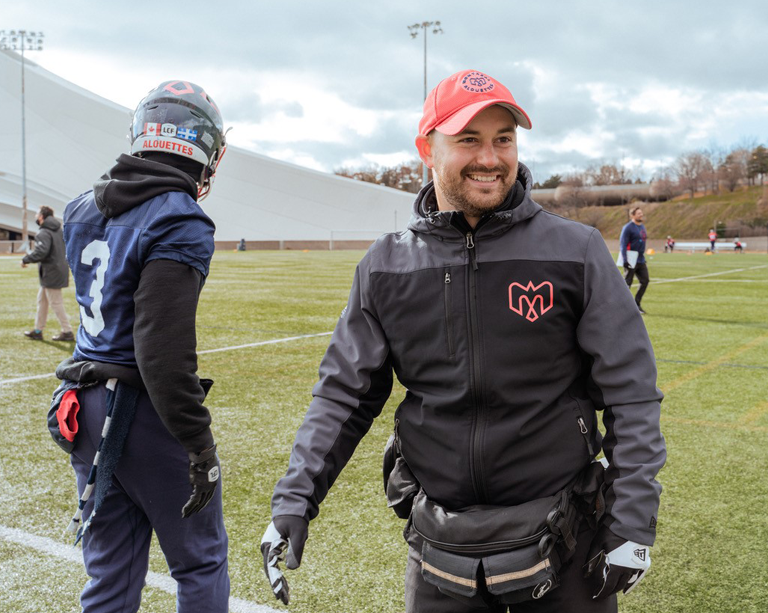 Tristan Castonguay: "My passion developed from being able to solve the mystery of why someone's injured and get them back to playing." | Photo by Avril Franco
Concordia athletic therapy PhD student Tristan Castonguay (BSc 19, MSc 21) is moving the chains on and off the football field.
Castonguay became head athletic therapist for the Montreal Alouettes in June 2021. At 26, this makes him the youngest in such a position in the Canadian Football League.
Meanwhile, at Concordia, he's investigating a new method of imaging for musculoskeletal injuries that could change the game for athletic therapists and other health professionals who currently rely on X-ray imaging.
"The advantage of being a PhD student and working at the same time is that I can apply my research into my daily work very quickly and efficiently," Castonguay says.
He is exploring the use of infrared thermography, or thermal imaging, to visualize musculoskeletal injuries.
Thermal cameras take photos of the body's heat, something that he says can send powerful signals about someone's injuries. If there is inflammation due to an injury, a body will be hotter in those regions.
He also points out that muscles produce heat when they function, so if someone is favouring one side of their body over the other — a sign of compensation and a predictor of future injuries — the camera could pick that up too.
"It's safe because it's non-radiating," Castonguay explains. "And to be able to assess injuries before or after they occur is a powerful tool for a clinician and valuable for a patient who's able to see the progression of their recovery.
He adds that medical jargon and anatomical terms that doctors and athletic therapists throw around can feel inaccessible to many people. Giving them a clear visual could make it easier for them to understand their injury.
'Bringing an athlete back from injury is an amazing feeling'
Castonguay is in the first year of his PhD program. He is currently conducting a literature review of thermal imaging to determine where it's been used before and what he can contribute to advancing the field.
"Since it's a very new technology there's not a lot of research out there. Most of the uses we have for thermal imaging, we've had to develop our own way of finding out how it works," he says. He expects to have to create his own protocol for using the technology to visualize injuries.
Already a double-alumnus, Castonguay completed his bachelor and master's degrees in athletic therapy at Concordia. He says he first got interested in the profession out of a desire to help active people recover from injuries.
"My passion just developed from being able to solve the mystery of why someone's injured and get them back to playing," he says. "You don't do that work for yourself — it's because you love what you're doing."
A long-time sports fan and a football player for 10 years, Castonguay is proud to now be treating Montreal's pro football team. He joined the Alouettes just ahead of their 2021 season, when they started out strong but ultimately lost the East Division semi-final to the Hamilton Tiger-Cats.
Castonguay acts as an on-field first responder when players are injured in games, works with the Alouettes through their rehabilitation and does injury-prevention training and corrective exercises for the team.
He says the most rewarding part of his first year on the job has been ensuring injured athletes stay connected to and train with the team while recovering.
"Athletes whose job it is to play the game but get injured can find it very hard to know who they are if they're not practicing or being a part of the team," he says, noting that staying involved can mitigate that feeling.
"Bringing an athlete from the injured phase where they're not able to do much until they're back to playing, and they score a touchdown, it's an amazing feeling. You know you've contributed in a small way to that play with your own skill."

Find out more about Concordia's Department of Health, Kinesiology and Applied Physiology.
---