Health, kinesiology and applied physiology students up their game in the face of COVID-19
Two Concordians explain how they got creative during the pandemic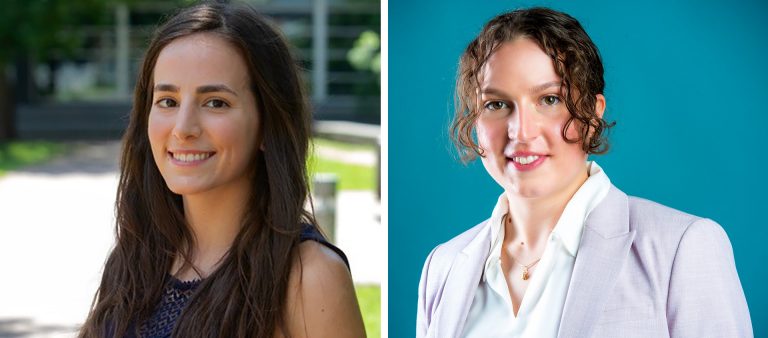 COVID-19 has drastically changed our lives in recent years.
When a short-term shutdown caused by the pandemic rapidly transformed into a much longer and uncertain reality, Concordia students had to radically rethink their plans.
Two students from the Department of Health, Kinesiology and Applied Physiology (HKAP) in the Faculty of Arts and Science found creative ways to roll with the changes.
Moving south
For MSc student Clara Soligon (BSc 20), studying under COVID required a whole new strategy.
"I was going to do my master's degree here," says Soligon, who specializes in concussion research. Her work would have involved the Concordia Stingers.
"Suddenly, I had no participants for my research project."
Soligon's co-supervisor Geoffrey Dover, associate professor of health, kinesiology and applied physiology, helped her find a solution.
"He came up with the idea of me going to the United States for six months, where sports were not cancelled, to continue my research."
Soligon moved to the University of North Carolina, where she was supervised by Jason Mihalik (BSc 01), a professor of exercise and sport science and Concordia alumnus.
Soligon worked on many research projects, including with the National Hockey League's Carolina Hurricanes. She also got to work with special operations forces from the U.S. military.
She says she owes a lot to Concordia. "Without their help, I would not have gone."
Allowing undergrads to navigate a pandemic
Sara Masi was thrilled to be elected president of the HKAP Student Association for 2020-21, but she faced challenges in supporting her peers that she never anticipated.
Her solution? Trying to keep students connected and upbeat.
"It was important for me to bring fun to the forefront," Masi says. "I wanted to inspire others, because I thought if we have that positive ambience created, it could create a ripple effect."
Her goal was to help people get through the pandemic and make the most out of their university experience.
Masi and her team employed a variety of tools to reach undergrads, including a student-produced video, virtual game nights and an outdoor gift giveaway for students who missed their in-person graduation.
---