Concordia student association raises $30K for the Montreal Children's Hospital Foundation
The CASA Cares annual charity fashion show took place in person for the first time since the COVID-19 pandemic began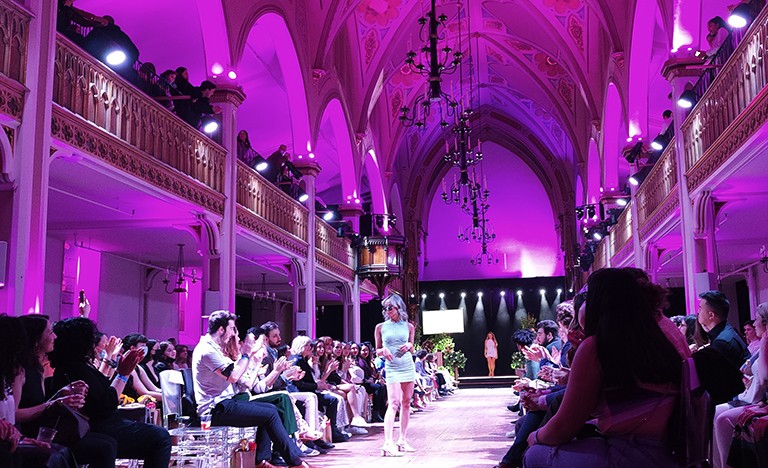 Nicole Savina Poirier is public relations coordinator for CASA Cares.
CASA Cares hosted its biggest event of the year on April 9: the 19th Annual Charity Fashion Show — Road to Amalfi.
While the past two years saw the event either cancelled or held online due to the COVID-19 pandemic, the show took place this year in person at Le Salon Richmond in Montreal. The repurposed church provided an ideal backdrop to make guests feel as if they were out of the cold Montreal spring and instead along the warm shores of Italy's Amalfi Coast.
This year, 400 Concordia students, university alumni, designers and sponsor representatives attended one of the most memorable events organized by the John Molson School of Business's Commerce and Administration Students' Association (CASA).
With its lights, decorations, music — the setting resembles a professional model runway. The formal-dress fashion show is a one-of-a-kind celebration for university students looking to express their fashion taste and philanthropy.
CASA Cares builds up to the event every year with individual fundraising events and the party to reveal the theme — both of which serve to raise donations as well.
'Very inspiring'
CASA Cares is the non-profit segment of the student association, responsible for charity fundraising, providing student involvement opportunities and increasing social awareness within the John Molson School. Organizers rely heavily on sponsors and volunteers to put on their events, which including local food drives around Thanksgiving in October and Movember in November.
The fashion show features local designers and brands, with the hopes of raising as many funds as possible for the Montreal Children's Hospital Foundation. Through ticket sales, raffles and individual fundraising efforts, the team has been able to raise over $30,000 so far — and the tally isn't yet finished.
In four years, CASA Cares has raised more than $120,000 for this cause — which is easily the one that the team members hold closest to their hearts.
"The entire evening radiated classy, trendy and chic vibes — and the venue was glowing thanks to your passion and dedication," said Melissa Mastrogiuseppe, community relations and special events advisor for the Montreal Children's Hospital Foundation, to the CASA Cares team.
"Your incredible gift for getting all those people to rally behind you so that one day, children and families who spend so much time at the Children's can look forward to some hope, is very inspiring for all of us who share the same goal. Our hearts are collectively in awe of you and thanking you over and over."

Find out more about the John Molson School of Business and CASA Cares.
---