The changing face of community engagement in a post-pandemic world
A Future Concordia working group is leading a reflection on how the university can enhance its outreach with local and global partners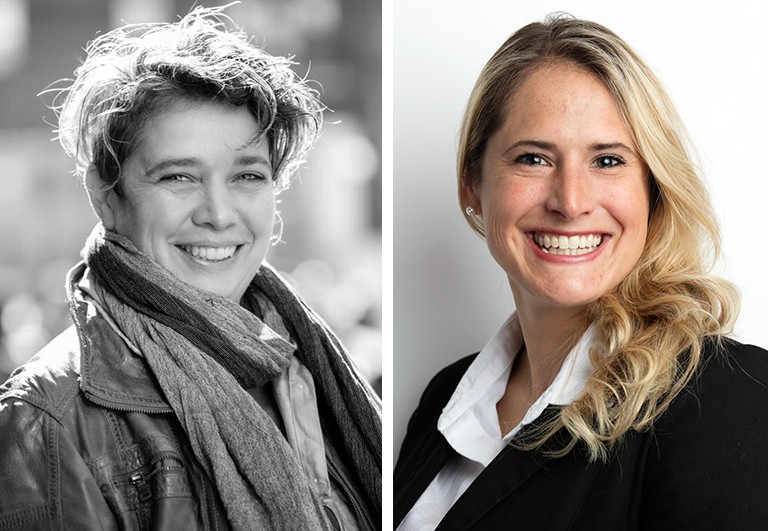 Shauna Janssen and Kristina Ramsay are co-chairing on university outreach for the Future Concordia working group.
This is the third in a series of articles profiling the different working groups that make up Future Concordia. Want to know how you can contribute? Visit the project's Get involved page for more information.
Over the past two years, the COVID-19 pandemic has affected how Concordia interacts with its internal and external communities.
With in-person exchanges largely off the table for extended periods of time, the university has used alternative methods to maintain its close connections with civic and cultural organizations, as well as with global stakeholders and collaborators.
And as traditional practices and approaches to community outreach continue to be reassessed, questions about how to foster meaningful exchanges in multi-modal contexts remain relevant.
To address this issue, the university is turning to Shauna Janssen, Kristina Ramsay and the Future Concordia working group they are co-chairing on university outreach. The group is leading a reflection on how Concordia can enhance its engagement with local and global communities and partners in a post-pandemic environment and beyond.
"What excites me most about this project is making more visible the resources we have at Concordia for both internal and external communities," says Janssen, assistant professor in the Department of Theatre.
"Different people in the university have been doing community engagement and outreach for a long time. We're looking at how we can build on that."
'Bringing people back together'
Ramsay's interest in outreach stems from her role as an alumni officer of global networks in University Advancement. Prior to the pandemic, she used to travel on a regular basis and meet with alumni every day.
Now, she is using other means to open discussions with Concordia graduates who she typically wouldn't have met a couple of years ago.
"I've had conversations with people living in Saudi Arabia, British Columbia, London and Los Angeles. Those are places we wouldn't usually fly to all the time," Ramsay explains. "The engagement portion of it has been really great because we're bringing people back together."
Having met four times since last October, the working group's members are busy unpacking their perspectives on community engagement. Janssen notes that the group has identified that outreach is multilayered in scope, with local, provincial, national and international partners.
"Concordia's institutional priorities are changing. We have a Black Perspectives Office, we have Indigenous Directions, we have had to deal with COVID-19, we have a new health school coming," she says.
"It's a real sea change in terms of how we are working in inclusive, equitable and diverse ways. We want people in the community who are doing that work to understand what resources are at Concordia. For me, that's the heart of what should happen."
Relationship-building is key
Future Concordia is launching a consultation campaign this month in which students, faculty and staff can participate in a series of activities to discuss different themes and test certain concepts. From there, the working groups will meet two more times before submitting a final report in the form of a presentation to the project's steering committee in May.
Ramsay's hope for the university outreach group is to create a foundation for community engagement at Concordia that will make students, faculty, staff and alumni take pride.
"It's exciting to see that we're a school of firsts when it comes to moving the dial on equity, diversity and inclusion (EDI), Indigenous Directions and women's perspectives and initiatives," she says. "We want to bring our community together to amplify the university and those around it."
Janssen echoes her co-lead's sentiments and stresses that the most important outcome is relationship-building.
"In my view, it all comes down to that. What are the relationships we're building, for whom and why does that matter?" she asks. "The working group is currently working on recommendations for how outreach activities need to align with institutional priorities on EDI, and be agile and adaptable to the needs of future generations."

Learn more about Future Concordia and how you can get involved.
---