A new collective book project will celebrate Concordia's 50 years in 2024
Submissions are open for an edited volume documenting the university's remarkable growth in the past 5 decades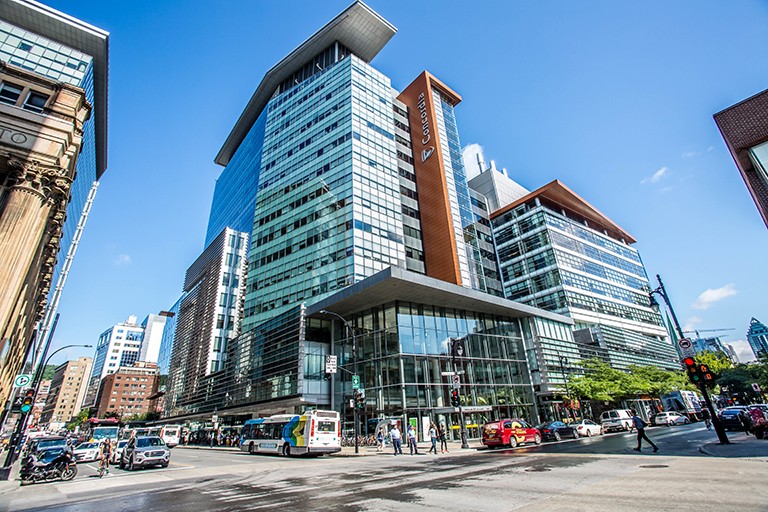 Concordia will celebrate its 50th anniversary in 2024. To commemorate this important occasion, there is a project under way to produce a multi-authored book documenting the university's development.
The History of Concordia book project's editorial committee is inviting active and retired faculty, graduate students and alumni to submit chapter or short-text proposals. The edited book project will chart the university's path over the last five decades and reflect on its present and future endeavours.
Since the merger of Sir George Williams University and Loyola College in 1974, Concordia has evolved from being a teaching institution to a wide-ranging research university. Concordia's enrolment has expanded to its current community of 37,000 undergraduate and 9,500 graduate students strong, with a global network of more than 230,000 alumni.
Guylaine Beaudry, Concordia's university librarian, is the book's editor and a member of the committee managing and advising on its development.
"We have a wonderful opportunity to reflect on the rich and varied histories that have shaped Concordia," Beaudry says. "The book will bring together multiple voices and provide the opportunity to discover the diverse perspectives that have made Concordia the innovative and forward-thinking university that it is today."
The collection will include chapters drawn mainly from archival research, and it will cover important topics around four broad themes:
Teaching, research and creation
Student life
Community and culture
Supporting the mission of an urban university
In addition to varied topics related to Concordia's past, the collection will include oral history interviews featuring prominent Concordians who have witnessed significant events in the university's history and have helped to shape the institutional life of Concordia and the larger university community. The oral history component of the project will contribute to its multivocal structure.
'We're eager to document the university's incredible growth and development'
The book will also include archival photographs and will feature commissioned visual artworks that will be reprinted in both digital and print editions. In collaboration with Records Management and Archives, a digital timeline will be created, highlighting important episodes and key events in Concordia's history.
Chapter or short-text proposals may be submitted in French or English. Authors who are selected to contribute to the History of Concordia book project will be invited to take part in a closed colloquium in early 2023 where they will share their evolving chapters with other authors.
The deadline for submissions is February 28 and proposals can be sent to HistoryofConcordia@concordia.ca.
To encourage an open dialogue with the broader Concordia community, three public roundtables are tentatively scheduled between March and May 2023, following the closed colloquium.
The final collection will be published in both languages and will include 1,500 printed English copies and 500 French copies.
"Over this 50-year period, thousands of individuals have built and maintained Concordia's unique university community," Beaudry says. "We are eager to receive proposals for the collection that will help document the university's incredible growth and development."

Consult the History of Concordia book project page on the Concordia Library website to learn more about the call for proposals. The submission deadline is February 28 and proposals can be sent to HistoryofConcordia@concordia.ca.

---