The John Molson School of Business partners with Ivey Publishing to co-brand teaching cases
The initiative positions Concordia's business school among the best case writers in the country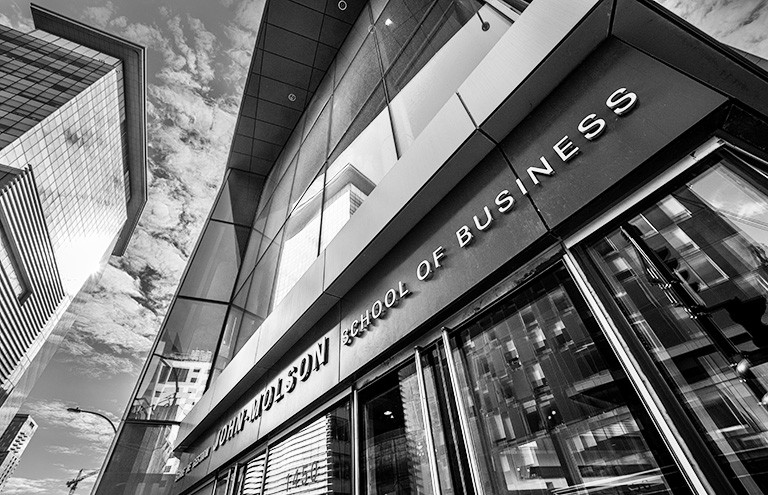 Concordia's John Molson School of Business has just signed a partnership with Ivey Publishing to write, publish and distribute business cases written by the John Molson community to schools around the world. Part of the University of Western Ontario's Ivey Business School, they are one of the world's leading case publishers.
When it comes to business education, business case studies are some of the most important teaching tools. When students have the opportunity to closely examine a real business's challenges, opportunities, uncertainties and successes, the learning potential greatly increases. Cases are a chance to apply the concepts taught in class to an actual situation; students step into the role of key decision-makers and put their skills to the test.
Raymond Paquin, associate professor in management and director of the John Molson Case Publications, explains that cases are more than a teaching tool.
"It's a pedagogy; an applied approach that places the student in a real-life business situation," he says. "They are tasked with exploring a business's challenge, analyze it from all perspectives and formulate a plan to move the business forward."
Ivey Publishing is one of the largest and most prestigious case publishers in the world. With fewer than 30 co-branded partnerships globally, Ivey places great importance on high-quality cases. Only four of their co-branded partners are Canadian, placing the John Molson School of Business among the best case writers in the country.
"We are extremely proud of this partnership," explains Anne-Marie Croteau, dean of John Molson. "This initiative supports our strategic goal to create strong and sustainable partnerships both nationally and internationally. The case publications initiative helps place the school at the forefront of business education and as a leader in case-based learning."
'Cases are experiential and one of the best ways to learn'
As Ivey describes on their website, "the best cases convey the ambiguity present in business situations. The perspective of the key decision-makers in the company brings realism (or personality) and a tension to the case." They go on to say that there are usually at least two viable alternative solutions to a case, which forces students to recommend a course of action with imperfect information.
From integrating case-based teaching into the curriculum to training and sending students to case competitions around the world to hosting international competitions here in Montreal, the school has long been a champion of the case method.
"Cases expose students to all the interlocking dimensions, subjective and objective, that affect a business decision," says Christopher Ross, distinguished professor emeritus of marketing and case writer with the John Molson case publishing initiative.
"I once wrote a case where the optimal decision was clear, but the owner insisted that the decision went against his values. In discussing the case in class, the students completely ignored this aspect of the case and were then flabbergasted to learn that yes, businesspeople are not always hard-nosed profit-maximizing decision-makers. Cases are experiential and one of the best ways to learn, I believe. I got into case writing for precisely this reason."
One of the many benefits of this partnership with Ivey is that cases written by the John Molson School of Business are increasingly available internationally. Since launching the case publishing initiative two years ago, John Molson-published cases have been adopted in 42 countries.
"Our case-writing initiative requires a lot of support from the school. Our efforts and success are due in large part to the support of the Bob and Raye Briscoe Centre in Business Ownership Studies," Paquin notes. The centre director, Bill Meder, has been a strong advocate for developing new cases, including direct faculty support for published cases and sponsoring the annual global John Molson-Briscoe Centre Case Writing Competition, launched in 2019.
"We are very thankful for his support, without which our initiative could not have grown as quickly as it has."

Learn more about the John Molson School of Business Case Publications Initiative.
Find out more about the Bob and Raye Briscoe Centre in Business Ownership Studies.
Read more about Ivey Publishing.
---