Arts and Science pivots to celebrate its high academic achievers
The faculty marks its annual Scholar Awards virtually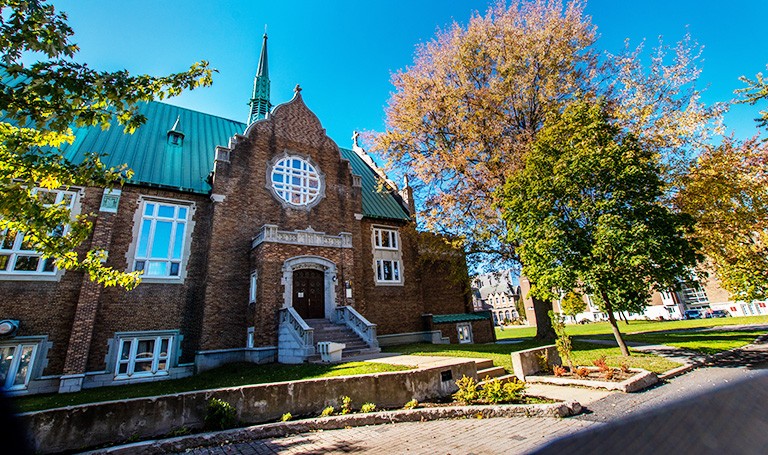 Each year, the Scholar Awards are a standout event for the Faculty of Arts and Science. The awards honour the very highest-achieving students from each department, school, college and institute in the faculty, many of whom have perfect GPAs.
Held each fall at the Oscar Peterson Concert Hall on Loyola Campus, the awards ceremony is typically followed by a reception at the Loyola Chapel, complete with food, drink and a live jazz band.
This year, it became increasingly clear that none of that would be happening.
So what could be done?
"Cancelling the Scholar Awards was never an option," says Philippe Caignon, the faculty's associate dean for student academic services.
"But we had never done a virtual event, so this was a challenge for everyone. We had a steep learning curve, and not much time."
Colleagues come together
The effort to design a new online celebration of the faculty's standout students grew to include not only members of Student Academic Services but colleagues from the Hospitality Concordia, Instructional and Information Technology Services (IITS), University Communications Services and two external videographers.
"I am tremendously proud of how the members of my team and others at the university pulled together to make sure these students were honoured for their hard work," says Pascale Sicotte, dean of the faculty.
"At the end of the day, it's what they deserve."
Jean-François Martin, a technical supervisor with IITS, went through several ideas with the rest of the team, before settling on this choice.
"Our team discussed hosting the awards as a Zoom Webinar with a mix of live and pre-recorded interventions. We suggested that the Awards Ceremony be pre-recorded to later be broadcast live to maintain the feeling of immediacy."
Ultimately, the decision was made to create a video and livestream it on YouTube.
The video features Caignon, Sicotte, Anne Whitelaw, interim provost and vice-president, academic, and Concordia President Graham Carr, as well as the chairs and principals of all the faculty's units.
All in all, it took over 100 hours of work to complete.
'It was absolutely worth it'
Stepping away from the tried-and-true annual formula for the awards was a very different experience for Cheryl Costello, acting administrator for the faculty's Student Academic Services.
"I learned a lot, in a short period of time," says Costello. "But it was absolutely worth it."
In a typical year, in addition to coordinating the event logistics, Costello must oversee the Scholar's list compiled by Enrolment Services and oversee the program — no small feat, with well over 100 Scholars every year.
In 2020, her duties suddenly included video production meetings and multiple meetings with hospitality and IITS, as well as many other new tasks.
"Even though it was different this year, it is always such a pleasure to organize this event for these outstanding students."
Hospitality's Jessica Dahbi also had to learn new skills. In a typical year, she organizes in-person events, usually taking place on campus.
This year, she and her colleagues had to pivot and come up with a way to assist Concordians with virtual events almost overnight.
Her tasks included advising and consulting the faculty throughout the process, identifying the appropriate virtual platform for the awards, managing many aspects of the video production, being the primary liaison point with IITS and curating video content collected from students and departments.
"Everyone wanted to deliver the best virtual event possible. In Hospitality, we often act behind the scenes, and people don't necessarily realize how much time and effort it takes to offer a smooth and engaging event, but I am very happy with what we accomplished," she says.
Accessibility and inclusivity
Supporting Concordia's priorities in equity, diversity and inclusion was key throughout the project.
"One thing that was important was to make the video as accessible as possible," says Caignon.
That meant each student's name had to not only appear onscreen as text but also be narrated for anyone with visual impairments, requiring an audio-recording session.
Including Concordia's territorial acknowledgement towards Indigenous people was also very important for Caignon.
As well, the decision was made to forego the typical gifts that are given to the Scholars, in light of the current pandemic and the university's commitment to sustainability.
"Finding an equitable way to replace gifts with a donation was also important, in talking with the dean, other associate deans in the faculty and Derek Linetsky, our principal director of development from University Advancement," Caignon explains.
This year, in lieu of physical gifts, the faculty will make a donation in all of the Scholar's names to assist students in need.
No regrets
Even though this year's awards look different and required much more hard work than usual from everyone involved, Caignon says it was worth it.
"Being creative, supportive, and positive remained in my mind all the time. Being amazed by everybody's work was a daily joy."

Learn more about Concordia's Arts and Science Faculty Awards.
---