Get Concordia alerts on your phone by downloading the Guardian app
The new 2-way communication platform lets you text Security if you or someone near you needs help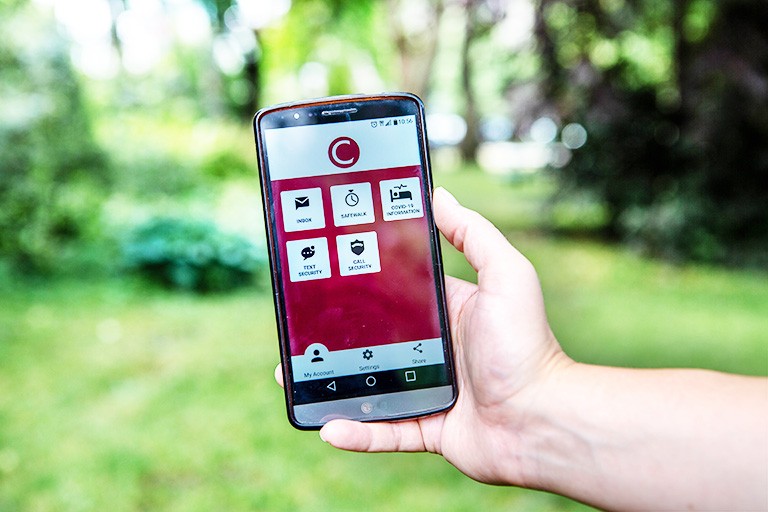 Brigitte Boutet: "We began testing the new app during the summer term and are really pleased with its features."
You shouldn't have to feel disconnected while studying or working from home — especially if you actually get disconnected from the university network by an incident like a major power outage, a system failure or an equipment break.
You may also want news about other campus emergencies, particularly if you find yourself on campus this fall. Finally, you may need to communicate a campus emergency and find texting more comfortable than calling Campus Security.
For all of these reasons, it's worth downloading the new Rave Guardian security app.
It can send push notifications to your mobile device and it gives you new ways of getting help if you have a safety concern.
See something? Text something!
With Guardian, you have a new two-way communication option to reach agents if you or someone near you needs help — you can text Campus Security and Emergency Services. The app also allows you to call them even if you forget the Security phone number (514-848-3717).
"We began testing the new app during the summer term and are really pleased with its features," says Brigitte Boutet, Concordia's emergency preparedness officer.
"We had been looking for a texting option for a while now and we were interested in having an anonymous way for members of our community to request assistance from the Security Department. We hope this will be useful for a variety of different situations."
The app is not a replacement for resources like the Sexual Assault Resource Centre (SARC) or the Office of Rights and Responsibilities. Instead, it serves in cases where people might want to call 911.
They should call Security first to ensure that emergency services are able to locate you quickly and to provide you with emergency assistance until help arrives.
Feeling alone?
Given that the COVID-19 pandemic has reduced the number of people walking through halls and across grounds, some people may feel more isolated on campus right now.
The Guardian app helps address that issue. Aside from texting a concern in to Security, people can use the Safewalk feature. If you choose to activate this feature, it allows friends to monitor your travel route for the duration of the safety timer to make sure you arrive at your destination.
"Studying and conducting research can mean late nights. The app allows you to choose a friend to be your personal guardian if you decide to use the virtual Safewalk feature," Boutet adds.
To use Safewalk or other Guardian features that employ geolocation, the app user needs to enable the access. It is not turned on automatically. If a user initially enables geolocation then decides they don't want it, they can switch it off anytime.
They will still have the option to turn it back on later if they want it temporarily. However, if they choose to leave off geolocation, they will only get notifications destined for the entire community. They won't get any specific messages linked to their location on campus.
Feeling COVID symptoms?
There is a lot of information about COVID-19 scattered across the web. However, if you suddenly feel sick while walking inside a campus building, you may want a single place to go to for information about what to do.
Security has compiled links to Government of Quebec and Government of Canada websites on the Guardian app, as well as details specific to Concordia.
"We also provided a link to the COVID-19 Access and Staff Self-Evaluation forms available through MyConcordia. In the same portal location is the Self-isolation form — one we hope people don't need to use — but that is vital if they do test positive."
How to begin with Guardian
The Rave Guardian app can be downloaded for free from Google Play Store or the Apple App Store.
Once downloaded, enter your cellphone number. You will receive your verification code by text.
Enter your Concordia email address. It will be used to send you a verification code. (If you do not have one, use the address you provided to Concordia in your Student Centre or HR profile.)
To check that you successfully downloaded the Concordia Guardian app, open it and look for the branded "C" and burgundy colour.
Please note that to receive an alert, you must be on Wi-Fi or have a data plan.
Goodbye Alertus
The Guardian app replaces the previous Alertus app, which you can now delete. Students, staff and faculty are now encouraged to download the Rave Guardian app instead of the Alertus app.
In the short term, Security will continue to send out alerts with Alertus too. However, it will be phased out as soon as enough people switch to the new system.

For more information about Concordia's new campus safety app, visit the university's Guardian webpage or email Emergency Management.
---