Shuttle talks: community members provide their input on the university's bus system
Concordia's Services sector devoted one of its listening sessions to feedback about transportation between campuses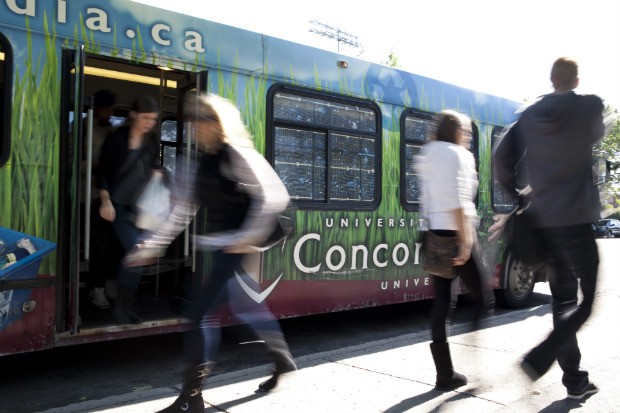 On January 28, students, faculty and staff members gathered over the lunch period to provide feedback on Concordia's shuttle bus service. They were invited to do so by Roger Côté, vice-president of Services.
A number of times a year, the Services sector invites the community to provide feedback on its various activities — everything from building maintenance, to waste and energy management, to security and IT.
Though the shuttle bus service tends to come up in regular sessions of the "We're Listening" series, this recent one was devoted to it. That was also the case for downtown and Loyola sessions on October 30, 2019.
A broad range of interests were represented at the table. Individual students and members of the Concordia Student Union provided both personal feedback and comments they had collected from others. Staff and faculty also described various experiences and expectations, and asked questions aimed at improving the service.
Some comments addressed specific issues, to be reviewed by the university and the shuttle bus service provider — an external company under contract with Concordia. Other remarks pointed to the need for more information on how the shuttle bus works. Here's a sample of some of those questions, with accompanying answers:
Do shuttle buses follow a schedule?
For the most part, yes. You can access the schedule on the shuttle bus web page or via the Concordia app. However, between 11:30 a.m. and 7:30 p.m. departures are approximate — at roughly 30-minute intervals.
Why can't departures be more precise?
Morning and late-evening departures should be precise, unless a bus fills up faster than normal. In that case, drivers are instructed to leave for the other campus.
It's true that the schedule isn't displayed for the period between 11:30 a.m. and 7:30 p.m., but that's because the service provider tries to fit in additional trips during those peak times. That period sees numerous students trying to go from class on one campus to class at the other. Helping them do so is the primary goal of the service.
Why do buses sometimes leave earlier than scheduled?
Because there are regulations about the number of people allowed on a bus, drivers are encouraged to leave when their bus is full. It helps those on board stay safe and get to their destination earlier. Moreover, if a bus is full, there's no reason for the bus to sit there in front of those outside, who are likely frustrated that they weren't able to board! Also, when one leaves, another can arrive to take its place at the stop.
Why can't we have more shuttle buses and more frequent service?
Cost. The university is a publicly funded educational institution with various needs to address and budgetary constraints to respect. The primary role of the shuttle is to help people get from one class or meeting to the next, or to travel to and from student residence. It's not a service intended to replace public transit to and from home.
For Concordia to compete with transit corporations like the STM, it would probably need to follow their lead and charge for trips.
Why can't we have Wi-Fi?
Concordia is looking into this. The university is evaluating:
The cost of Wi-Fi on the bus
Safety concerns
What limitations would be required
When the issues are sorted out, the Services sector will let you know!
Why can't we open the windows?
Like on most city buses, you should be able to open the smaller top windows. The large ones don't move. However, the upper windows can get stiff — something the service provider is looking to address. You may also need to coordinate with the people around you to access the window handle.
Why can't shuttle drivers use apps and avoid more traffic?
There are five main routes from which drivers can choose, based on safety, traffic and construction. They try to keep in touch with one another for information on best options.
What might seem ideal to a car driver may not be suitable for a giant bus!
What's with the unmarked buses?
Concordia has access to four branded buses, reserved exclusively for the university. However, if one of those needs a repair, the service provider offers up a different one from its airport or other fleets, which do not have Concordia branding. When that happens, the fill-in bus doesn't show up on the bus tracker. Backup buses don't have the same system installed, unfortunately.
Why do the drivers 'hide' on the bus?
They are not hiding. Drivers need a break and time to eat a meal during their shift. However, they're not supposed to leave their vehicles unattended for any lengthy period so most end up spending their breaks on the bus.
Why can't we have more real-time information like what the STM provides?
Concordia's Distribution Services administers the shuttle's four buses and relies on support from other units for the app, the digital monitors and the website.
While this team works day in and day out to maintain the service, it doesn't operate on the same scale as the STM. Aside from its operating budget of $1.5 billion annually, the STM has an entirely different mission than Concordia's.

As work to improve the service and communication continues, your questions and feedback are welcome. Email shuttle@concordia.ca. Please clearly indicate if you would like a response or simply wish to offer feedback.
---