It's not too late to give to Concordia's Centraide campaign
Enter the 50/50 draw + raffle by December 10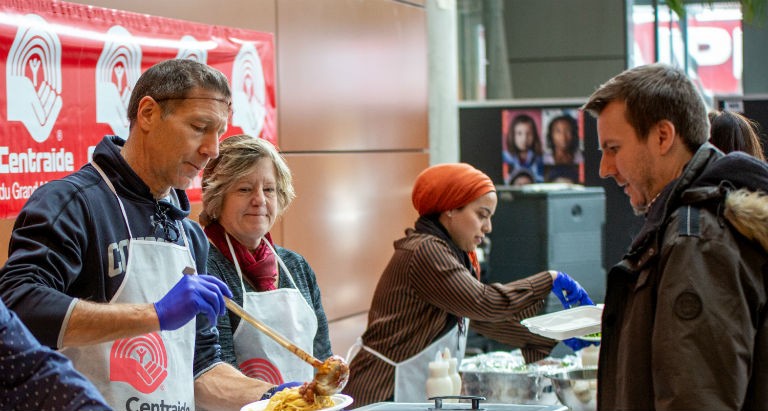 Concordia's 2018 Centraide campaign runs until December 10.
There's still time to get your raffle and 50/50 tickets to benefit Concordia's 2018 Centraide campaign. This year's prizes are worth more than $1,000. Last year's 50/50 winner took home more than $1,800!
Tickets will be on sale Monday, December 3 from 12 p.m. to 2 p.m. in the SP Atrium on the Loyola Campus, near the security desk. To purchase yours, you can also send an email to centraide@concordia.ca.
The draw takes place at 4 p.m. on Monday, December 10 in the atrium of the Engineering, Computer Science and Visual Arts Integrated Complex (EV). You don't need to be present to claim your prize.
"This fall, as for the past four decades, Concordians have said YES to sustaining Centraide's programs and services that help break social isolation and foster caring communities," said Concordia President Alan Shepard in a message to the community earlier this week.
"It will go a long way toward supporting the 500,000 Montrealers — including some Concordians — who receive direct support from Centraide's 350 local agencies."
So far, the campaign has raised 92 per cent of its 2018 goal of $155,000. To be a part of the campus-wide fundraising effort, click on the custom donation link sent to you by email on October 22.
You will also receive a reminder email on December 6 containing the same link. Lump sum or payroll deduction — every donation makes a difference.
Grab a samosa!
Indulge in something savoury for a good cause! The Sir George Williams Campus will host a samosa sale on Wednesday, December 5 from 11:30 a.m. to 2 p.m. in the lower level of the EV Building next to Le Gym.
For $3, you'll get two samosas. Or why not treat the office and buy a dozen for $15! The food is being donated, so all proceeds go directly to Centraide. Last year's Centraide samosa sales raised more than $860! 50/50 and raffle tickets will also be available for purchase.
'Hoodie Days' and more fun ways to fundraise
Many Concordians are organizing their own office events to support Centraide. For example, one campus group is holding a "Hoodies for Centraide" day on Tuesday, December 4. A $5 donation to the campaign earns participants the right to show up for work wearing the hooded sweatshirt of their choice!
Another idea is to hold a contest where colleagues can guess the amount of jelly beans in a bottle. One guess for $2, and the winner takes home the jelly beans! Or why not hold an office bake sale?
More than $1,000 in prizes to be won
Celebrate the completion of another great Concordia campaign on Monday, December 10, from 4 to 5 p.m. in the EV atrium.
Winners of the 50/50 draw and the raffle prizes will be announced, and Alan Shepard will address the crowd. Campaign co-chairs Philippe Beauregard and Nadia Bhuiyan will reveal the total amount raised by this year's campaign.
This free reception will take place in the EV Atrium. All are welcome for cake and coffee!
Visit the Concordia Centraide Campaign page to learn more about the campaign, about the impact of your donation and to see the infographics about the services provided by Centraide-funded agencies in Greater Montreal.
For more information, contact centraide@concordia.ca.
---