Take an interactive journey through Quebec society — dans les deux langues
This fall, Concordia's first-ever bilingual online course explores a range of far-reaching topics, from Bill 101 to the evolution of gender identity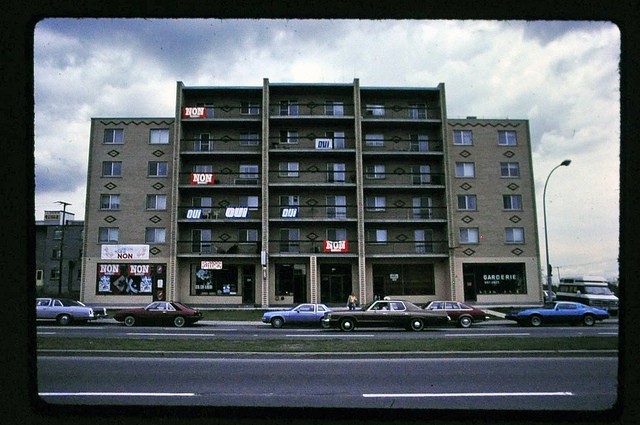 Citizens displayed banners during the 1980 referendum in Quebec. | Photo by Caribb (Flickr Creative Commons)

Get a perspective on Quebec sovereignty from a prominent young activist and slam poet; hear from a member of the storied Molson family on Quebec's Bill 101; and gain insights into Montreal's diversity, religious history, gender identity issues and more from faculty members across the university.
This fall, Debates & Challenges in Contemporary Quebec Society (SOCI 280) offers a nuanced look at all things Québécois.
The course is available entirely online and open to anyone in the province. As the first bilingual course at Concordia, it can be taken in French, English, or both.
"Over 12 weeks, students will explore a different aspect of Quebec society — history, politics, immigration, arts — through concrete actions, compact readings and inspiring lectures from Concordia scholars and prominent figures in Quebec," says Jean-Philippe Warren, professor in the Department of Sociology and Anthropology and holder of the Concordia Research Chair for the Study of Quebec.
"By connecting what we do at the university with what goes on outside campus, we're showing students that they play a vital role in shaping society."
Conceived and led by Warren and Jack Jedwab, vice-president of the Association for Canadian Studies and the Canadian Institute for Identities and Migration, the new online course asks students to embark on an interactive learning experience with weekly guest lecturers, engaging archival video, virtual tours and more.
Among the guest lecturers are Concordians Hillary Kaell, professor in the Department of Religions and Cultures, Patrick Leroux, professor in the Department of English and the Département d'études françaises, as well as Nathalie Bondil, director of the Montreal Museum of Fine Arts and Yolande James, former provincial politician.
The course is designed to be fun, quick and informative, explains Warren. Among the assignments is a walking tour of Wellington Street in the Verdun borough. Students can complete the assignment through Google Street View or go in person, depending on their location and availability.
Warren says the goal of the course is to fuel students' individual interests by highlighting Concordia's range of expertise on subjects related to Quebec.
"I hope students walk away from the course feeling empowered to engage in building the Quebec they want to live in."

Register for the fall edition of SOCI 280 by September 17, 2018 through your MyConcordia portal. Space is limited.
Thumbnail photo by Alexis Gravel (Flickr Creative Commons).
---