Concordia's Christophe Guy wins the Prix du Québec
The VP of Research and Graduate Studies is awarded the province's highest distinction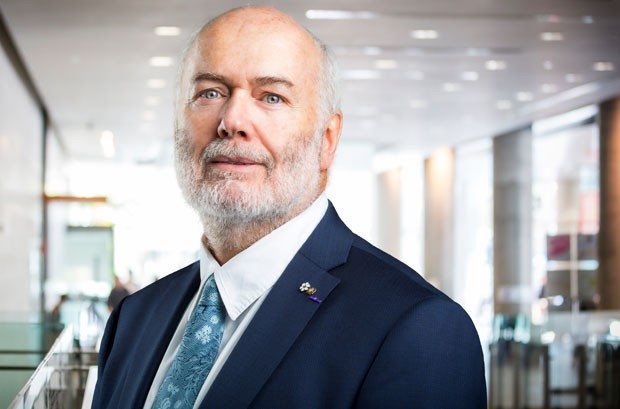 Christophe Guy, ­­vice-president of Research and Graduate Studies, received the Prix du Québec's Armand-Frappier Award today for his career-long dedication to research development and promotion.
"I congratulate Christophe on behalf of the entire Concordia community," says the university's president Alan Shepard.
"His commitment to academic research and his dedication to training and promoting the next generation of scientists, while raising public interest in technology, exemplifies our institution's emphasis on innovative research and teaching. We are very happy that he has recently joined Concordia."
The Prix du Québec is the highest distinction awarded by the Government of Quebec. The Armand-Frappier Award recognizes individuals whose work has contributed to the development of scientific research in the province.


'The vanguard of innovation'
Originally from France, Christophe Guy credits Montreal with being one of the key drivers of his productive scientific and administrative career.
"We have a university system that allows for balanced and widespread educational opportunities in science and technology," he says.
"In this city, we also have an extensive network of research institutions and centres that are at the vanguard of innovation."
Before joining Concordia in August, Christophe Guy was CEO of Polytechnique Montréal for a decade. In that role, he helped the institution become a leader in Canadian engineering research and innovation with increased industry partnerships and research chairs.

He also co-founded the Consortium for Research and Innovation in Aerospace in Quebec, one of the first university–industry research clusters in the province, and helped mobilize researchers and partners to create the Consortium for Aerospace Research and Innovation in Canada.
He contributed to the establishment of Prompt, a non-profit organization dedicated to facilitating partnerships and funding in the IT sector, NanoQuébec, which seeks to strengthen nanotechnology innovation, and MEDTEQ, whose mandate is to accelerate the development of medical technologies.
A strong advocate for technology transfer, he has participated in, or supported, the startup and development of many Quebec-based companies that have resulted from academic research.

'Deeply humbled'
The Prix du Québec isn't the first recognition of Christophe Guy's influence on the development and promotion of research.

"Having chosen Quebec as my home, I was particularly honoured to be named an officer of the National Order of Quebec in 2011 and a member of the Order of Canada in 2014," he says.
"But my work and passion have always been research. So in that sense, I am deeply humbled to receive the Armand-Frappier Award."
The Prix du Québec is given annually to 14 recipients in various fields of culture and science.

Read about Christophe Guy's vision for research and graduate studies at Concordia.


---