'Impactful research happens here'
A university-wide campaign highlights Concordia's diverse areas of inquiry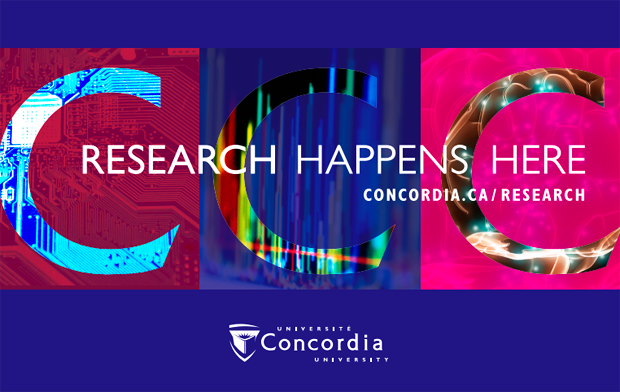 Notice anything new lately in the tunnel connecting the Guy-Concordia metro station with the Henry F. Hall (H) and J.W. McConnell (LB) buildings?
Starting now and running until late fall, you'll likely spot a large, dynamic and vibrant banner with the tagline "Research Happens Here" hanging in the subterranean walkway.
And as you move around both the Sir George Williams and Loyola campuses, take note of posters and digital information screens bearing the same message.
These promotional tools feature the Concordia "C" over images representing the varied and diverse research investigations taking place at the university in areas such as electroacoustics, psychology, biochemistry and cybersecurity.
They are the first phase of a visibility campaign created to support the Double Our Research strategic direction.
Christophe Guy, vice-president of Research and Graduate Studies, says that his decision to join Concordia as a senior administrator earlier this summer was based on several factors, including the university's growing reputation as an innovative and dynamic research and knowledge-creation institution.
"For me, this campaign highlights to the general Concordia community that important, impactful research in all of our disciplines is being conducted every day in labs, offices and centres all over campus," he says.
"We have much to be proud of in terms of profound research accomplishments at the university."
The Research Happens Here campaign is an initiative of the Office of the Vice-President, Research and Graduate Studies, and the artwork was designed by University Communications Services. Future phases of the campaign will see the overall design applied to specific research centres and clusters of expertise.

Learn more about the research sector at Concordia.
---