This Nov. 9, it's noodles at noon! For Concordia's Centraide campaign...
PLUS: Find out about one of the 356 community non-profits supported by the annual campus-wide charity effort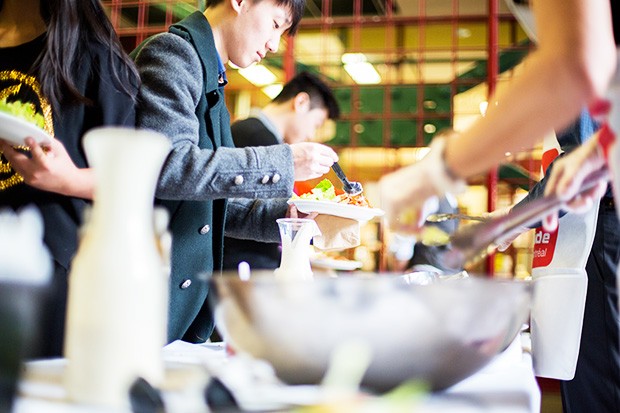 Leave your lunch bag at home on Thursday, November 9.
This is the date for Concordia's Centraide/United Way Campaign pasta lunch. Let the comfort food work its magic while you contribute to a good cause. There will be a choice of meat or tomato sauce to accommodate dietary preferences.

Brown bag letdown? Not this time
For $15, you get much more than a plate of pasta. The lunch also includes a green salad, a roll, a drink and a dessert — chocolate or vanilla cake. The food is being donated, so all proceeds go directly to Centraide.
The Sir George Williams Campus pasta lunch will be held on Thursday, November 9 from 11:30 a.m. to 2 p.m. in the atrium of the J. W. McConnell Library Building (LB).
Due to unforeseen circumstances, the pasta lunch at the Loyola Campus is cancelled and a samosa sale will be held in its place on the same day, Thursday, November 30 from 11:30 a.m. to 2 p.m. in the Jesuit Hall and Conference Centre (RF Building).

Food activists at Santropol Roulant
Are you curious about where your hard-earned $15 is going?
Santropol Roulant is just one of the 350 agencies and projects that benefit from Concordia's fundraising efforts on behalf of the Centraide of Greater Montreal campaign, which raised $55 million in 2016.
"Centraide has been funding us for several years," says Concordia alumna Tanya D'Amours, director of fundraising and financial vibrancy at Santropol Roulant.
"Because they can commit for periods of three years, we have a guarantee that at least that amount of money will come for our programs. This sustainable model is crucial as most partners do not offer recurrent funding."
Santropol Roulant is an intergenerational community food hub that grows, prepares and delivers food, including Meals-on-Wheels, a program that served 230 people in Montreal in 2016. They create a continuum of services that help build a stronger social fabric and increase food security and social inclusion for Montrealers.

"We use food as a vehicle to break social and economic isolation between generations. This allows us to strengthen and nourish our local community," says D'Amours (BA 13).
Centraide gives Santropol Roulant $68,600 per year, providing core funding and funding for their volunteer program. This allows them to have 1,400 volunteers and employ 17 full-time staff members.
In addition to benefitting from the university's United Way/Centraide campaign, Santropol also gains from services at Concordia like The Dish Project. It's a student-run, non-profit organization that rents out plates, related dishware, glasses of all kinds, serving trays, cutlery and more.
"We have used The Dish Project in the past for our volunteer staff meals and it has always been a very pleasant experience," D'Amours says. "We hope that this program can continue to grow and that we can continue collaborating!"
The Dish Project's slogan says it all: "Start reducing waste, one paper plate at a time."
If you're interested in getting involved, please send an email to volunteer@dishproject.ca.

Concordia and Centraide
In 1975, Centraide Montreal was born. The umbrella organization replaced the Federated Appeal of Greater Montreal. Concordia has been fundraising for the annual campaign from the beginning.
More than four decades later, the Concordia United Way/Centraide Campaign is still thriving. Last year, it raised $187,000 — 98 per cent of its goal.
For the 2017 campaign, the Concordia fundraising goal is once again $190,000.
"There are lots of fun things planned to keep people inspired. If we do it together, this important challenge can be conquered," says Bram Freedman, Concordia's campaign chair, who explains that there are many ways to give.
These include donating via payroll deduction or a one-time donation through Concordia's secure system, volunteering or attending events.

Get involved!
Volunteers are the lifeblood of the Concordia United Way/Centraide Campaign. Send an email to unitedway@concordia.ca to participate in the following initiatives:
Buy 50/50 tickets

Sign up to volunteer for the campaign

Get a testimonial for your department from a United Way/Centraide agency

Find information about the United Way/Centraide and the agencies they support

Find out more about Concordia's support for the United Way/Centraide

Make a secure donation online or download a paper pledge form.

Contribute to Concordia's 2017 United Way/Centraide Campaign today!
---