Fearless photographs: Concordia's Marisa Portolese reimagines beauty
A new FOFA Gallery show examines the conventions of female representation through a historical and contemporary lens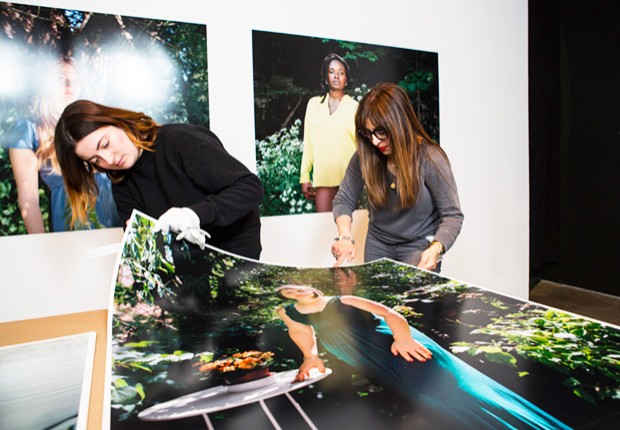 Marisa Portolese (right): "The work is about empowering women but also about showing that there are deeply entrenched standards of beauty that have been upheld across centuries." | Photo: Concordia University

For Marisa Portolese, radical feminism and lush portraits of scantily clad women are not antithetical.
In her new exhibition — Belle de jour III: Dialogues with Notman's Portraits of Women, at the FOFA Gallery through April 8 — the Concordia photography professor uses historical photographs of women as the inspiration for a portrait series that challenges conventions of female representation.
"The work is about empowering women but also about showing that there are deeply entrenched standards of beauty that have been upheld across centuries," says Portolese.
Her photographs depict women of the everyday carefully posed against the lush backdrops of nature and intimate settings in a way that evokes conventions of portraiture from the late nineteenth century.
The exhibition came about as a result of Portolese's painstaking research in the archives of Montreal's McCord Museum, where her interest in historical photography led her to the Notman Photographic Archives.
Considered Canada's most important nineteenth-century photographer, William Notman is known for his honest portraits and landscapes — elements that Portolese saw reflected in her own work.
As she methodically combed through the hundreds of thousands of images of women contained in the Notman collection, Portolese became increasingly interested in the connections between his work and her own, and the concept for Belle de jour III began to take hold.
"As I conducted my research, I started to appreciate how my photographs are in dialogue with Notman's," says Portolese.
"I saw in his photos a quiet counterpoint to the forceful contemporary spirit of the women I photograph. That's why I decided to show examples of his portraits in the exhibition as well. It allows us to directly confront the present with the past, and to find both similarities and differences between these styles of female representation."
At the same time, the presence of Notman's photos provides a rare insight into Portolese's working method, laying bare the process of research-creation that informs each of her photographs.
"This exhibition is about the process involved in dialoguing with past imagery, and embracing that imagery in order to deepen the understanding of contemporary practice," says Portolese.
While there are a lot of similarities between her photographs and Notman's, there are a lot of differences too — most notably in the way she treats her subjects.
Zoë Tousignant, the exhibition's curator and the subject of one of the featured portraits, remembers the experience of posing for Portolese as "A meeting fraught with anxiety, in which old demons can rear their ugly heads, casting a shadow on the final picture."
Tousignant continues: "Yet Portolese is a benevolent, punk-rock mother who has a gift for encouraging a 'fuck it' attitude in her subjects. She makes us comfortable, even confrontational, while persuading us to don the delicate attire of a 1940s screen siren or a 1970s porn queen. The gazes that we present to her lens in that moment are sincere in their fearlessness."
That fearlessness is on show at Concordia's FOFA Gallery through April 8, 2016.
Partners in research: Portolese's work was financed in part by the Conseil des arts et des lettres du Québec (CALQ).

Belle de jour III: Dialogues with Notman's Portraits of Women is at the FOFA Gallery till April 8, 2016, with a special vernissage on March 3, from 5 to 7 p.m.
---