High-resolution fibre art
Concordia professor Kelly Thompson's digital weaving hits the 'big screen' at a British university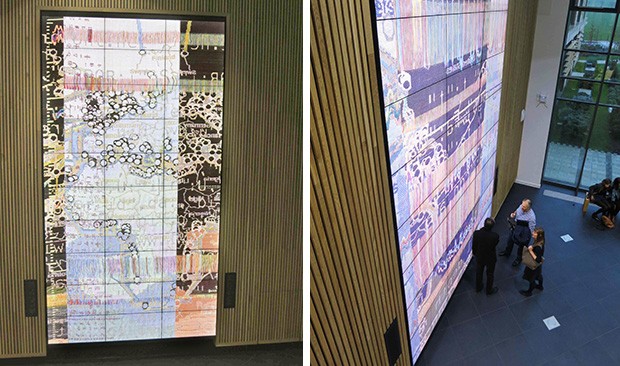 "I've always worked with narrative and art-based textiles in some way," says Kelly Thompson, an associate professor in the Department of Studio Arts. "The digital just gives you a different set of options."

When Kelly Thompson, an associate professor in the Department of Studio Arts, designed six woven art pieces over the summer, she didn't expect them to end up on display at England's Bath Spa University.
The 1.4-metre-high panels — collectively titled Fluid Data — are an interpretation of the internet and surrounding digital sphere. The fronts and backs of the weavings were scanned at an extremely high resolution to be projected on an almost eight-metre high screen.
Thompson's contribution to Bath Spa University's MediaWall — a rotating digital art exhibition with 30 display panels — can be seen at a resolution 400 per cent larger than its original size.
"The detail of the weaving is really visible and really readable," Thompson says of the digital projection, which was on display from December 1 to 23 of last year, and will go up again from January 18 to 31.
The panels are part of Thompson's ongoing project, Material Codes: Ephemeral Traces. She created them using Concordia's digital jacquard loom — a modern take on a 19th-century invention that is considered an example of early computer programming for its use of punch cards to create patterned weavings.
The jacquard loom is managed by the Textiles and Materiality Research Cluster, within Concordia's new Institute dedicated to research creation in the realms of media arts, design, technology and digital culture.
Thompson's work ended up on display because Bath Spa University made a call for contributions from fellow members of the Global Academy of Liberal Arts (GALA), which include Concordia. A live view of the MediaWall at its campus-based exhibition space can be seen online.
Because her project is digital, Thompson didn't have to arrange to have her art physically transported to England. "It's a great way to have work exhibited without necessarily all the usual struggles of when you exhibit objects in another country," she says. "This MediaWall is quite unique."
Weaving history
Thompson has been working with digital jacquard looms for the past 15 years. She first discovered a passion for artistic weaving after graduating from high school in New Zealand. Instead of university, she opted for a bohemian weaving school.
"Most people there were weaving things for a domestic world, and that didn't interest me — but the process did," Thompson says. "The idea of constructing a cloth … It wasn't just for grannies. It was an exciting art form."
Eventually her chosen art form led her back to the university path she'd cast aside. She attended the California College of the Arts and the Australian National University, then taught in universities in New Zealand and the UK.
In 2008, Thompson accepted a faculty position in Concordia's Department of Studio Arts. She had visited Montreal periodically since 1999 to take jacquard workshops with the internationally renowned Quebec jacquard teacher, Louise Lemieux-Bérubé.
"I've always worked with narrative and art-based textiles in some way," she says. "The digital just gives you a different set of options."
Now Thompson is coming to the end of a sabbatical and is set to resume teaching introductory and advanced fibre classes in Concordia's Faculty of Fine Arts. She'll also continue working with research assistants on her Material Codes: Ephemeral Traces project which explores materializing digital moments into woven forms using hand and industrial looms.
Thompson is invigorated by the possibilities presented by fine arts in an academic setting.
"It's about finding your voice and your expression — that's what I really enjoy," she says.
For her, Concordia's Faculty of Fine Arts is a vibrant and diverse place. "It's an art school within a university context, so we have the breadth of disciplines, interdisciplinary thinking, and students are doing a broad mix of things," says Thompson.
"It makes for an interesting place to be a teacher."

Find out more about research and creation in the Faculty of Fine Arts.
---