Montreal to Hong Kong: a student's search for her roots
Corinne Beaumier went on exchange to China — she came back with a second family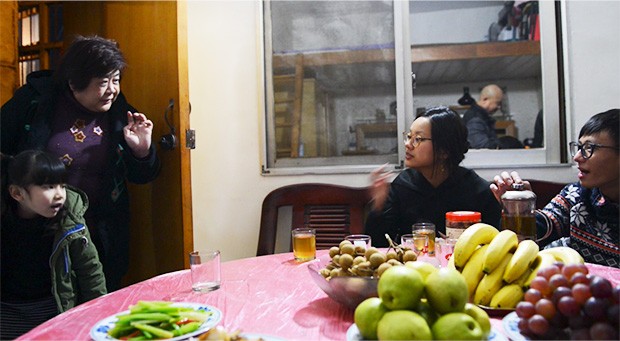 A neighbour pops in to say hello as Corinne Beaumier (centre) visits with a family who took care of her for 10 months when she was a child. | All photos by Corinne Beaumier
As a photography student at Concordia, my art practice revolves around my past as an adoptee from China raised in a French­-Canadian family.
For the fall term of 2014, Hong Kong seemed like an obvious destination for my student exchange. It was an opportunity to research my past and return to China for the first time in 24 years — since I had been adopted.
During the exchange, I met teachers and students from Hong Kong and mainland China. Some of them had friends living on the mainland in the city of Changsha where I was adopted. From the beginning I had planned to visit Changsha. Once classes and exams were finished in Hong Kong, I headed there for a 10-day trip.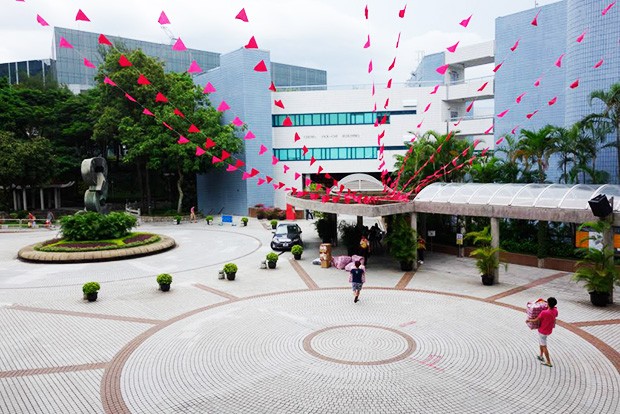 The view from one of the main buildings at the City University of Hong Kong.
A headline-worthy quest
When I showed my artwork to the family who was hosting me in Changsha and shared my desire to find out more about my past, they put me in touch with a relative who worked for the local media.
To my surprise, the very popular TV channel was quite interested in my story and I was soon being followed not only by local media, but also a national television station and a newspaper.
My face and search for my biological parents became front-page news. Many people responded to the call, thinking and hoping that I was their lost daughter.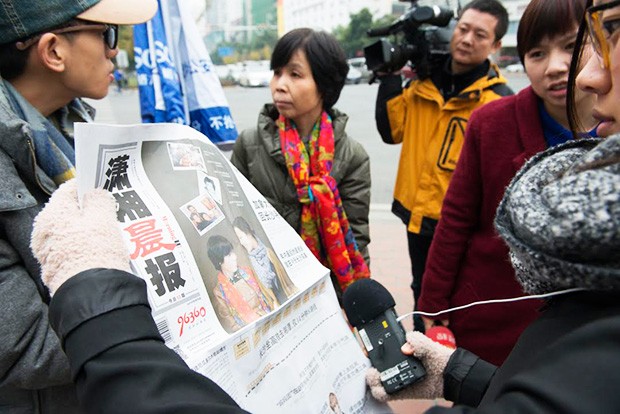 In a few busy days, I met two different families who had taken care of me as an infant. After learning more from them, I met a woman who we thought could be my biological mother. But the DNA test was negative.
The following two weeks were spent receiving calls from many other people and comparing stories. Finally, one of them was proven to be my biological mother; our DNA was a match.
With only a few days left before my flight back to Montreal, I packed up and took the train and bus to the countryside. There I met my whole family, including my biological parents, two sisters, and many uncles, aunts, cousins, nephews, nieces, friends and other villagers.
Coming on the heels of my hectic search in the city, with the media following my every move, it was a quiet and peaceful meeting. I learned that I was the second of their three daughters, and the family had given me up because they had wanted — and felt they needed — a boy.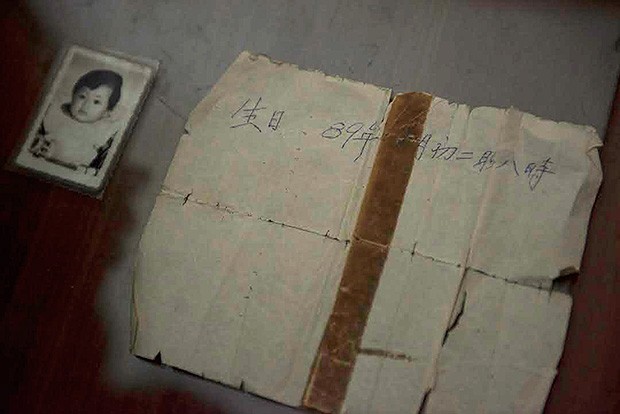 A picture of me as a baby, with the note that was found on me when I was abandoned. It shows my date of birth.
What's next?
I took photos and video footage of my experience that I am now working on turning into a documentary film. I'm still in the very early stages of the process, figuring out the angle. It will have to balance multiple themes including gender, motherhood, and social and political choices.
I also want to portray my personal reality as an adult adoptee, the role the media played in helping me find my biological family, as well as the sensational effect my story had on a considerable portion of the Chinese population.
I'm still trying to figure out how I feel about what happened. I wasn't immensely traumatized, since I don't remember anything from my adoption in 1990 and I always had loving parents to take care of me.
Also, I feel privileged to have been able to make contact with my biological family, and I want to stay in touch with them. In fact, I already am. I mostly get updates from my elder sister since she's the only one who's fluent in English. She just gave birth to her first child (a daughter, which is great, I think).
However, my connection with them remains limited somehow, because of obvious cultural differences and our difficulty communicating.
I am touched by all the people who volunteered to help me in my quest, by my biological family who wanted to meet with me, and by all the other people who called the media to try and see if I could be their lost daughter.

Find out more about the Photography program in Concordia's Department of Studio Arts.
Start your application for student exchange today!
---