Why our golden years depend on independence
Three leading preventive-health researchers discuss the long-term benefits of exercising the brain and the body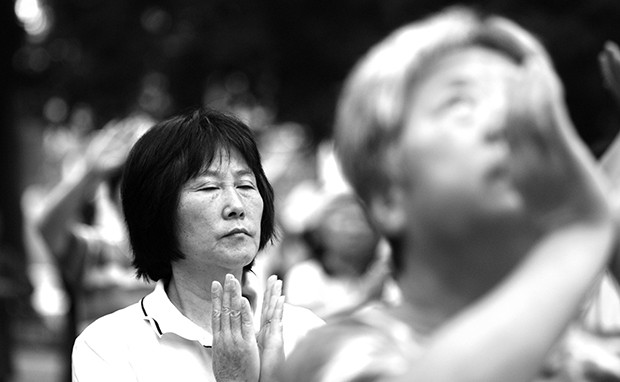 Understanding the interrelationship between the brain and the body will help to prevent cognitive decline and loss of mobility. | Photo by Edwin Lee (Flickr Creative Commons)
In just 20 years, it's estimated that adults over 65 years of age will make up a quarter of Canada's population. Whether those aging boomers will, in fact, be enjoying their "golden years" will depend largely on their ability to live independently. Healthy and happy old age can be a reality only if they conquer the geriatric challenges of cognitive impairment and decreased mobility.
Increasing evidence from clinical trials and scientific studies demonstrates an undeniable link between cognitive decline and mobility impairments. Older adults with cognitive deficiencies are twice as likely to suffer from debilitating falls that will force them into institutional care.

The good news is that understanding the interrelationship between the brain and the body shows us how to prevent such decline. Research on seniors with mild cognitive impairments shows that exercise has positive results on cognition, and reduces the number of falls. Conversely, cognitive brain training exercises increase mobility and the ability to exercise.

Identifying this important link is an exciting first step, but implementing the necessary measures for seniors and adults to adopt brain and body exercises will take a collective effort and involve numerous players in society.

Governments can do their part by offering incentives for seniors to get active. Tax breaks exist for children and teenagers enrolled in organized activities, why not extend this option to seniors and, for that matter, adults of all ages? The earlier exercise becomes an adopted behaviour the more likely it will become a normal activity in old age and importantly, build both physical and cognitive reserve.

There are no medications that can prevent dementia or mobility dysfunction. Instead, doctors should actively prescribe exercise to patients. This would require establishing partnerships with researchers in the field to establish clinical guidelines for personalized exercise regimes.

University researchers and funding institutions also need to play their part in raising awareness about the importance of cognitive and physical exercise among seniors. This means teaming up with organizations such as the Heart and Stroke Foundation and the Alzheimer Society of Canada to engage the public through workshops at community centres and assisted living facilities.

We also need to think of creative ways to encourage seniors to become more active in society and facilitate transgenerational engagement at large. Programs in the United States such as Experience Corps encourage seniors to act as literacy tutors and mentors in elementary schools. This promotes physical and cognitive activity and also creates important intergenerational social connections.
Important strides have already been made to get this issue on the front burner. The Canadian Consortium on Neurodegeneration in Aging was recently formed as part of the Canadian Institute for Health Research's Dementia Research Study Initiative. This ambitious project supports research on dementia with the goal of finding a cure by 2025.
As part of the consortium, the Mobility, Exercise and Cognition Team focuses on integrating clinical research in mobility and cognition, with the goal to provide clinicians with national guidelines to prescribe exercises to delay and treat cognitive and mobility decline in older adults.
Universities across Canada are acting as important hubs for exchanging groundbreaking ideas related to aging and preventive health. A good example is Concordia University's PERFORM Centre, which is hosting its second annual conference on May 15. On this day, the centre will bring together top international academics whose research is breaking new ground in our understanding of healthy aging.

It is estimated that delaying the onset of dementia by just one year can save $100 billion in healthcare costs. Most importantly, strong minds and mobile bodies will allow older populations to remain healthy, happy and active.

For a generation that has given so much, we owe it to them to ensure they have the tools and knowledge necessary to relish their golden years.

Karen Li is a Professor in the Department of Psychology and the Director of the Laboratory for Adult Development and Cognitive Aging at Concordia University.
Teresa Liu-Ambrose is a Canada Research Chair in Physical Activity, Mobility, and Cognitive Neuroscience and the Director of the Vancouver General Hospital's Falls Prevention Clinic.
Manuel Montero-Odasso is a Team Leader with the Canadian Consortium on Neurodegeneration in Aging and the Director of the Gait & Brain Lab at Western University.
Learn more about the Laboratory for Adult Development and Cognitive Aging.
---