Why succession planning is essential to Quebec's future
70 per cent of the province's businesses are family-run. Their success is crucial to maintaining a thriving, innovative and economically sound entrepreneurial culture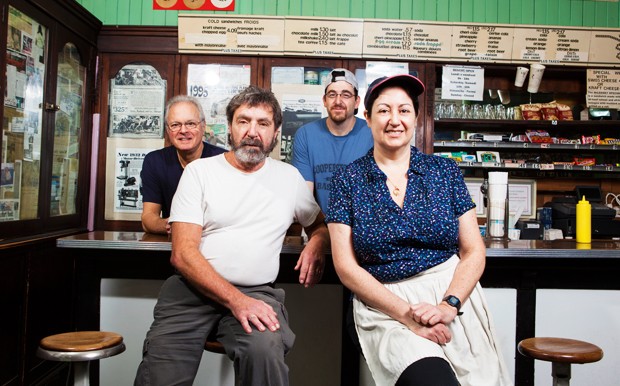 Family businesses are the backbone of the Quebec economy. Wilensky's Light Lunch — located on the corner of Fairmount and Clark in Montreal — has been family owned and operated for 82 years. It has employed four generations since its founding in 1932. | Photo by Concordia University

Alexandra Dawson is an associate professor at Concordia's John Molson School of Business and director of the Concordia Small Business Consulting Bureau. Norman Hébert Jr. is the CEO of Groupe Park Avenue and chair of the Board of Governors at Concordia. Diane Lanctôt is the president of Lanctot Ltée Distributor.

From the Saputo family to the owners of the thousands of dépanneurs that dot our cities and towns, family-owned and operated businesses are the backbone of the Quebec economy.
In fact, Statistics Canada estimates that around 95 per cent of small- and medium-sized enterprises in Quebec are family-run: they represent 70 per cent of all businesses in the province. The success of these businesses is crucial to maintaining a thriving and innovative entrepreneurial culture while ensuring the long-term growth of our economy.
However, a long-dormant challenge is upon us — one that will determine whether family-run businesses sink or swim in the coming decades.

With the unprecedented demographic crunch of a populous generation approaching the age of retirement, more entrepreneurs than ever will be looking to pass the torch to their offspring. And the success of second and third generations who will take over these enterprises is inextricably linked to what is known as "succession planning."

This means identifying an entrepreneur's exit strategy, whether or not it involves a family successor; formulating a vision for the business after succession; and identifying the future role of the retired entrepreneur. These considerations are vital to ensuring the future growth and innovation of any business.

It's estimated that only 20 per cent of small- and medium-sized businesses in Canada have a succession plan in place. The low numbers can be attributed to anything from perceived lack of time and resources to owner operators not coming to terms with their impending retirement.

Succession planning is complicated because it involves matters of the heart and mind. Unlike other corporations, these enterprises have to deal with the often complicated internal dynamics among family members.
Succession depends on identifying how ownership is divested and who is best suited to managing the business into the future — issues that are infinitely more complicated when kinship is involved.
As it stands, only 30 per cent of family-run businesses successfully transfer from the first to the second generation. This number dips to between 12 and 13 per cent from second to third generations.

We need to improve these numbers for the future of the Quebec economy. This starts with sounding the alarm on the importance of succession planning and providing the proper resources for entrepreneurs as they hand the baton on to the next generation.

Business schools, financial institutions and family business associations can all help families make these transitions. Conducting ongoing research into best practices in the area is critical in today's ever-evolving economy. So is providing opportunities for mentorship from businesses that have successfully gone through the process.

At the moment, we are collectively undergoing gradual awakening to the importance of succession planning. Concordia's John Molson School of Business (JMSB) has identified family business as a key element of its strategic plan, and hired a number of professors dedicated to teaching and research in this area.
Moreover, the Montreal-based National Bank is donating $1 million to establish the National Bank Initiative in Entrepreneurship and Family Business to propel research on entrepreneurship and family businesses while supporting graduate and undergraduate students at JMSB.
These initiatives are key to spurring much-needed action that will enable Quebec's family business entrepreneurs to confidently plan their succession strategies.
A large part of the province's economic strength relies on the blood, sweat and tears of family entrepreneurs. There is no better way to honour this legacy than planning for a future where generations to come can benefit from this business model.

---