Arts & culture, Theatre
RAGE
---
DATE & TIME
Wednesday, March 16, 2022 –
Saturday, March 19, 2022
8 p.m. – 10 p.m.
COST
$12.00 - General Public / $7.00 - Students & Seniors
WHEEL CHAIR ACCESSIBLE
Yes
---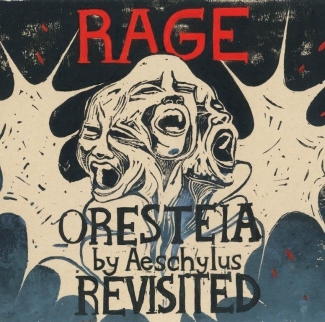 Poster Design by Myriam Olivier
RAGE – ORESTEIA REVISITED
Directed by Leslie Baker
Show times:
Preview: March 16th at 20h00
Opening: March 17th at 20h00
Performances: March 18th at 20h00, March 19th 14h00 & 20h00
RAGE – ORESTEIA REVISITED written by Aeschylus is a collage performance event exploring rage and cycles of revenge. Director Leslie Baker will lead an ensemble of Concordia students; 10 performers and a team of designers, in the creation of this performance inspired by the Oresteia. The Six Viewpoints and a physical approach to acting will inform the creation process. The final piece will employ physicality, sound, text and image to articulate the content of this collaged creation. Set in a minimalist landscape, a highly viscerally expressive chorus will lead us through an event that explores ancient and contemporary experiences of rage and the cyclical nature of revenge.
Note that tickets will be available online only one week before the event.
Due to additional front of house procedures related to COVID, we encourage you to show up well in advance of the show. This will help us avoid a long line up and a late start time.
---