Concordia is a Montreal Top Employer for the 8th year in a row
The university is recognized for its supportive workplace policies, family-friendly benefits, and pension and health plans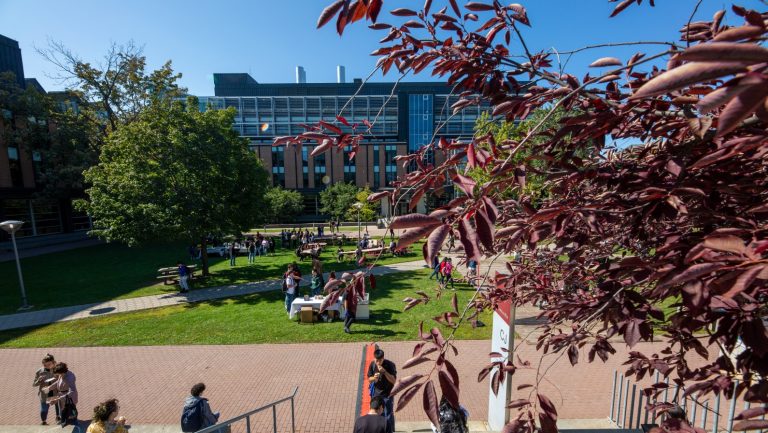 For the eighth consecutive year, Concordia has made the list of Montreal's Top Employers. The university is one of only 11 organizations in Montreal to have made the annual list every year since 2016.
The competition — organized by the editors of Canada's Top 100 Employers — evaluates applicants based on the following criteria:
Physical workplace

Work and social atmosphere

Health, financial and family benefits

Vacation and time off

Employee communications

Performance management

Training and skills development

Community involvement
This year, some of the reasons Concordia was selected as a Montreal Top Employer were:
The university's supportive workplace polices that help employees prioritize their well-being — examples include generous time-off policies to ensure employees disconnect from work, paid sick time, coverage for mental-health services and an on-campus wellness clinic.
Exceptional family-friendly benefits, including a full year of paid leave for employees who are new mothers as well as parental leave top-up for fathers and adoptive parents — employees can also take advantage of subsidized child care on campus and phased-in work options to gradually return to work.
How Concordia helps employees plan securely for the future, with contributions to a defined-benefit pension plan and health benefits that extend to retirees, with no age limit and up to 85 per cent premium coverage.


Sustainability is a touchstone for the Concordia community
The university's commitment to sustainability was also highlighted in the 2023 competition.
From green buildings to rooftop green gardens, sustainability is the gold standard attracting not just students but faculty and staff to Concordia.
"Our faculty, staff and students have told us that sustainability is important to them," says Carolina Willsher, associate vice-president of Human Resources.
Concordia's Sustainability Action Plan, launched in 2020, is a collaboration with its community that includes a long-term vision for 2040 along with five-year plans around five key pathways: food, waste, climate, research and curriculum.
"As an employer we want to make sure we are aligning our values with what and who we say we are. Our employees carry those values for the organization, and the Sustainability Action Plan is a large part of that," says Willsher.
She points out that Concordia has some five generations of employees, including some who have been there 50 and more years.
"When we think about the values we have as an organization, including values relating to sustainability, it speaks to multiple generations. And with sustainability, it's really important from the perspective of enhancing social well-being and having people feel and know that they are making a difference," Willsher notes.
"Concordia is such an open community. We're really interested in making a very positive impact on society."

Learn more about working at Concordia and current job opportunities, and read the full Montreal's Top Employers feature about Concordia online.
---